Converted his only bread-winning source to save human life during covid and giving free service.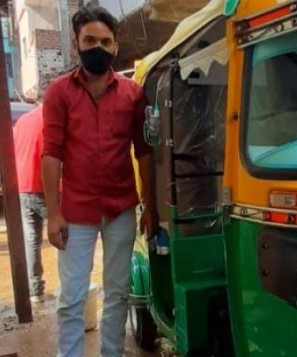 When Javed Khan, a resident of Bhopal didn't pay heed to the lockdown rules in Madhya Pradesh and rode his auto-rickshaw on the roads while the 144 section was invoked, the police booked a case against him. He broke the protocol by not following the curfew rules and drove his auto wheels on roads without an emergency service pass. He was thus booked under section 188. However, within no time, the police had withdrawn the case and he was also given a special pass to continue driving his auto-rickshaw. Now, all this happened not because of any political recommendation or high-profile influence. It all happened because of massive outrage that erupted on social media - a public outrage. To know why Javed Khan has secured so much support from people, read more.
Moved By The Plight Of Patients:
Javed Khan, a 34-year-old auto-rickshaw driver hails from the capital of MP, Bhopal. A resident of Aishbag has been an auto-rickshaw driver for more than a decade now. With three children to feed, he took to his three-wheeler and supports his family. Like every other person, Javed also has been closely watching the current scenario of the country, the way people are suffering and how lack of resources is worsening the game. He wanted to do something about it by helping people in these dire circumstances. All he has is his three-wheeler. He then observed that covid patients are suffering due to a shortage of ambulance services to reach the hospitals in time and thus resolved to convert his auto-rickshaw into an ambulance. He and his wife also saw over TV, how people are dying in the want of ambulance and how they have to pay hefty amounts to get the ambulances. "I saw on social media and news channels how people were being carried to hospitals due to the shortage of ambulances. So, I thought of doing this.", he said. He, who takes care of his family of five along with supporting his two brothers who lost their jobs due to corona lockdown, started rendering free ambulance services rushing patients to different hospitals of Bhopal.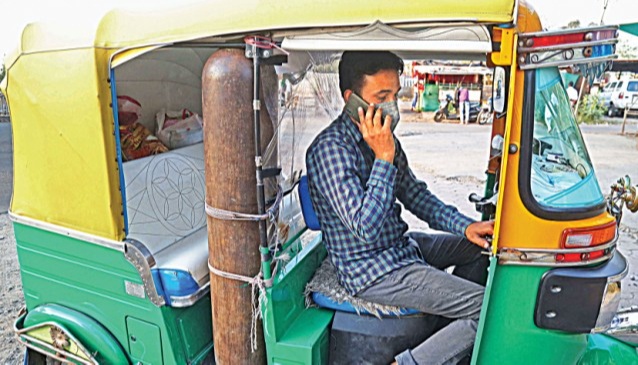 An Ambulance With Essential Kits:
When Javed could save the lives of more than 15 people since April by taking patients on time to the hospitals in his auto, everyone looked at his amazing life-saving vehicle and the way it is equipped. Javed Khan sold his wife's jewellery for Rs. 5000 to fund his cause.
He said that it was his family's suggestion to convert his auto into an ambulance. Javed equipped his auto by placing essential medicines, sanitiser bottles and an oxygen cylinder. Every day, he fills up the 7-kg oxygen cylinder donated by the social activist Bharti Jain by spending Rs. 600. Khan has to wait for 4-5 hours every day in order to get the cylinder refilled. "My wife has given away her gold locket for the expenses of the rikshaw.", he said with gratitude. "I stocked three months' ration for my family and subsequently used the money secured by selling wife's necklace to fund the conversion of the autorickshaw into an ambulance. Besides selling his wife's jewellery, Javed also stopped paying the instalment of Rs. 10,500 that he pays every month to ensure the continuous running of his ambulance.
He also said that a few people have donated to his cause.
The money he received from the donors is used to refill the cylinder, purchase pulse oximeter, sanitiser, PPE kits and other protective gear that helps to keep himself safe. This service, he says, can be availed by anyone in the region by just dialling on 7999909494. He has rushed more than 15 patients to various hospitals including AIIMS-BHOPAL, Hamidia Hospital and Paliwal Hospital. This man who renders free ambulance service says that it is for the human cause during the holy month of Ramazan if someone tries to give him money. 'Even if people are willing to pay me, I tell them that this is for the human cause during the holy month of Ramzan," Khan says.
A Call For Donors:
Though currently, Khan is the only autorickshaw driver to start and run this service, he says that there are 10-12 more autorickshaw drivers in the city, ready to offer a similar service if funds are provided by generous donors.