Meet the young and dynamic artist who embraced several art forms. Pencil Lead art will leave one mesmerised.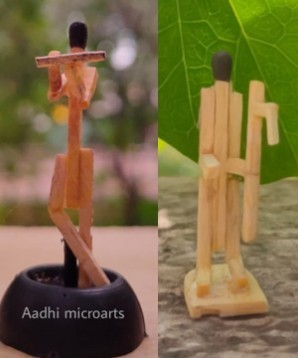 Lord Krishna and his brother Balarama's craft attracted me as I rolled my eyes over the artistic delights of Aditya. The carvings of Krishna and Balarama were made using match sticks and that stuck me. As I continued to take a closer look at his other works, they mesmerized me to infinity. I came across pencil sketches, tattoo art, doodle art, 3D art, handmade wood and pencil carvings. Hoof!! His talent left me jaw-dropped and here I introduce to you all, Paladi Aditya, an enthusiastic artist from Anantapur. Let's get honey-dipped into his artistic ocean.
Inspired By Everything Around:
Paladi Aditya, born on 1st July 1997 to Paladi Srinivasulu, a Chef and Paladi Rathnamma, a housewife. He graduated from SSBN Degree College in 2020 with Mathematics, Statistics and Computer Science as his major domains. As a child, Paladi was naturally drawn towards drawing and sketching like most of the kids. He started drawing and colouring simple objects and what started as a leisure activity eventually occupied the totality of his time and space. The boy started drawing and sketching picking up concepts and ideas from his surroundings and everyday life. Be it the leisure time or during the class hours, his pencil wouldn't rest from sketching. He started participating in various competitions and every time he won, he grew an inch taller in his zeal. This schoolboy wanted to take his art to the next level and took to wood and chalk piece carving. He kept improvising his work with nature as his muse. In his graduation final year, he was drawn towards pencil lead carving and what started with letters, names and simple words has eventually reached multiple levels higher with majestic carvings on the black Lead.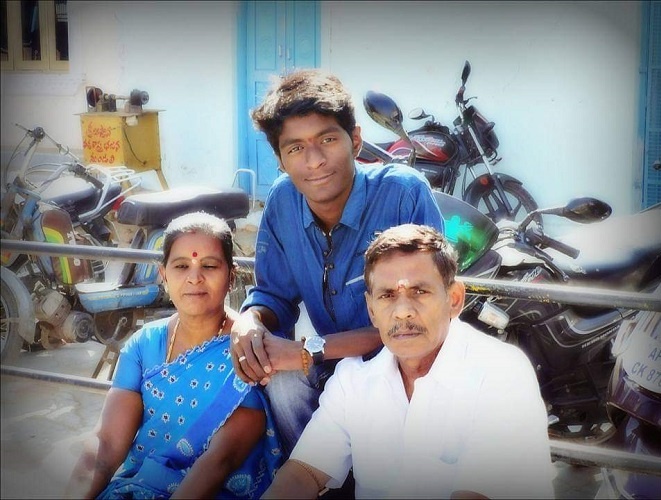 Grand Designs on Graphite:
Amidst the roars of Hindu temples and idols being dismantled, Aditya carved an elegant design depicting the royalty of a Hindu temple on the pencil Lead and the caption read, "Save Hindu temples". Art that says "Amma", "Appa" is sure to catch one's nerves. On a pencil Lead, Lord Ganesha sits blissfully and looking at that you are sure to say, "Wah". A magnificent peacock feather elegantly rests on the graphite of a pencil to give a delightful treat to your eyes. An ice cream cone in yellow and pink keeps you wondering if you have to see and enjoy or to grab it at once and relish. In honour of front-end fighters of Corona, the portrait of a policeman was attractively depicted on a pencil Lead where the officer is seen with royal moustache and cap, a doctor is seen wearing a mask and a head covering. A crayon depiction shows the South Superstar Rajinikanth with a cigar in his mouth and that's absolutely a SWAG thing. If you look at the pretty little birdhouse carved on black pencil Lead, you are sure to wish that would be your house. What can we tell you about the snowman carved on a piece of chalk piece? The best Christmas gift ever! "Wait.. What? - this shall be your response if we say that there's a Diya carved on the pencil Lead with a Wick attached to it and then this man goes on to light up the Diya. Woah!! "Diya that can be lit up on a pencil Lead!" The list goes endlessly like this and you can check more of his arts on his Instagram page.
Champion in the Records:
This dexterous artist who drew inspiration from the legendary artist Bapu walked a long way and found a place in Champions Book of World Records. He was gifted a page in the world records' book for carving the great Indian tricolour with a height of 4mm and width 3mm on a toothpick. This achievement hugged him in a moment of pride on 15th September 2020.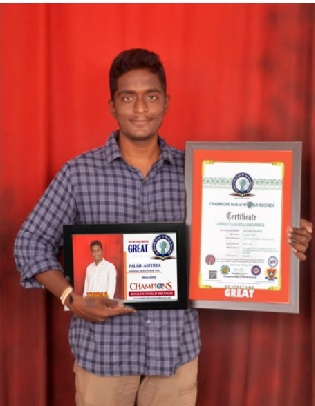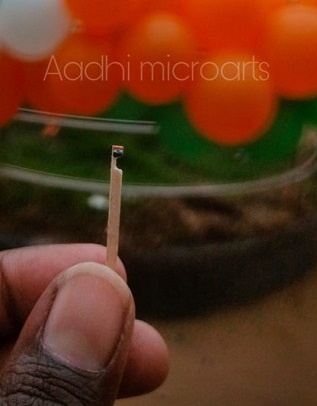 Pulled-Back By Various Forces But Walked Ahead Always:
Many a time, he was pulled back by many people around him telling him that art has no future. They wanted him to focus on some "useful" field that gives him future. But Aditya stuck to what he believed and his faith didn't go in vain. He convinced everyone who opposed him initially. When his arts found a place in everyone's hearts and when he started receiving wide acclaim for his works, those who opposed him got fully convinced about his potential and started encouraging him. Aditya, who never turned his foot back, advises the budding and enthusiastic artists not to give up, come what may. This amazing artist who wants to achieve more records and wants to be a professional artist, asks his fellow artists to be unique. He advises everyone to support themselves especially in the lowest point of their lives.
Support yourself when you're in failure till you achieve what you want to be, he says.
We wish Paladi many more successful artistic years to come and may his artistic glory glorify the nation one day.

Follow His Latest Works Now