Meet the resilient Nepalese woman who summited the Everest nine times despite her hardships.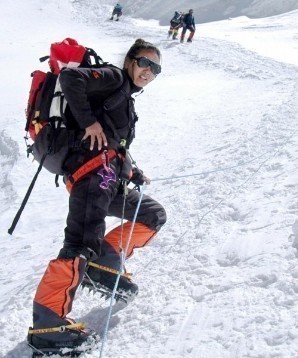 Have you ever thought how expeditions to the Everest could be? We often hear mountaineers summiting the Everest and we read their stories with awe! Everest expeditions last for up to two months. They are usually held in May. It's often difficult to communicate with the people who venture on to the summit. Except for communicating via satellite devices and Skype that too not often, there wouldn't be any other source to know about people and their whereabouts. Sometimes, accidents can happen and any unforeseen events like avalanches can keep the people away from the point of communication. Also, during the climbing season, the temperatures on Everest range from -4F to -31F. So, when you go on a mountaineering expedition, or if your loved ones have gone on one, then it's all in the destiny that they come back alive and such is the intensity of a mountaineering expedition. Here we have the story of a normal Nepalese woman - when we say 'normal', we mean that she is a normal woman who had received no official or formal training in mountaineering, neither followed a diet plan to keep herself fit and firm for the activity nor she was sponsored by any. She is Lhakpa Sherpa who has climbed the Mt. Everest for nine times. Let's get into her inspiring story and we are sure you will love it.
One in a Big Family Who Made It Bigger:
Lhakpa Sherpa, born in 1973, was raised in Balakharka, a village in Makalu region of Nepal in the Himalayas. She is one among the 11 children and the family lived in conditions where the house had no amenities like electricity. Having grown up in such conditions, Lhakpa did not receive any education.
Why Are We Talking About Her Today?
Sherpa is a fervent mountain climber who has ascended the Mount Everest for nine times, not made by any woman in the world to date. She is the first Nepalese woman to summit the Everest successfully.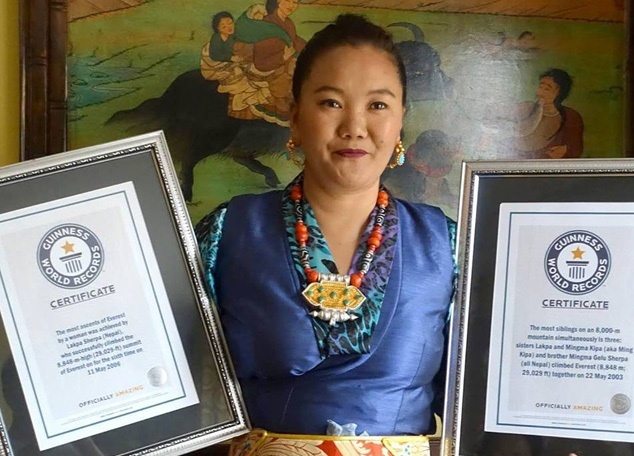 She has nine summits to her credit and she holds the world record for the same. In September 2000 she turned out to be the first Nepali woman to ascend Mount Everest and survive. She was recognized in 2003 by the U.S PBS as the woman who summited Mount Everest for three times which is considered to be the most for a woman. The number of times she summitted the Everest rose to six by 2007. In her seventh summit in 2016, she ascended the Everest from Tibet. Though in 2010, she attempted to summit K2, she had to return due to bad weather after she made it till camp 3. In her Everest expedition 2015, she made it till the base camp in Tibet but had to return due to the spring earthquakes in the Himalayas. On the whole, come what may, she has never given up her desire for summiting the mountains and she summitted the Everest in the years 2000, 2001, 2003, 2004, 2005, 2006, 2016, 2017, 2018.
How Did It All Start?
Since her childhood, Lhakpa used to hike along with her father and brother every weekend. When they packed their lunch and climbed the hills, the nature and fresh air around the hills instilled in Sherpa, love for trekking. As she grew up, she always travelled as and when she got a chance to and thus became an avid traveller, hiker and trekker.
Fitness Training and Financial Backup?? NO, NOTHING:
If you think that because she has no responsibilities and as her financial status well caters to the training, nutritious food and fitness, she could happily venture into mountaineering, then you will soon realize that you are wrong. She is a single parent left with the responsibility of three children. After the birth of the first child, her marriage life seemed to distort and she was subjected to physical and emotional abuse both in the house as well as on the expeditions (her husband too is a mountaineer). Lhakpa Sherpa held her pain under her teeth and continued to struggle but couldn't bear anymore after being attacked by her husband and hospitalized multiple times. She had to stay at a shelter for quite some time and later got divorced - all she was left with was the responsibility of her girls. She sweats day and night to earn bread for her family at Whole Foods. She washes dishes and earns minimum wage. So, what do you think? No family support, no financial aid from the sponsors, no training and not even good living conditions, still a mountaineer who summited the Everest, not once but nine times!!
"Climbing is my way out of washing dishes," Lhakpa smiles off.
Lhakpa and Her Genuine Wish:
Lhakpa Sherpa is aiming for her 10th climb and she is looking for sponsorships. She is dreaming for a life free of cleaning dishes and cleaning up trash. She wants a book released and a documentary about her life. She wishes to send her daughters to college as they are bright students but lack of money is keeping them away.
"These are not quick dreams," They are long dreams.", she says.
So, can't a strong, resilient woman deserve assistance? Just think of it!