4-YEAR-OLD ART PRODIGY SELLS HIS OWN PAINTINGS FOR OVER THOUSANDS OF DOLLARS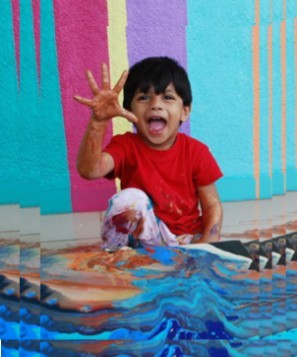 While other babies are just learning to crawl, our boy Advait Kolarkar has already picked up a paintbrush and created a masterpiece. A unique, innate ability to express his talent at a very young age, the prodigal wonder that is Advait has the makings of an artist who will definitely change the very face of art.
Art Prodigy
He discovered his fascination for color and composition when he was less than a year old. His keen sense of observation captures the very essence of his imaginative mind as he relays it onto a canvas with genuine and utmost sincerity.
When he was two years old, he already knew how to set apart the minutest of color differences. He could tell from one shade to another, without batting an eyelid. He could relate his thoughts with a brush and a palette of metallic colors. A walk through his mind-boggling art will prove to anyone that the child isn't a prisoner of his own thoughts. His personality unveils the many colors of his soul and his fragile fingers reveal massive potential.
Youngest Artist to Hold an Exhibition
Advait is certainly well ahead of the curve and his art much too ahead of its time. When he starts out, one can't be too sure as to what to expect, but when he has finished, one will be left gawking with their mouth wide open. Such is his wondrous talent.
The boy's hobby and genius artistic abilities caught the fancy of those who could recognize good art from bad. Under their eyes, as his style developed, so evolved his art. His vivid imagination slowly started forming a distinctive shape and the abstract strokes of his brushes finally caught up with the pace of his thoughts and found themselves in a natural flow on the canvas.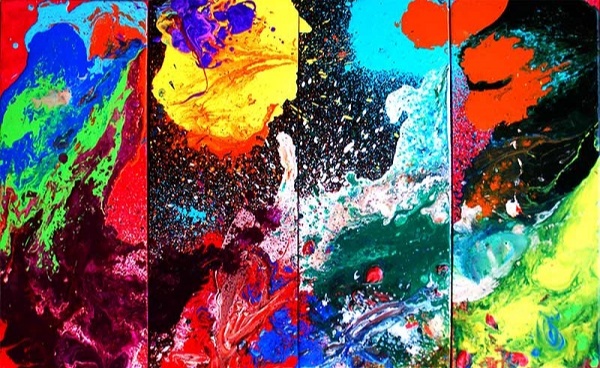 Advait is the youngest artist to have held his very own exhibition. Before migrating to Canada with his family, the Art2Day gallery in Pune hosted an exhibition of his fine work and at the age of two, he held a solo exhibition at the Saint John Arts Centre in Canada. The exhibition was called 'Color Blizzard' and he sold paintings worth $2000.
Recently his work was displayed at the annual Artexpo in New York, making him the youngest to ever do so in 40 years of history! The Artexpo is one of the biggest and grandest of art displays. It draws in tens of thousands of people every year and has also hosted the likes of pop art celebrity Andy Warhol, and expressionist painter, LeRoy Neiman.
Advait has sold 38 paintings so far. To date, he has earned a total of $23000 from selling his artwork. Half the money was put into Advait's future education fund and the rest was donated to charity.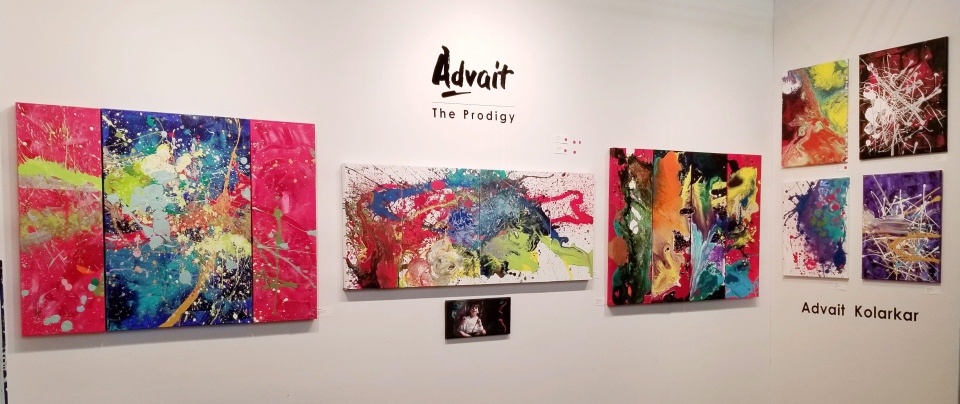 A Galaxy of Imaginative Wonders
Through a multitude of colors and combinations, Advait translates the very being of his wonderful imagination, quite vividly, onto a canvas. He's always been keen on reading books and has the ability to memorize any page he may like. He can tell dinosaurs, musical instruments, insects, and colors apart. He channelizes his inner energy and uses his paintbrush as his weapon.
He has the stars and galaxies in his eyes. He paints celestial bodies and shapes. The universe appeals to him as a form of inspiration and with every stroke, he paints the fiber of his own being.
A young artist in the making, Advait has a flourishing career waiting ahead of him. At such a young age, he has already captured the hearts of many with his innate abstract quality to bring paintings to life.

Click Here To See More Of His Paintings

Follow His Work