Showing complete love, compassion and responsibility are what this army officer is doing. Touching indeed.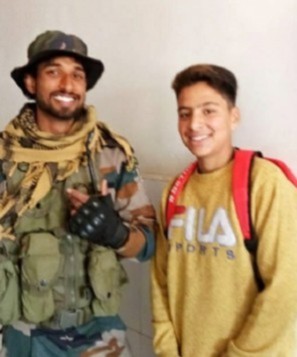 Remember Chanjimula village near Handwara? The village that gave us the bad news of the sad demise of five of our security men including Col Ashutosh Sharma and Major Anuj Sood during an encounter. This story brings back to you the same village but this time on a heartwarming note. The story of the love and compassion of an army officer towards a boy who can neither listen nor speak.
A Routine Day On Duty Turned Out To Be A Special One:
One day in August 2020, Major Kamlesh Mani, Rashtriya Rifles was on his regular patrolling rounds as every day. He then found a young boy sitting in the corner of the road. His name is Gawhar. Major Kamlesh walked to the boy as a part of his routine to pull up information about him and realised that he is deaf and dumb. When he came to know that the boy can't speak and hear, Kamlesh tried to spend some time with the boy. His innocent eyes and curious looks attracted Major Kamlesh and he offered chocolates to the boy who accepted them. Later, Major Kamlesh invited the boy to meet him in his camp and left the place.
The Boy At The Camp:
Though Major Kamlesh invited the boy to his camp, he didn't expect that he would really turn up. Gawhar went to the camp but at that time, Major Kamlesh was not available there. His colleagues offered the boy some food but he refused to accept. He kept waiting for Major Kamlesh. "When some in the camp offered him money, he displayed his wallet, clearly establishing that he wasn't there for the money but for Major Mani. That meant a lot for me" Major Mani said in an interview. When Major Kamlesh returned to the camp, Gawhar greeted him with joy-filled eyes and offered the apples he brought to him and his colleagues. Major Kamlesh got so attached to the boy within just a couple of meets and was completely drawn towards his love and innocence.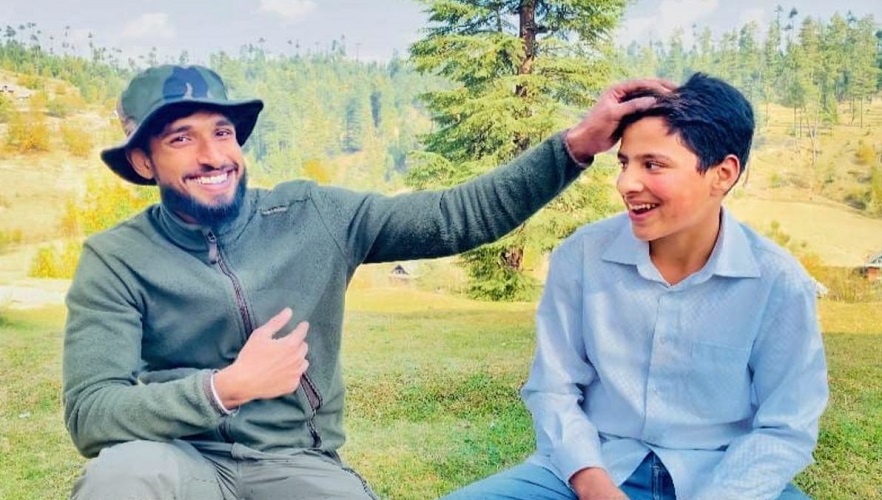 A Life-Changing Decision:
When Major Kamlesh met Gawhar's family, he noticed that the disability the boy is facing is actually hereditary. 5 out of 9 family members suffer from the same disease. Major Kamlesh who got closely attached to Gawhar offered to help and fund his medical treatment. While Gawhar's father was a little doubtful to accept the Major's offer, the boy's grandmother showed complete trust in Major Kamlesh. She said to the officer, "Jahan le jaana hai le jao, jo doctor mile theek hai, par isse badda aadmi bana kar waapas laana.",(Take him wherever you want, to any doctor or anywhere but help him grow into a complete man), Major Kamlesh shared. Currently, Major Kamlesh is funding the boy's education. He also bought a smartphone for the boy so they both can stay in touch.
Change In The Boy's Life:
Gawhar is currently studying in DEIC (District Early Intervention Center), Handwara. He is also been given medical attention from the best doctors in the district. Though the doctors declared him to be 70% disabled, Major Kamlesh didn't give up on the boy. He took the boy's responsibility for the lifetime. In future, Major Kamlesh is looking forward to getting the boy, the best kind of treatment in Delhi, Chennai, or Bangalore.
What a great gesture of love and compassion in the land of conflicts where we get to see nothing but violence most of the times.

Follow His Work