A story of an Indian tribal woman who made it to the Vogue magazine, keep reading to know what makes it so special.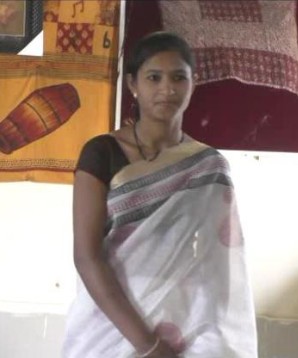 Do your job without expecting the result. Recognition comes from nowhere all of a sudden at the least expected moment. If one waits for rewards, results and recognition, the work surely does get its share of impact and we might end up with nothing. But when we work without any expectations, results follow and so does recognition. A living example of this is a tribal woman from Madhyapradesh. Sita Vasuniya, a tribal woman who did nothing but her work every day along with a group of other women has suddenly become an iconic figure. Never has she ever thought that her work, that she has taken up to fill her stomach and cater to her family shall bring fame to her on a global level. This is the story of this 25-year-old, a mother, and a woman from a self-help group in the region. Let's take a sneak peek.
From Being A Part Of A Self-help Group:
Sita Vasuniya is a 25-year-old woman from Madhyapradesh who resides in Panala village of Dhar district. She is the mother of a two-year-old boy and is a part of the Dhara self-help group that was created as a part of the Madhya Pradesh government's ambitious initiative, 'Ek Jila Ek Utpad' (One District One Product) scheme under the Atmanirbhar Madhya Pradesh mission. Under this project, three women SHGs, Suraj and Chandani which specialise in Bagh fabric printing and Dhara specialising in Dabu, Batik, block-printing, hand painting, and thread work were created.

Under the Dhara self-help group, Vasuniya, along with a few other women makes Maheshwari and Chanderi print sarees and dress materials. These women buy cotton clothes, make sarees out of them, do the necessary dyeing, and market the products themselves thus sharing the profits in a way to become self-sufficient. Also, these women do not approach any models to promote their designs and works as it would burden them with additional costs. They themselves do the modelling so they can avoid any loss. Thus, their work ranges from manufacturing, designing and dyeing to marketing that includes the act of modelling. Currently, 30 women are a part of these local self-help groups. Dr Saloni Sidana, Additional Collector said, "Not all women are able to do the work of garden print. This is because this print has got a GI tag. Women who want to work apart from the garden area. We have formed groups for them." He also added that to make these women self-sufficient they were prepared in such a way that they also work as models for themselves.

The Model On Vogue:
As a part of this work, Sita Vasuniya wore a Maheshwar Handloom saree which she block-printed herself. She was shot in this attire by a Delhi-based fashion photographer at Rani Roopmati Mahal, in tourist hotspot Mandu of Dhar district. To her and everyone's surprise, this photograph was featured in an international magazine. Sita became the face of the current digital edition of Vogue Italia - the Italian edition of the world's premier fashion magazine, Vogue. "When I started training in February, I had never dreamt of being featured even in a local newspaper; forget about figuring in a premier fashion magazine. I still can't believe it," Vasuniya shared her happiness in a media outlet.
From being a part of a local self-help group to becoming the face of a fashion magazine, Sita's journey tells us how dedicated and honest efforts without any expectations can bring success and fame. In a world where everything is done keeping the results and returns in mind, we need to sit back and relax, just do our duty keeping calm. Amazing results shall apparently follow.