'A Place for Her' should take shape in every locality in every city. What is the purpose? Interesting.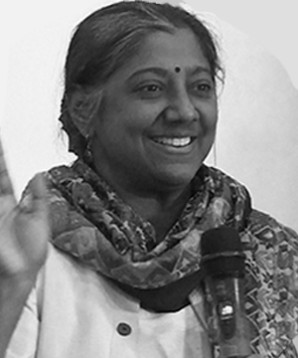 I am a woman and when I am locked up with chains of domestic, professional, and personal work from sunrise to sunset, having no time to sit with myself or with my fellows, discussing about things that interest me, that my heart longs for, that my mind desperately needs; where would I end up one day?
"A young teenage girl who lives in a slum and is responsible for her household, to the ironing lady opposite our office who works from morning till late evening without taking a break to the 78-year-old retired telephone operator and mother passionate about Carnatic music and wants to pursue a PhD in the same"- all have something to share, something useful to contribute. Only if they are given an opportunity to sit, speak and share. Hyderabad Urban Lab mentioned the same on their website and that's where we get to meet and know about its director Bhashwati Sengupta.
A Delhite's Work for The Community:
Bhashwati Sengupta hails from Delhi and pursued her Masters in English in the capital city. She has been contributing to the social work at different places like Jammu, Punjab, Andhra Pradesh, and Telangana for over three decades now. She loves to share her knowledge with others. If she has learnt something new, she craves to share it and this, she has had in her since childhood. Having had the experience of training teachers in various facets, she also dedicates her time to change the face of urban living, especially in respects to the way women toil all day long without having personal spaces for themselves. Bhashwati is one of the directors of Hyderabad Urban Lab, an interdisciplinary research and action initiative based in Hyderabad. The organization was founded in 2012 by a group of academics and development professionals. It has been conducting urban research and community engagement activities on a range of themes related to life in the "Urban." – as per the website description. As its director, Bhashwati has designed and implemented various programmes that ensure urban coexistence.

The Need For A Dedicated Space:
Things are always easy for men. If they are vexed with the office work or with things at home, they can quickly grab a cigar and find themselves talking to anyone at a random tea stall to relieve their stress. They hang out quite often after office hours with their colleagues or friends, sharing their thoughts and ideas - having got no obligation to discharge the domestic duties. But things are not like a walk in the park for women. They often work contributing to the economy and to the family. Their presence is much needed in every hour and everywhere. But by the time, they feel like venting their thoughts, sharing their opinions and ideas, do something their heart longs for – the day rides off into sunset. The main problem here is that they don't have appropriate places to sit and talk, to play, to laugh, to display their talents, to embrace their hobbies, and above anything else, to relieve their stress. When a teenage Muslim girl came to Bhashwati at HUL one day, questioning about why can't girls have dedicated place to play, it kept her thinking.
A Place For Her:
A spacious room, an enriching ambience, colourful walls, creative softboards, and above all, people to smile and share talks with. A healthy atmosphere where any woman - irrespective of caste, creed, social and economic status, educational and family backgrounds can sit and spend time for any number of hours between 11am and 7pm has opened its gates at the Masabtank area of Hyderabad. Housewives, college girls, daily wagers, IT professionals – anyone can walk into this space to discover their happiness. No one is questioned and no one is answerable here. It's all for HER.
The walls of this place, house paintings that reflect the splendour of a woman. Women can read books and newspapers, can do some crafts or painting using the stationery that's kept handy, can listen to music and use the free WiFi. If one wants to learn any computer courses, one can learn at comparatively lower prices. From a teenager to a nanny, anyone can come and share their thoughts without any fear of being judged. To such people who show social, economic and any such other differences, this place says, "sorry, can leave". No place for anyone who waste time with unnecessary topics and discussions as well. "A public space that is free, safe and easily accessible to all kinds of women is what we are aiming at" – says their website.

From 'Corner Space' To 'A Place For Her':
Bhashwati mentions that six years ago, when they had conducted a research in the cities like Athens, Jakarta, Paris, Ivory Coast, Hyderabad on where the urban youth is heading, what are their thoughts, beliefs and hopes on life; the results they received were alarming with majority of the youth talking about the boundaries they experience on their way to fly. Bhashwati then initiated a project called Corner Space bringing together odd groups like slum children-IT professionals, directors-common man etc. – the kind of groups who would otherwise never come face-to-face. This not-for-profit project ran successfully for good period of time after closing which, Bhashwati initiated Place for Her.
Anything That Comes For Free Is Doubted – No Doubts Please:
We have the tendency to doubt anything that comes for free having got used to spend thousands of bucks on entertainment and recreation. When Place For Her offers women to sit for any duration of time, provides free WiFi and other things, people often wonder, "What's the motive behind? Why would anyone offer anything without a monetary benefit?" But Bhashwati says that we don't have to always think in a transactional mindset. There can be things that are purely distanced from commercialisation – she affirms. Emotions, happiness, freedom need not be purchased and that's what Place for Her believes. Though it takes time for people to understand this, it's not a rocket science.
We hope that Place for Her emerges in every place and not in the Masab Tank area alone. Even a small room in an apartment where all women meet and spend time can become a 'Place for Her'. The idea is to promote 'productive communication' among the urban women and that is all. This is what Bhashwati Sengupta dreams of.

Know More About Hyderabad Urban Lab

Like and Subscribe To There Channel For More Updates
Must Read: Saving lives of new mothers through innovating Postpartum Hemorrhage Cup. Teen being awarded by PM.