71-year-old Actor empowers women of deprived community through weaving.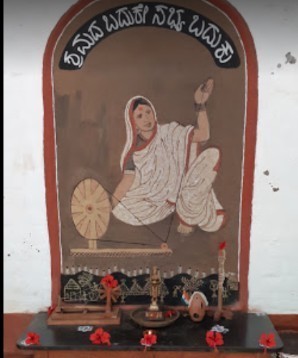 Sharada, a weaver in her 40s was a landless labourer in an areca plantation earning ₹70 a day during the harvest season. When she entered the Shramajeevi ashram, her life changed. "Weaving seemed like magic. Instantly, I decided that's what I wanted to do," said Sharada. Sharada, who has never been to a bank until then, gets her salary of around ₹10,000 credited to her account and she proudly says that all her financial transactions happen through her cheque book. Well, this is inspiring. Isn't it. Women being happily empowered. This is not the case with just Sharada but hundreds like her. All this happened because of one man, the prominent theatre actor and director Prasanna, whose initiative to revive the lost Charaka culture, the hand-woven trend as well as to uplift and empower the villagers has been making big difference in the lives of many. Let's know more about him and his ashram.
IITian Who Discards Machines:
Prominent theatre actor, director who was trained at the National School of Drama and whose book, Indian Method in Acting is a guide to many, Prasanna, has been spending the last 25 years of his life in a village called Heggodu in Karnataka's Shivamogga district. This 71-year-old man has established Shramajeevi Ashram and leads a life in Gandhian style. He was inspired by the Gandhian ideology and quit theatre. He founded the Shramajeevi Ashram, and Charaka, a rural khadi co-operative that is managed entirely by local women. After he relocated from Delhi, he observed the need of stable income for the villagers, especially for the women which is the root cause of founding Charaka. "When I came here, agriculture was the only means of livelihood. Areca farms and overgrazing were eating into the hills and forests. Farmworkers from marginalised castes were at the mercy of the landlords. I wanted Charaka to draw the poor out of agriculture," said Prasanna.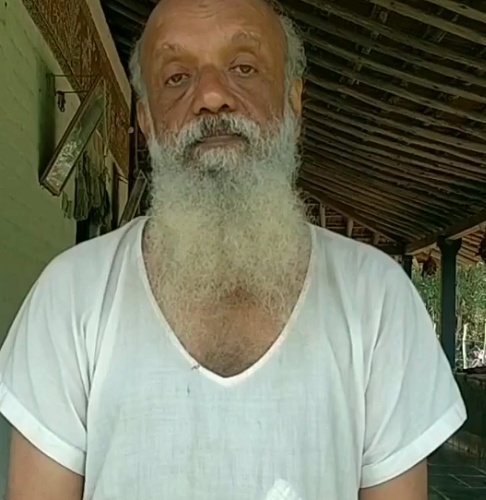 Ashram In The Nature's Lap:
Prasanna who appears like a saint in his white beard wearing a long kurta and off-white veshti created a Gandhian village by training Dalit women in various skills who were never exposed to any sort of weaving tradition before. He established a weaver's organization in the premises of Shramajeevi Ashram in Heggodu which is about 7 hours from Bangalore. The ashram is constructed majorly using earthy material which showcases that man and nature can co-exist. There is a prayer hall where the members of the society do their morning prayers beyond which Prasanna has his living quarters. Rows of huts with mud walls, tiled roofs, and mud flooring line up around a large courtyard filled with numerous plants of flowers and vegetables. These houses have walls with hand-painted designs and are modestly furnished with charpoy and bed with a kerosene lamp while the whole place is powered by solar lamps. Prasanna, who initiated the ashram activities has trained and employed over 200 women from neighbouring villages and above 500 women in other parts of Karnataka. Today, Prasanna handed over the management to the women who handle all the day-to-day operations. With Charaka's activities, that community which majorly depended on agriculture without any other source of income got an opportunity to make their lives sustainable.
From The Ashram:
Charaka weaves garments at its premises and right from the intial process till the end, everything is handmade without the use of any machines. Weavers from neighbouring districts buy handspun yarn from Charaka and sell handwoven fabric back to the co-operative. This entirely handmade and naturally dyed fabric is much in demand among the apparel manufacturers and exporters in the southern States. It also sells readymade garments under the Desi brand. "With Charaka, we are assured a year-round supply of yarn. And so it means 365 days of assured work for us," says Dharmaraya, a weaver from Gajendragarh in Karnataka's Gadag district. Along with garment making, Charaka also organises training sessions for other weaving societies about the best practices in weaving. "I hope Charaka can be a viable template for creating a Gandhian society across India.", says Prasanna.
May this ashram stand as a pillar of self-reliance to many women out there. May this ashram continue to get the shadowed artistic fabric weaving techniques into spot light. May this ashram continue to spread the peaceful weaving tradition across the globe without any harmful chemicals being released in the name of fashion. May Charaka flourish and may people associated with it flourish for years.

Follow His Work

Follow His Tweets