Bharatanatyam postures by 5yo Kerala kid in Abu Dhabi is grabbing attention.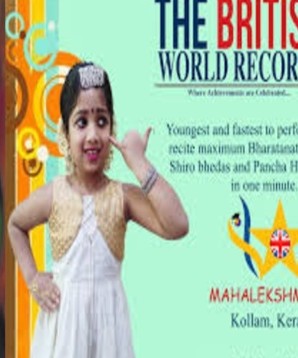 Kids are wonders by themselves. No recognition or medal is required to assess their abilities. Every kid is innately talented and their genius is displayed when the right environment is created for them, when positive motivation is given to them all the way. Often, elders are seen telling kids what to do and a few of them go beyond that and teach kids what to think as well. But when kids are given freedom to think, when their thoughts are given a keen ear, when they are allowed to do what they love; it is then that they shine brighter and amaze elders with their super talents. Mahalekshmi Anand of Kerala has just done the same thing. When her ability was recognized by her parents, they encouraged her in that direction and there you go! The little girl emerged as the record setter in not just one, but in nine distinct titles.
KG-II Student, So What? Ability Doesn't Mind The Age:
Mahalekshmi Anand is five years old and is a native of Kollam, Kerala. She is currently residing in Abu Dhabi and is a KG-II student. Her parents, Anand Kumar and Neena Anand, both are engineers. When Mahalekshmi was just one and a half years old, her parents recognized her interest in learning new things quickly. They also observed the way their girl would memorize things quickly. Her astonishing memory power amazed the parents and they started to encourage the girl by giving her new concepts to learn every time she finishes one. The parents never stressed the girl beyond her limits and they never wanted to impose pressure or burden of learning and memorizing on her. However, the girl herself showed high interest in grabbing new pieces of information, learnt them quickly and memorized them by heart. Be it math, be it quiz, be it dance – information about anything that is presented to the kid was just fed to her neurons and they would never let go of it.
Mother's Preparations For Exams Joined By Kid:
It all happened when Mahalekshmi was one and half years old and Neena Anand was preparing for the state government exams. The girl sat beside her mother one day and Neena, while reading for her exams, casually taught her little daughter about scientists and their inventions. To the surprise of the couple, Mahalekshmi grasped what all Neena taught her and two days later, when she was questioned, she still answered the questions correctly. Talking about the kid's potential, Neena said, "From a very young age, she was keen to learn. We realized her potential when she began to memorize and recite whatever we taught or showed him from a book". Neena further said that Mahalekshmi's thirst for learning new things grew with age and when she reached three, she started learning the names of scientists and their inventions alphabetically. Mahalekshmi also was enrolled in Bharatanatyam training under Kalamandalam Amrita Deepak and even there, the little one amazed everyone by learning 55 of the total 81 postures and expressions in less than a year. Neena says that sometimes the doubts and questions that Mahalekshmi asks have no answers with the parents as well and for that, she smiles and says that Google comes to their rescue.
The Record Set By the Kid Is Again A Record:
We have seen people setting records in one category or in two. But this wonder kid has set world record in three distinct categories. At such a tender age, she held nine record titles. The three categories in which she set the world records are 'the maximum number of inventors and their inventions memorized in one minute', 'youngest and fastest to perform and recite most Bharatanatyam postures and expressions in 54 seconds', and 'Youngest and fastest to memorize India's states and capitals alphabetically in 26 seconds'. Mahalekshmi bagged her first record title at the age of five and became the youngest to identify the most scientists and their inventions in one minute. Under the same category, along with three world records such as International Book of Records, British World Records, and Kalams World Records for Extraordinary Grasping Power Genius Kids, she also received a national record, the India Book of Records. She further held the record title of being the youngest and fastest to perform and recite the maximum number of Bharatanatyam poses and expressions. Mahalekshmi who can perform 55 of the total 81 postures and expressions in 53 seconds has received place in India Book of Records and also bagged three world records finding her place in International Book of Records, British World Records and Champions Book of World Records.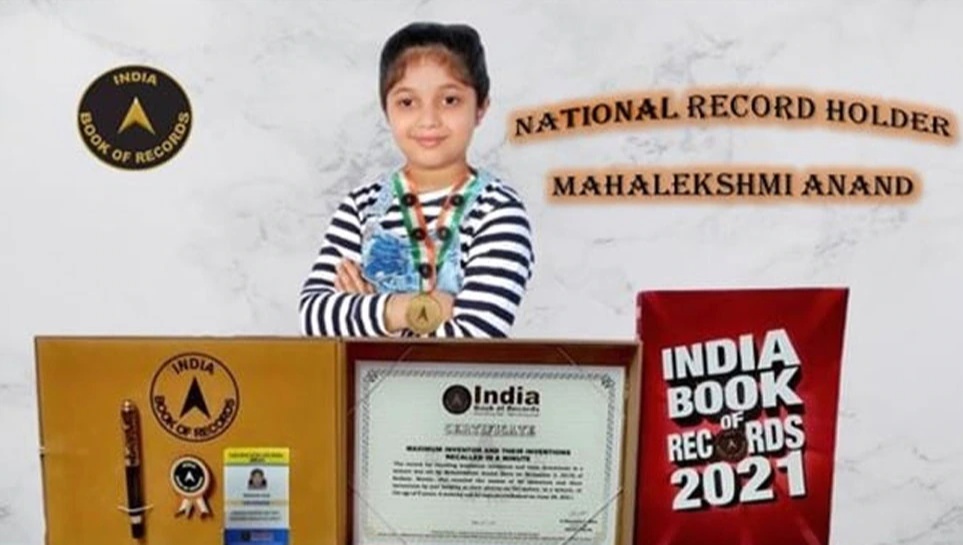 Who said that it all comes with age? It all comes with the right way to channelize the energy that kids possess. When Mahalekshmi could do so much at just five years old, it is evident what her memory can give her in the years to come. However, we also wish the little girl does not fall under the pressure to do more and achieve more. May she remain stress-free that helps her do wonders. We wish her a happy, healthy and accomplishing future.