47 YO IT professional proves that age is no constrain for Biking.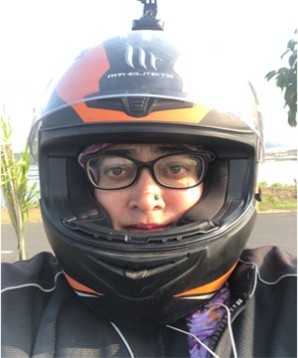 Mehdia Fathima, is just another IT professional, but what puts her on a different podium than others is her passion for riding a bike at 47. What she wanted to do in her 20s due to lack of opportunity she is happy that at least she is doing when she is in her 40s.
While most women only toy with the idea of riding a bike, Mehdia took it to the streets and has gone on solo rides across 60 cities and covered the entire coastline of the country.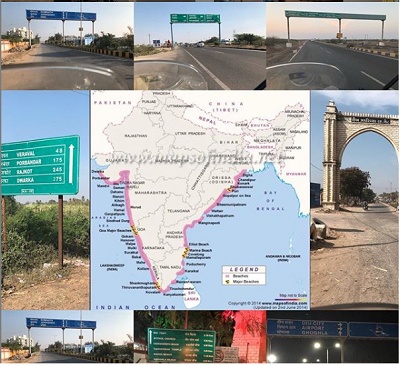 Support extended at home and workplace
Mehdia Fathima, a mother of three children lives in Bangalore with her family. It happened when she just decided to take a colleague's bike for a ride and then on clung on to her dear passion. Rented a bike and with the help of a few colleagues at workplace she fine-tuned her techniques. In April 2017, she got her first bike, Avenger 220 Cruise. For the first few months did small rides with friends and also did an IBM Club group ride, and even tried going with some other women biker groups. She then took to solo riding. Her first solo bike ride was from Bengaluru to Nellore for three days. Mehdia's spouse, children, colleagues, friends and her manager have always been supportive of her rides.
Solo Golden Quadrilateral Ride
Post the first long ride to Nellore, Mehdia gained confidence that she was good for a solo ride. She then completed the Golden Quadrilateral road circuit which covered 16 states and all five metro cities and over 40 other cities in India. The distance of approximately 7000 kms was covered. Mehdia Fathima went on the Golden Quadrilateral route for three weeks in April 2018.
She then went on a longer ride which was an 8,500km trip from Gujarat's coast to the Sunderbans in the West Bengal in December 2018. It took Mehdia 28 days to complete this ride.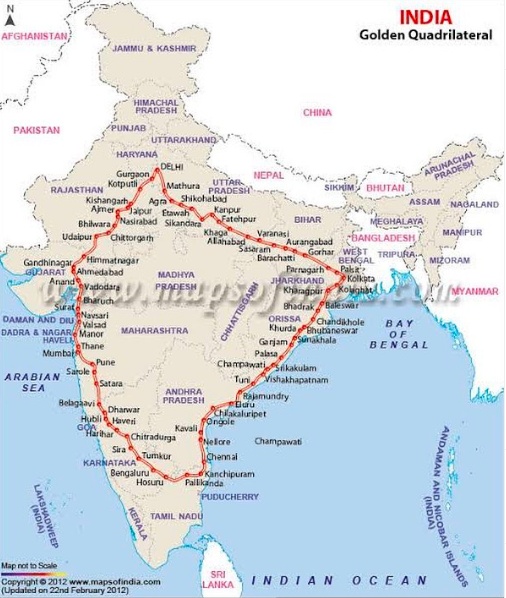 Preparations during the ride
During the course of Mehdia's ride, she made sure to be well equipped with all the medical needs, insurance, GPS, tools and shared her route with friends and family. She loves doing video calls and sharing her adventures whenever she finds time. She maintains the speed limit provided on the roads at all times. She also makes sure not to ride at nights and prefers to close the day before sunset. Hosting Mehdia has been a pleasure for family and friends who love to hear her experience and she too loves the warm hospitality.
Comfortable riding alone
Mehdia Fathima initially went to group rides but was too slow to cope with other riders' speeds. She, in fact, was sent back from her first group ride as she was slow. This demotivated Mehdia initially, after which she had or is still having a mental block that she is unfit for group rides. But this reason did not stop Mehdia. She says "I'm comfortable alone as I consider myself unfit for group rides. Maybe because I take time to mingle and I need to work out a schedule between my home and work timings".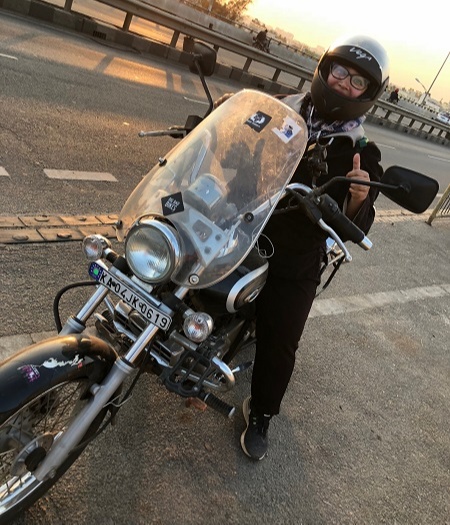 Not everything was positive
Some people close to Mehdia Fathima had discouraged her, even thought that she was stupid and selfish to be riding a motorcycle at her age. They would also question her, "What is it you want to prove- that you are good, you are brave, you are different, you are adventurous?". They would also tell her that her so-called 'hobbies' should be limited to her age and her culture as an Indian woman.
Mehdia coming from a humble and conservative background was initially ridiculed by people she knew, saying that it is a midlife crisis or she was just trying to show the world or prove that she was cool. Mehdia chose to give a deaf ear and followed her instincts.
Strong inspiring message
Mehdia Fathima's bigger motivation is to inspire the millennial, gen X or gen Y kids to get out of their tablets, phones and social media, and to explore the world outside. The nature, culture and people are so interesting that its worth exploring. Mehdia also mentions that life is not all about home, work and traffic.
Mehdia also keeps organizing boot camps to promote and trains those who would like to learn to ride a bike; its her way of encouraging the youngsters.
Much more.
Whether you are a teen or in your forties/fifties life must be lived to the fullest. Mehdia doesn't just stop at riding –she just finished LAST in a couple of half marathons but there is always a next time to win. All outdoor activities are a great stress busters for her and she loves her treks too.
What next ?
A pukka plan to ride from kashmir to Kanyakumari ride or Bangalore to Tawang in the 2020. "I will continue to explore, enjoy the rides as long as am able"
Touch base with Mehdia if you wish on :

@mehdiaridesagain

@mehdiafathima

@mehdiafathima