I Walk and Walk, Stop, Feel, absorb, explore every part of our incredible India says the lone walker.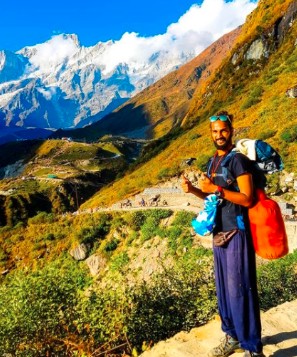 He says that he is not a tourist. He is on a journey to know the people of India. He loves to meet people, make friends, share his experiences and listen to their stories. He is a 23-year-old Noida young man, Yati Gaur who set on a journey to travel on foot. He says that travelling can be done in any way but he prefers to walk without choosing any other mode of transport. The reason behind this, as he says is that India is a country where language, food, culture, rituals change every 100km or less. "It feels unfair to explore it on a bike or another mode of transport. You have to take your time to soak it all in. Walking allows you to do that. It makes me feel very close to nature and the people.", he says. Let's look into the story of this man who walks with a 15kg backpack on the roads of India breathing its very essence.
His Job Woke Up The Traveller In Him:
Yati Gaur is a resident of Noida, Uttar Pradesh. He graduated in cinematography and started to work as a Community Manager with a backpacker hostel, The Hosteller Hospitality Private Limited. The Hosteller is a chain of backpacker hostels across India that helps travellers to relax, rejuvenate and experience India's rich heritage without worrying about a clean and safe stay. Gaur, who worked for them, got excited about travelling as his daily job exposed him to a wide range of travelling experiences unleashed by the travellers. That's when he decided to travel. Leaving behind the idea of hopping on to any modes of transport and landing at the destination, he decided to enjoy and absorb every bit of his journey by actually breathing in the air of every region he comes across along his way. He has been exploring different parts of the country and vlogs his trips for his YouTube channel (The Unfolding Play) along with posting on his Instagram handle@theunfoldingplay.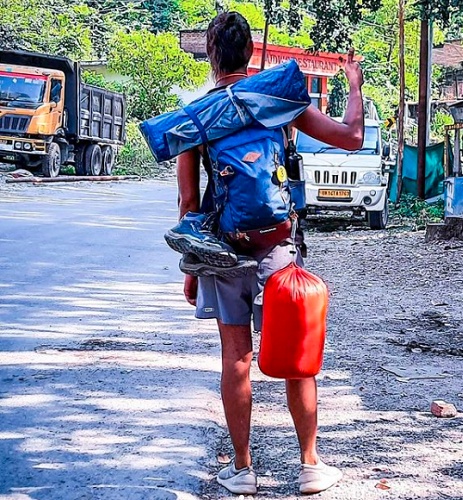 Walking The Life Out:
Yati always had always been very much interested in walking. However, it's only the lockdown that presented him with the chance to try it out in a wholesome way. When asked about why he has chosen to travel on foot, he clarifies saying that he is not doing anything new and that walking long distances has always been a part of our culture. "Pilgrimage meant walking from one destination to the next; Char Dham [four main pilgrimage centres of the Hindus] — Badrinath, Dwaraka, Puri and Rameshwaram — are in four directions. People walked to these. I am not doing anything new," quotes Yati.
Yati starts walking at sunrise and wearing a rucksack that includes a tent, a sleeping bag, clothes, camera, socks, some water, jaggery and a Ukulele, he sets on, on his foot. He travels around 20-25 kilometres a day and for the directions, he takes the help of the locals. Though he checks Google maps but he feels that locals have much more command over the places and shortest routes. When he reaches a spot, he spends some time thereby exploring the place and experiences it. After sunset, when he decides to wind up, with the permission of the locals, he sets up his tent. He mentions that people are so understanding. They talk to him, ask questions about what he is doing, tell their stories and listen to his', give him food and water too. On his way, Yati has made so many friends - "Friendly enough to call and check on me", he mentioned. When it comes to the question of safety in walking alone, he said that he hasn't faced anything alarming so far. "I have walked in Rajasthan, Uttarakhand, Himachal Pradesh...it has been safe so far."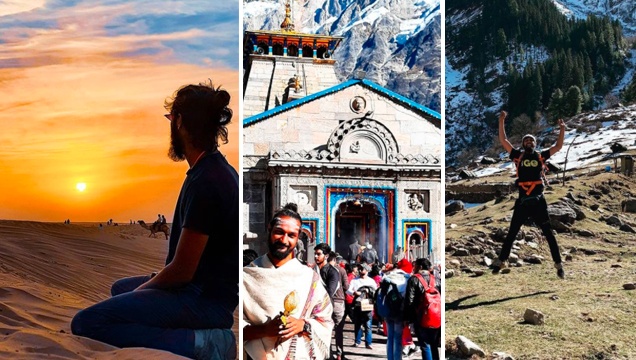 Walking With Nature And Her Kids:
Yati says that he enjoys walking alone, for he never feels lonely. He feels as if he is walking with nature and into nature. He bumps into many trees, birds, animals, water bodies, mountains and rocks. Once, he came across a bear that didn't harm him but just walked away. Also, when he was walking in Rajasthan, he happened to come across a pup, which he couldn't leave behind and so adopted her and carried her along with him. He named her "Buttercup".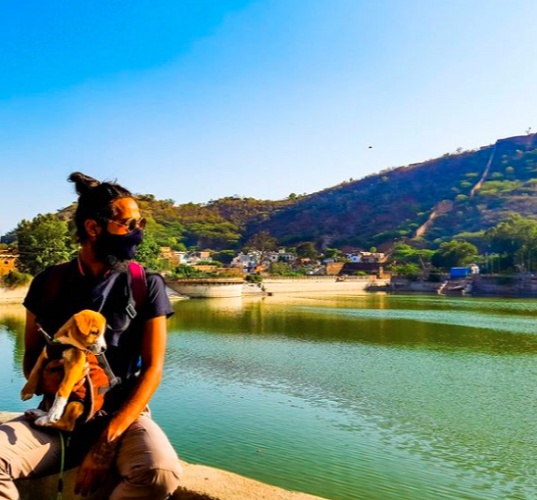 However, he couldn't let her travel along with him as she is too young to walk and there's also possible danger from other animals on the way. So, he left her with friends. Yati keeps his travel on food with minimal weight on his shoulders and only then, he says, we can reap the best of it. Yati also quotes the sustainability angle that hides in it. The traveller, he says, must be aware of the waste he leaves behind while travelling. Yati ensures that he keeps an eye over what kind of waste he is generating all through the travel - biodegradable and non-biodegradable. He makes sure that he keeps it lower than minimum ensuring zero carbon footprint.
Challenges Are Inevitable:
Yati very well knows of the challenges he has to face while travelling on foot, the most important one being the damage caused to the feet. He injured his foot once and he stopped at Badrinath. Once he recovered, he made it a point that he wouldn't stretch too much even if he feels he will be able to cover longer distances in a given day. COVID-19 posed several doubts especially while walking through the villages. The locals were afraid that Yati could be positive. However, he was not thrashed by any. They were helpful and understanding. Yati had to go through checking at the tourist spots or hubs. "The police are concerned. I haven't had problems since I crossed Chakrata (Uttarakhand), as it had been a COVID-free zone till Sojha (Himachal Pradesh). Locals do ask about vaccination and the RT-PCR test so that they can inform local authorities. The local authorities have my details in case they need to get in touch" he says.
A Successful Journey So Far:
Overcoming all the challenges, Yati walked for 520 kilometres from Rishikesh to Badrinath, via Kedarnath, Tungnath and other regions. He then walked around 800 kilometres in Rajasthan — starting from Jaipur and covering places such as Ajmer, Pushkar, Mount Abu, Jaisalmer, Barmer and Bhilwara. "Travelling is more about the journey than the destination. I want to absorb and not just observe", says the traveller who logged 2,300km on foot so far and who is just concerned about the path he takes but not the destination.
What's Waiting For Us To Listen From Yati?
In future, we can hear Yati's successful completion of what he took up with the joy of exploring. His dream is to cover every part of the country on foot. He also wants to bag a "civilian award for walking". Yati says that he also wants to break any previous records set for walking.
Enjoying every bit of nature, embracing people, cultures, food, rituals, birds and animals on the way, talking with the trees and relishing the low-hanging fruits - Wah! Isn't this life! Not everyone can dare to live but we can definitely try. Again, not to forget the concept of sustainability.

Follow His Work

Like And Subscribe His Channel For More Updates