Fossils fascinated this little Indian kid who went on to win the Global Child Prodigy Award.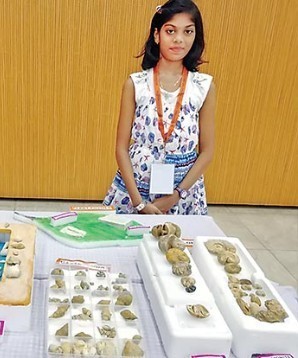 How many have taken the encyclopedia seriously? Most parents must have surely bought it for their kids only to find it securely placed in the bookshelf. Even if the kids take it out once in a blue moon, chances are very less that they go through every bit of it and gain complete knowledge of everything it has. Let us introduce you to a preteen whose introduction to encyclopedia has changed so much for her making her the youngest Paleontologist of India. Aswath Biju had no idea that the book she held when she was a toddler will take her to unique heights. Without further ado, let's get into her story and find out why it is so unique.
Fossils at Five:
A 13-year-old Aswatha Biju from Chennai, Tamilnadu who studies in Sri Chaitanya Techno School Palavakkam, is India's youngest Paleontologist. It might amaze you but that's what it is. When she was just 2 or three years old, she played with shells, unlike other toddlers who picked up toys. Her favourite past time was reading books and she was especially fascinated by the encyclopedia. She didn't know how to read them but just flipped through the pages looking at the images. While looking at the images, she stopped at one picture and that happened to be the image of an ammonite.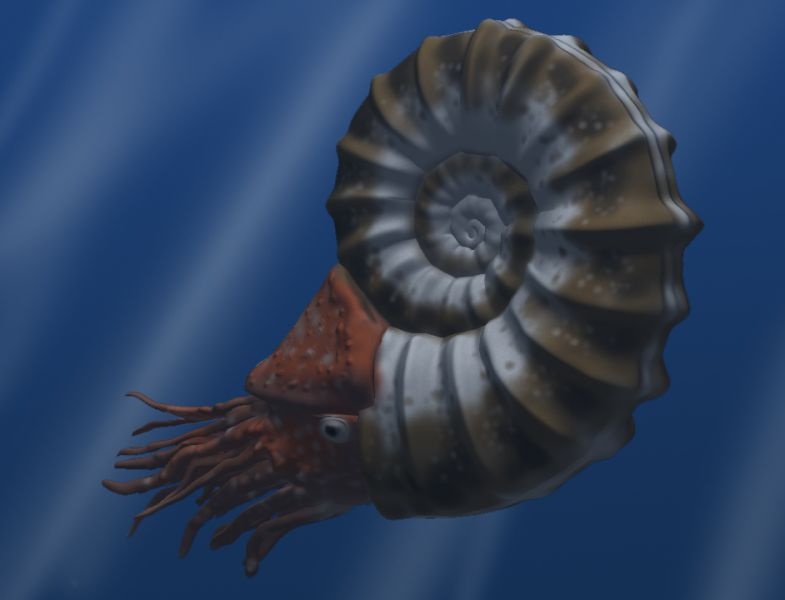 She thought that it is a shell and asked her mother that she wanted the shell. Mother explained to the girl that it's not a shell but a Fossil. Aswatha insisted that she wanted the Fossil and it became tough for her mother to convince little Aswatha that the Fossils will be under the government protection. But Aswatha's mother lost before her daughter's determination and finally took her to the Egmore Museum. It all started from there and the mother took Aswatha for some 10-12 times to the museum upon the girl's insistence just to see that one Fossil. Eventually, Aswatha started gaining more knowledge on fossils and started travelling to nearby places with her mother in search of Fossils.
"She had collected many, which she recognised purely based on self-research. Unlike the museum specimens, these weren't millions of years old. Perhaps, 100 or 200 years," her mother says. Thus this young fossil enthusiast from Chennai has collected close to 114 Fossil specimens and turned her house into a mini fossil museum.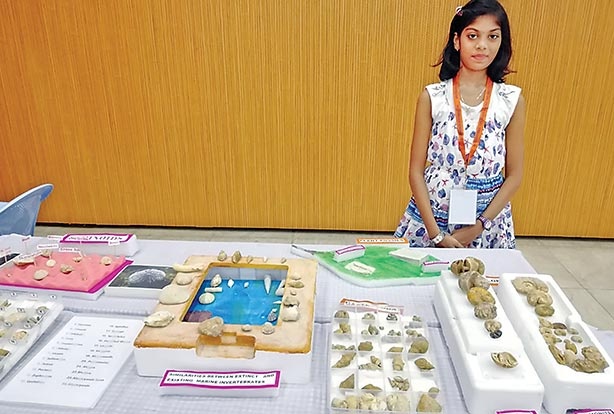 Fossil Superstar:
The enthusiasm of this girl didn't stop there. When she was in grade 5, Aswatha stepped a million miles ahead and called the HOD of Marina Sciences in the Bharathidasan University in Trichy. The Head of the department couldn't believe that the girl possessed such immense knowledge about fossils at such a tender age. When she told him that she'll bring the fossils she collected to the university to know more about their origins, he was both amused and went dubious and asked her to come to meet him. However, when the mother and daughter went to the university after travelling for seven hours, to their disappointment, they found that the HOD was not available there. But when the desire is strong, things will work our way. To their surprise, they bumped into Dr Ramkumar from Periyar University who was there for some work. He saw the little girl carrying so many fossils, stopped by and enquired Aswatha about them. He was astonished by the little girl's interest in Fossil studies and gave her a lecture on them for three hours.
"At the end of it, he was absolutely delighted with her ability to not just listen but also grasp everything rather quickly. He was the one who called her a prodigy," her mother said. Dr Ramkumar also gave Aswatha a route map to Ariyalur bed, a Paleontological site where fossils that are millions of years old can be found asking her to collect whatever specimens she finds there. Much to her parents' astonishment, when they reached Ariyalur, Aswatha already knew about the Fossil specimens that she was collecting in the field. She collected close to about 26 specimens and identified them all correctly. After that, she contacted Dr Nagendra, the Geology department head at Anna University, who mentored her further.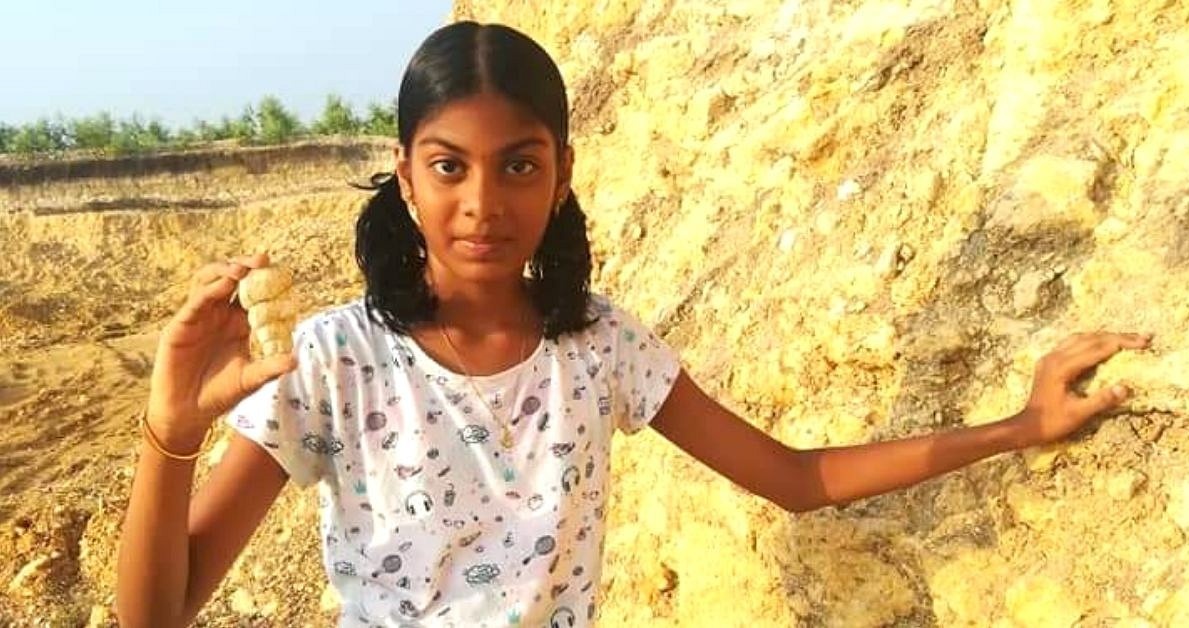 To Uplift The Field:
During her session with Dr Nagendra, Aswatha realized how underexplored and untouched the field of Paleontology is in India. She decided to raise awareness about fossils in the students of schools and college levels. She didn't stop just by the mere thought of it. She jumped into action immediately and contacted the headmistress of a nearby local school requesting to arrange for a session on Fossils. Thus her journey began and she went on to conduct seminars on Fossils. She has conducted over 15 sessions to date reaching out to people in many research institutes as well. Will you believe if we say that the audience included the doctorates as well?
She told me that while these people were researching in the field, their knowledge on fossils in India is rather limited. It gives her immense happiness that every person she has held a seminar for, can easily differentiate between a normal rock and a Fossil, her mother says with pride.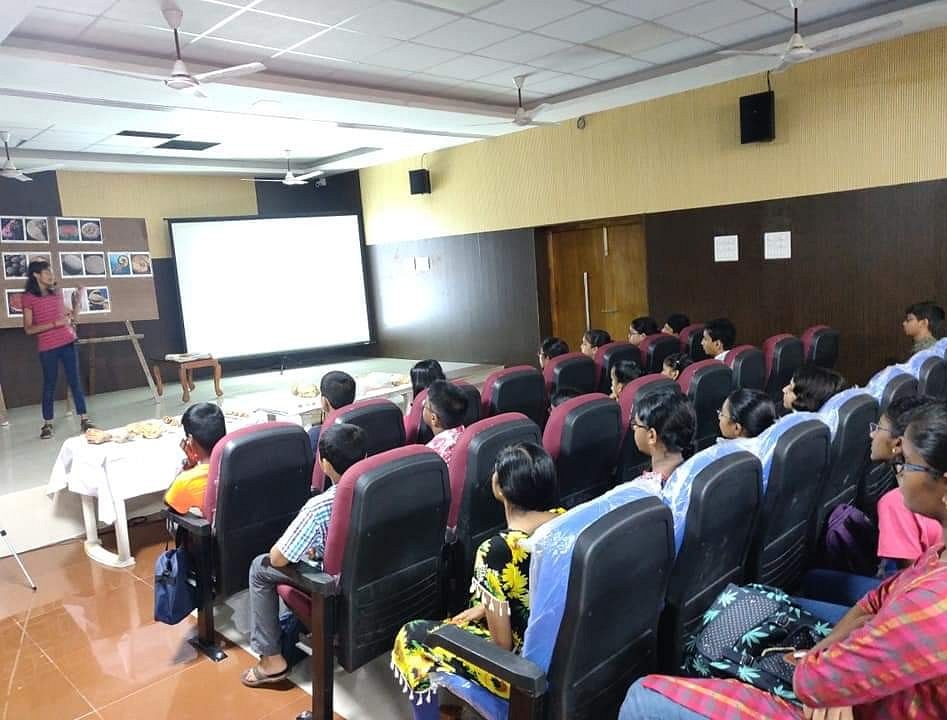 Honoured And Recognized:
For her exceptional contribution to the field of Paleontology, at the FICCI FLO event, she was conferred with a special mention award by the state governor. She made it to the list of Top 100 Prodigies of 2020 for her work on not just collecting the specimens but also in fixing the issues such as lack of awareness in the field of Paleontology in India. She was conferred with the Global Child Prodigy Award in January 2020.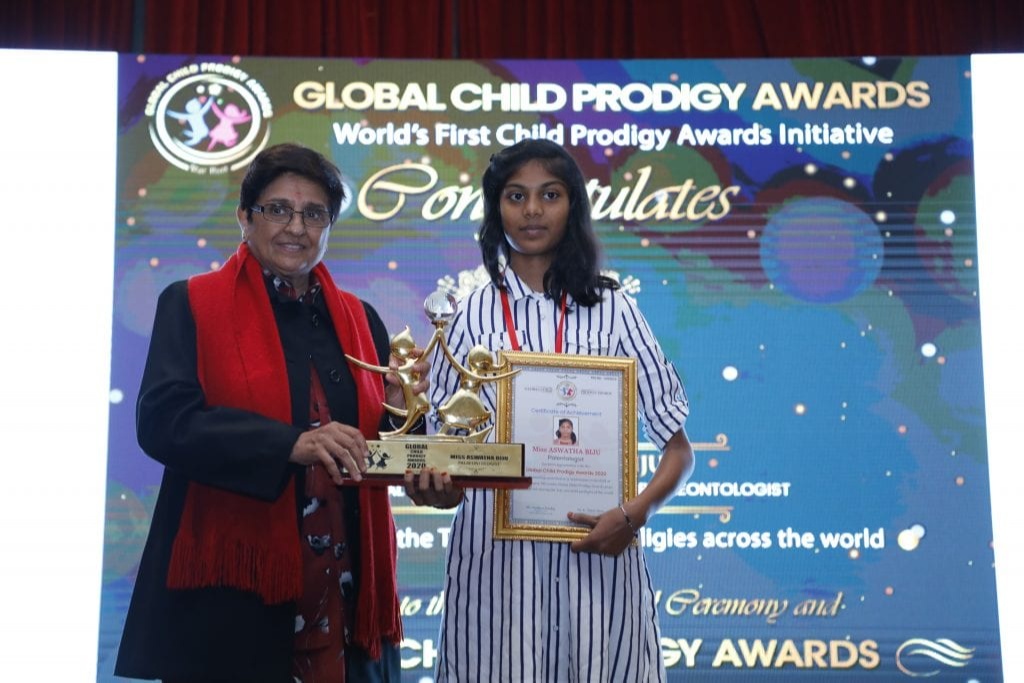 The Future Is Calling:
Aswatha aspires to pursue palaeontology in India. As the field is not well-established in India, she says that if it doesn't work she would love to pursue youth science or become an IFS officer. We wish that this young Paleontologist becomes a renowned Indian Paleontologist in the days to come.

Follow Her Work