Dictionary is the only competitor for this 12 YO Indian American Spell-Bee Whizz-Kid and a reality star.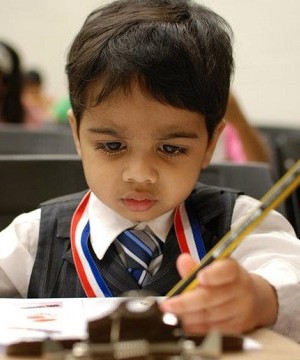 An Expanding Bud
How long does it take for a flower to spread its fragrance after its first bloom? It perfumes its sweet scent into the air around as soon as it opens its petals. Likewise, innate talents need not require years of time to be exhibited. The two-year-old tot, instead of playing with toys started playing with the letters of the language.
Youngest Spellstar:
Akash Vukoti who is now a 4th grader hails from San Angelo. He is undoubtedly an American "Whizz-kid" whose parental roots are in India. What makes Akash the "one in a million" child is his competency in terms of language and memory. Much before he cut his second birthday cake, he had started reading. At the age of two, while the other toddlers just begin to understand and speak their mother tongue, this wonder kid astonished everyone by giving his first SPELL BEE. His first and foremost competition was MASTISPELL - a spell bee for 4th graders. This competition staged Akash at the age of 2. Just 2! Now a ten-year-old, this child genius is fond of language arts and entertaining people. "I can speak, read and write 3 languages (English, Telugu and Hindi) fluently", says Akash.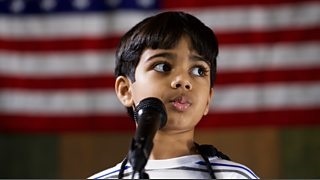 Telling Journey By The Tiny Footsteps:
What does it mean to become a member of Mensa? One needs to possess high IQ. This young boy became a member of AMERICAN MENSA at the age of 3. What does that mean? Right at a tender age of 3, his IQ matched with those in that intellectual group. Also, he has shown his potential in clearing the achievement test and thus became a DAVIDSON YOUNG SCHOLAR at 5. Scripps National Spelling Bee was the national level SPELL BEE competition in which Akash participated for three times and the uniqueness about this participation is he being the youngest competent. In 2016, he got the celebrity status when he received wide media acclaim internationally after he has taken part in Scripps National SPELL BEE. The first time ever in its history, Scripps Spell Bee that has only witnessed children between 12-14, witnessed the brilliance of a 6-year-old. So, even before he turned 10, this home-schooled boy has secured a bunch of credits to his name. Imagine how it would be like facing the cameras and speaking at a press conference about the success you have tasted!! Akash underwent the same adrenaline rush when he was 6 after the national spell bee event.
Is It All With The Little Boy?
No!
Akash has been the news reporter for the official Scripps national spelling bee TV. He is also the "kids' correspondent" for the "Good morning America" show by the ABC. Being the ESPN reporter, he interviewed Dr.Jacques Bailly at the 2018 Bee. If you have heard of the super hit TV show "Little Big Shots", then you must have surely had the delight to see Akash on it. He has had the opportunity of working with the legendary comedian Mr. Steve Harvey. This little boy was also invited as a guest to various TV shows Steve Harvey Show, Jimmy Kimmel Live, Harry show, Fox & Friends, the preachers and the Australian The Morning Show. One can understand how many hearts this little heart has won just by counting at the hi-fives he received after the 2016 Bee. Even after missing a word, Akash received a standing ovation as he left the stage on a losing note.
What More In Store?
When a person becomes a public figure, no matter what his age is, he is sure to be an ambassador and promotes products. Akash did the commercials for the big bang merchants like Amazon Kindle and IBM. Leave behind everything else; is it not something infinitely significant for having featured on BBC and HBO? Akash's story was presented as documentaries in those channels. The award winning documentary film "Breaking The Bee" is all about the intellectual journey of Akash. This reality star that was born in 2009 bagged immense fame after being cast as a celebrity on Dancing with the stars: Juniors. Initially a part of the community of intellectuals, Akash is now also a part of the richest celebrities and Reality stars.
The Mastermind's Mind Tone:
Akash says that he competes not with the people but with the dictionary. His aim is to get past over the dictionary rather than his competitors. This boy with beyond the shore intelligence has ambitions that knock two sides of a coin. After his turn on the famous comedy actor Steve Harvey, Akash resolved to become an actor. He also dreams to become an astronaut. He wants to set his foot on Mars and explore it out for the possibilities of life's existence. This future ACTORNAUT says that he is making himself ready to get anything out that blocks his way.
There's A Diamond In Every Child:
Every child is born with certain innate skills. No one is born a clean slate. A little push up coupled with hard work is the key to open the doors of triumph. When peer pressure, parental and societal aspirations do not curb the young minds, and they blow the bubbles of fame into the air. Let's wish Akash a successful flight towards the destination of his dreams.