Out of sedentary lifestyles you youngsters warns 85YO pickle making mami...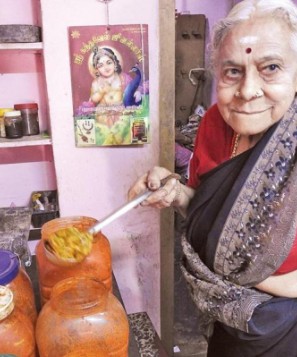 We will take you on a tour to 85-year-old Ponnu Mami's house in Palakkad today. Ever since her husband passed away in December 2012, she has been living by herself but her world is not lonely. Alamelu Ammal is lovingly called Ponnu Mami and also sometimes as Achaar Mami. The name itself tells a lot about her. She is known for her good quality pickles and it is with them that she has been winning the hearts of everyone over decades. She doesn't do it for money, she has much left in her bank account. She wasn't conferred with any awards but her story is one such diamond that tells how one should keep oneself busy and occupied with the right kind of work every day irrespective of age to lead a better life. It also tells how important it is to remain committed honestly to one's work that gives them a good quality sleep end of the day. To the present day youth who are accustomed to a sedentary way of life tuning in to relax modes quite often, Alamelu Ammal's life is a great example that shows the fruits of being industrious.
Pickles - All-time Favourites:
Alamelu Ammal also known as Ponnu Mami hails from Kalpathy town in Palakkad, in Kerala. Currently 85 years old, she grew up in an estate in Kannur, Kerala which was full of mango trees. Young Alamelu would immerse in picking the right mangoes to prepare "vada manga", a pickle made of baby mangoes. She prepared the pickle herself and that was her hobby unlike the hobbies of other children who would rather play or read. Alamelu would prepare the pickle with great care and the taste of it was so great that her relatives would ask her to prepare it for them too. "That is where it all started. I enjoyed the process, from the plucking until the pickling." "she says. She later got married and she travelled extensively with her husband. "He was his own boss. Whenever we had enough money, we would pack our bags and travel. We've gone to the North, where we spent a lot of time. Travel was also very fulfilling.", she says. When her husband passed away in December 2012, she was left alone as she had no children but that never seemed to be a problem to her. She knows that she keeps preparing delicious pickles and that keeps her occupied and happy with no traces of loneliness curbing her.
The Pickle Granny:
Ponnu mami, who is known for her pickles has been making and selling pickles for over three decades now. Along with preparing traditional pickles with mangoes, also makes pickles out of lime, Magali kizhangu [a root known to have several medicinal properties] and various different kinds with mango. It all started as a small business when initially she sold about 5 half kilogram packets a day. Now she rose close to selling 10kg of pickle every day and approximately 300kg every month. Ponnu Mami charges Rs. 200 for 500gm of a pickle. She said, "I was charging Rs 150 two years ago, but the costs of everything has risen, so I have also revised the rates accordingly." However, Ponnu Mami is not doing this for money and says that she has enough money in the bank that she can use for daily expenses. Her main aim is to give people the goodness of traditional homemade pickles with good quality ingredients. Her pickle recipe remains the same with authentic spices and ingredients added to it. Whatever money she makes by selling the pickles, Mami says that she uses it to buy mangoes and other ingredients. "I have never kept a note of how much I am making. I do it because I like it. Putting in the hard work and being able to maintain this quality for all these years ensures that I have a good night's sleep", says Alamelu Ammal who never maintained a record or account to date. Mami has customers coming in from Cochin, Chennai, Coimbatore, and even from the far North. "Most of my customers from outside Palakkad. Here people can buy and make their own pickles," she says. To maintain her standard of quality, she does all the work by herself without hiring help.
Ponnu Mami and Her Everyday Life:
With chillies doing their job of drying at the front door, Ponnu Mami's house resembles a mini temple with pictures of various Hindu deities on the walls and cupboards. She has a weighing scale, an important part of her everyday routine, in her living room.
"This is an important element in my house but I almost always add a few extra pieces of mango to each packet I make for my customers," she says. A machine to seal the packets which her sister sent from Delhi is just next to it. Mami says that the local grocer sources good quality bags to pack the pickle. Ponnu Mami doesn't buy the chilli and mustard powder from the market but makes her own powders by purchasing all the raw ingredients. She doesn't miss the proportions she has been using for years. Mami wakes up at 5:30 am and does her cooking by 10:30 am. Her evenings are spent packing the pickles. She packs around 150 packets each evening. Her attic is filled with rows of bottles, jars, and buckets filled with pickles - a delight to watch.
What more do you want to know about her when this much speaks loads? She is a walking example of self-charm and self-sustainment. At this age, she doesn't want anyone to come to her help and she doesn't even want to take a rest. She climbs up and down the staircase in her house a number of times in a day as a part of her work. Of course, it all depends on so many factors but isn't she hitting it hard on the youngsters who crib about everything every day?