Garbage machine innovated by a teen is helping trash collectors. Collecting trash as schoolboy made him innovate.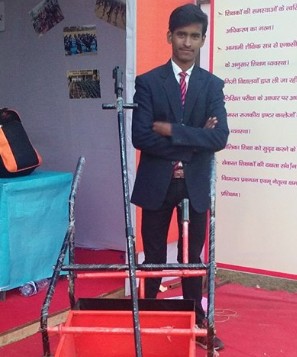 What if an idea, a brilliant idea that has the potential to solve the most pressing problem stops at the outskirts of a mind without taking shape in reality due to financial or social constraints? If a young mind has made an innovative thought but fearing a lack of finances and support to execute it, what if they dissolve the idea? The world wouldn't have proceeded further without so many technological innovations that have, over time, made lives simpler and easier, had the innovators feared of developing them. This is one such story of a fearless innovator whose never-give-up attitude brought to life, an amazing machine that would solve one of the most overlooked problem. Sikanto Mandal from Mathura is the icon and his journey definitely inspires everyone to move forward without being stopped by any hurdles.
Genius Born In A Humble Background:
Sikanto Mandal hails from Mathura and belongs to a family whose financial constraints forced Sikanto's father to take up two jobs. He was a rickshaw driver and also worked at a book factory. His mother needed medical help. Sikanto's elder brother used to work at a book factory for long hours instead of attending college when he was in the first year of graduation, B.Sc – with a sole reason to support his family. Sikanto went to Jai Gurudev Sanstha School in Mathura, a school that provides free education to the underprivileged children. The school was a little different from the rest of the schools in many ways. It was also a routine that students would clean and take care of their campus and classrooms all by themselves along with getting educated there.
Dp: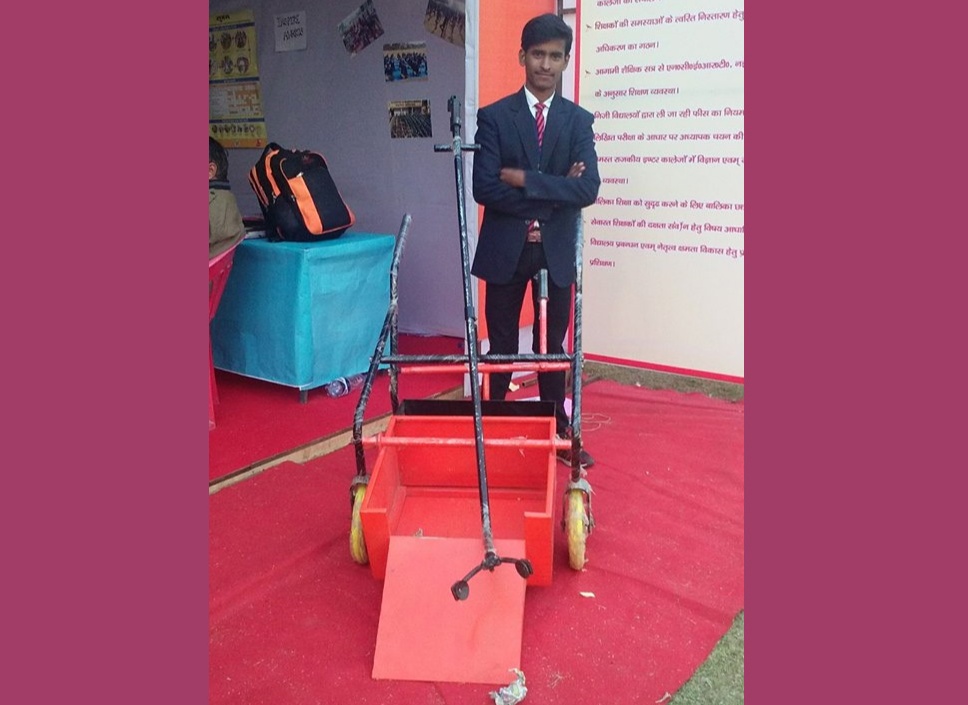 Observing The Real-time Problem:
Sikanto's school starts with students cleaning their premises first, even before they offer their morning prayers. Sikanto, along with his classmates involved in cleaning his school. The girls swept the ground while the boys collected the waste and dumped it. Sikanto closely observed his friends hesitating to pick up the garbage with their bare hands, feet and clothes would also get untidy. This made him think; think of some solution in order to make the cleaning process more decent and doable. He thought of ways that could solve all of their garbage collection problems. His brainstorming gave birth to an idea of a machine that can pick up the garbage without the students using their hands. He made a clear picture in his mind about the design and functioning of the machine, but he knows that he doesn't have enough finances to manufacture the machine. Lack of finances seemed to be a hurdle to go ahead with his idea. However, Sikanto didn't give up.
One Problem – An Amazing Solution:
Sikanto didn't give up on his idea for the mere reason of lack of finances. He approached his science teacher in the school and explained his idea. His science teacher, along with other staff, encouraged him to apply for the Inspire Awards by the Ministry of Science and Technology, Government of India. With the help of his science faculty, Sikanto applied for the Inspire Awards. His entry was selected and a grant of Rs.5000 was released into his account, as funding to build his garbage-collecting device. Sikanto spent over 45 days building his first model of garbage-collecting machine. He could buy some of the materials locally but those that he couldn't, he sourced from the nearby scrapyards. Using wood, parts of old furniture, discarded bicycle chains and brakes, Sikanto, who was then a ninth-grader, built the preliminary model of a mobile garbage collection machine. Explaining how his machine is different from other garbage collecting machines, Sikanto said that it is completely manual, unlike other models that run either on battery or fuel. Sikanto's machine is light in weight and easy to operate.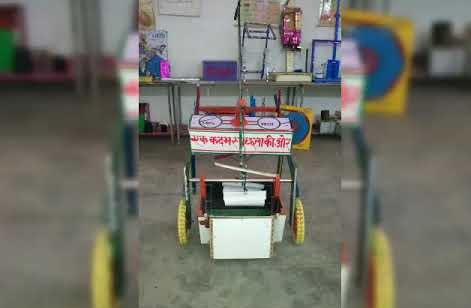 Proudly Patented:
Sikanto's mobile garbage-collecting device has unique features. It allows the trash collector to pick up the garbage without actually touching it. The machine comes with a gripper and has a handle that helps in the easy dumping of garbage without any necessity to topple the cart. Sikanto also gave the cart, a few customized spaces to keep the broom, a water bottle and other waste materials that the trash collectors might pick on their way. "These added special features make the cart ideal for use by municipal workers who toil hard to collect garbage in urban spaces such as parks, schools, etc", Sikanto says.
Recognition To The Young Genius:
Sikanto first exhibited his model at the district level of the Inspire Awards, where it has won huge appreciation and was also selected to be displayed at the state and national levels. The then Minister for Science and Technology and the National Innovation Foundation (NIF) also appreciated Sikanto in this regard. "In 2016, I exhibited my model at the National level in Delhi as one among the three entries from Uttar Pradesh," says Sikanto. NIF assisted Sikanto in building a proper prototype made of metal and also helped him market it to various enterprises. This design was also exhibited at the week-long Festival of Innovation 2017. Sikanto was also the youngest innovator to participate in the 'Innovation Conclave' organized by NIF to encourage emerging innovators. The technology behind mobile waste-collecting devices is also transferred to a Gujarat-based start-up, Sarjan Innovations Pvt Ltd. Gaurav Acharya, an entrepreneur who has acquired patents for commercialising the cart said, "We are keen on beginning the mass production of this device soon". After providing few more modifications to the device, Sikanto piloted and checked the efficiency of the cart in the city of Patan in Northern Gujarat. The machine was priced at Rs 10,500 and can soon be seen doing its magic in municipalities of other cities across India.
Sikanto aspires to become an engineer and build unique machines that help solve real-time problems in future. He also wants to stand for his family and support them. "One day I hope I can help my family build our own house in Kodla. I also want to help my elder brother complete his BSc without having to fund it by working in the factory and my parents won't have to work two jobs to make ends meet.", says the ambitious boy.
What is that he cannot achieve in future if he could already achieve so much when he was just 14? Empathy for others, zeal to accomplish something big and a strong will to keep the family happy and comfortable – aren't these enough for the boy to reach where he wants to be?

Know More About The Sarjan Innovations Pvt Ltd

Like and Subscribe To His Channel For More Videos

Follow His Work