Blindfolded World Champion solved the Rubik's cube 3x3 in flat 24.86 seconds.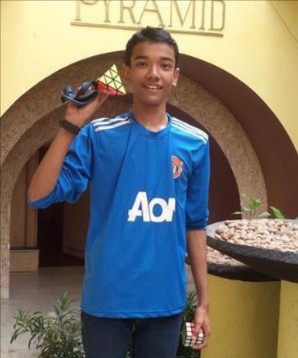 Everyone has played with it.
One will invariably find a Rubik's Cube lying around in every home. Probably it's the best way to keep one's mind busy. Whether the Cube becomes a friend or a foe; one has tried to play around with it at least once in their lifetime.
A Chess Champ got interested in the Cube.
A chess player, happened to pick up a Cube on one of his train journeys. He just couldn't put it down but found it difficult to solve initially. After he referred to some books and videos realised that its not so easy but not so difficult either. In the process he figured out that its not all about fun and random trials but there is a certain method and technique to it. What is most important is to learn some Algorithms and apply in solving this magical cube. When one is Blindfolded, its important to memorise the placement of the squares and the colours. Many use the Fridrich method of solving too.
Is it a Competitive sport?
Not many of us know that it is a competitive game. When the Cube became a global craze, an association was formed and the First World Championships were held in Budapest, Hungary in 1982. From here on regular competitions at various levels like Nationals, Asian and World are held each year.
Practice makes one perfect
The saying is true for anything one does in their lives. Once he was done with strenuous practices and mastered the game, already a known name in India; this speedcuber was ready for the international competitions. Started off with a Gold at the 2014 Asian Championships, created a new Guinness world record along side his 9 IIT team members by solving 2454 cubes in 60 minutes as opposed to the previously held record of 1860 cubes in 60 minutes by the Italian guys. Most impressive one came in 2015 when he won the Gold for 3x3 Blindfolded category at the World Championships at Sao Paulo, Brasil.
Support and help.
He has tremendous support from his school teachers who spent their time teaching while he was free, his parents encouraged him and the government of Assam has appreciated and suitably rewarded. Kabyanil Talukdar is grateful to all others who continue to lend their support in any way.
Share his knowledge
In 2016, decided to come out with a Handbook "Solving Rubik's Cube" just to share his knowledge, tricks, techniques and skills so that many more could take up and enjoy the cube. It was a great honour for him when the book was published in his school with many dignitaries being present.
Bookofachievers.com wishes him good luck and hopes to see many more records being broken.