11 YO wonder kid from Chikmagalur has great advise to give. Beat the Fear and go for the BIG KILL.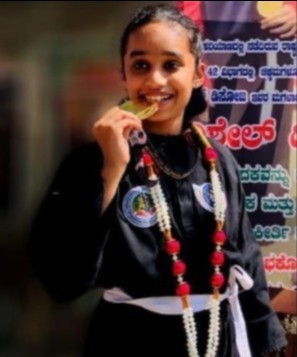 Starting with Taekwondo in the morning, a girl who just blew her 11th candle on the birthday cake, runs behind a bunch of activities challenging the clock on her bedroom wall. She is neither pressurized by her parents to do so nor she does them out of compulsion. She loves everything she does and has been excelling in each of them consistently. This is the story of Nishel Dsouza whose outstanding talents secured her name in the India Book of Records.
A Multi-faceted Young Mind:
Nishel D'Souza was born on 30th August 2010 in Chikkamagaluru, Karnataka. Her father, John D'Souza is an Ex-serviceman and mother Sabitha D'Souza is a housewife. Nishel is currently a seventh grader in Sri Sai Angels School, Sirgapura, Chikkamagaluru. Ever since her childhood, Nishel has been an inquisitive child. Everything she saw around her astonished her. She loved the colours, the water splashes, the rhythms of dance and the tunes of music. She not only developed love for all of them but also ventured into everything she loved. Her parents never deflated the enthusiasm in her, rather enrolled her into everything she wanted. They knew that their daughter wants to fly beyond the classroom education and supported her wish. Nishel was thus signed up for Abacus classes along with Classical music and dance, Drawing and piano. She was also admitted into Scouts and Guides as well as took Swimming classes.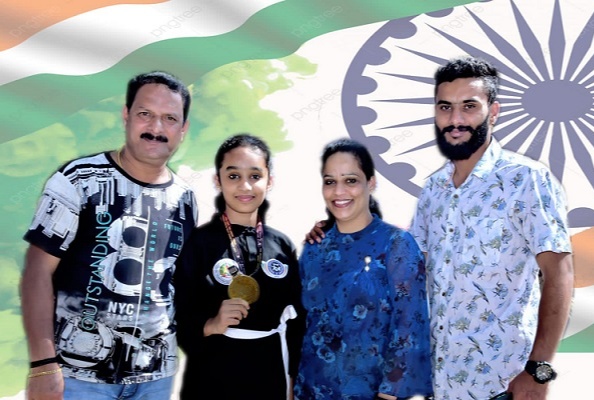 Never Exhausted:
Nishel took up several activities of her interest out of the love she developed for them. So, she never felt exhausted when running from the Taekwondo field to the swimming pool or switching swiftly from the Abacus class to the dance floor. She enjoyed all the activities equally - something that's really unusual about children of her age. Mentioning about her reverent coaches who train her in each of the activities, she proudly says that they are the pillars of her strength. Mr. Yashwanth trains her in Taekwondo, while she is trained in Piano by Mr. Francis. Ms.Jyothi and Mr. Sharath tune the girl in Classical music and dance respectively while Ms. Sheela and Mr. Sadashiv tutor her in Abacus. Under the mentorship of Mr. Kiran, Nishel is trained in Scouts and Guides and Mr. Natesh is her Swimming coach. The little girl is groomed for Olympiad exams by Mr. Ravi. She mentions that it's because of the coaches and their understanding of her potential, that she is able to fine tune herself in every sphere without losing hope or zeal. Nishel doesn't exclude herself from academics. She shows equal competence in International Olympiad exams too.
Time Management Comes with Zeal:
When asked about how she manages her academics and co-curriculars, she says that she never found them distinct. To her, everything is a part of her growing-up. She mentioned that she prepares a to-do-list of the activities and works accordingly. Her day starts at 5am and the first 30min goes to meditation. From then on, she dedicates 20min to morning studies. At 6am she goes to the Taekwondo class and the day continues with school and rest of the activities. "I am like packed completely with activities. I enjoy them a lot", she says with glee.
Awards And Recognition:
Though Nishel never did activities for awards or honours, her love and passion got them to her. She is just 11 years old and she already has 19 awards, 72 certificates and 49 medals in her pocket. All these certificates and awards are obtained for her participation and winning in multiple activities. She even found place in India Book of Records in the year 2021 for her exceptional achievements.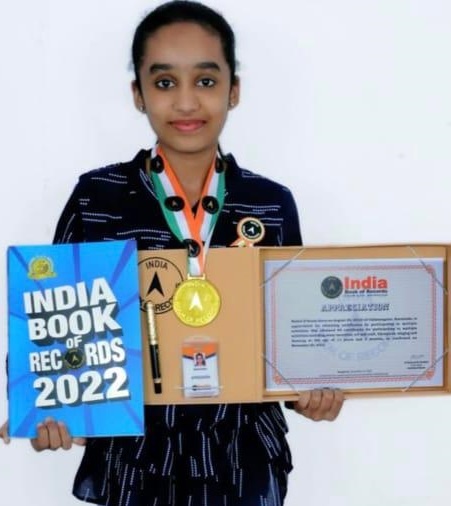 "Nishel D'Souza (born on August 30, 2010) of Chikmangalur, Karnataka, is appreciated for obtaining certificates by participating in multiple activities. She obtained 65 certificates for participating in multiple activities including story narration, art and craft, Olympiads, singing and dancing at the age of 11 years and 3 months, as confirmed on November 30, 2021", her profile on the India Book of Records platform read. Talking about her achievements, she says that she is fortunate enough to receive the awards by eminent personalities of respective fields. "It's so much like God's gift to me that my achievements could make my parents and friends proud of me", she told the Book of Achievers.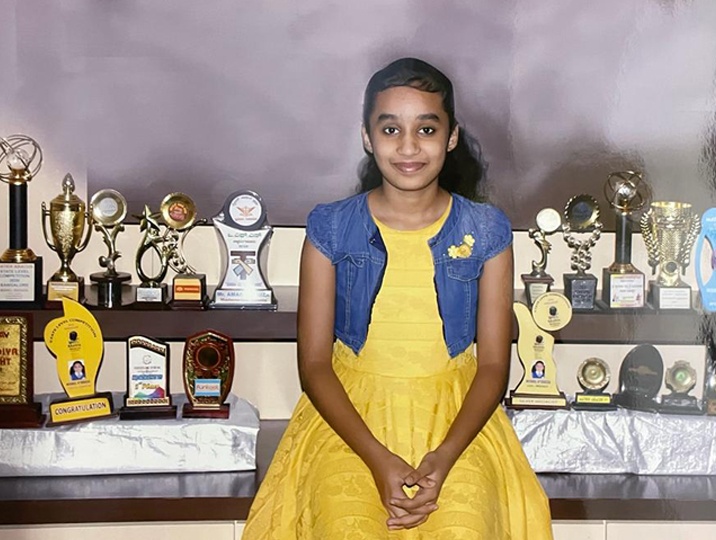 Nishel's Honest Advise:
Nishel, while talking her heart out to the Book of Achievers, said that during the national level Pencak Silat (a class of related Indonesian martial arts) championship, she was afraid when she saw children from different states and felt nervous to fight. However, with the encouragement of her mother and her coach Mr. Yashwanth, she made up her mind, went ahead into the rink, fought like a warrior and got home, a gold medal. She says that though fear stops you initially, you should not let it rule you. "Beat the fear, take that first step and you have reached your goal already", she advises out of her own experience. This aspiring IPS officer reminds everyone that an empty mind is a devil's workshop and therefore everyone should allow their mind to be productively active. "Be yourself and do what you love", she says. She said with a little downward curve on her lips that she always dreamt of visiting Disney land, Switzerland and the United States but couldn't go anywhere because of various reasons including financial constraints. The next moment, she comes back with a hope that she would work hard to fly wherever she wants to and would take her parents along. What a mountain of confidence and positivity!
Nishel wants to make her parents proud and we think she has already been doing it. We know that her parents and teachers are already well-pleased and Nishel will continue to make them proud in the years to come. Keep going girl, you will surely make the whole nation proud one day.