Engineer innovates self driven Autonomous Electric Tractor; is now revolutionizing the agricultural industry.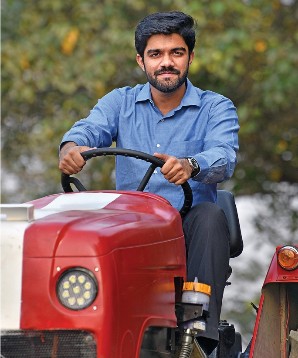 Science is moving at a rapid pace so we need to continue to evolve with it or risk being left behind. One such evolution is called automation and it is the new buzzword in technological circles. Automation is the use of technology to design control systems for operating equipment in manufacturing and other processes in an industry. It's taking the world by storm and industries world over are employing automation in their internal processes to increase efficiency and reduce costs. Industries across the spectrum are adopting automation, and the agricultural industry of India will be left behind if they fail to adopt this technology. Kaustubh Dhonde recognised this potential and his start-up venture AutoNxt was conceived to incorporate automation into agriculture.

The Genesis of his Idea
One of the common traits of innovators is their ability to identify a pressing problem and come up with an ingenious solution to address it. This common thread binds all great innovators and makes them the cynosure of all eyes. Kaustubh Dhonde is one such innovator of change. During his engineering college days, he visited his hometown Wai in Maharashtra and noticed his relative selling his tractor because he couldn't afford the regular maintenance cost and the toll it was taking on his health. This particular incident piqued Kaustubh's interest: if this problem could affect his relative then it could affect millions of farmers throughout the country, too.
A diesel operated vehicle, especially a heavy duty vehicle like a tractor, is always going to be fraught with the burden of high maintenance. What compounded the problem was the excessive vibration which was causing grave health issues among farmers, especially the elderly ones. Kaustubh Dhonde solution to this problem was to design an automated electric tractor that will completely cut out the vibrations, drastically cut down the maintenance cost and increase the efficiency of farming.
Conception to Reality
Kaustubh Dhonde discussed his concept with his peers and slowly began amassing a team of engineers to found his maiden start-up venture — AutoNxt in 2016. Initially, they ran into a few roadblocks because of the lack of funding for their project. They got past this hurdle by providing GPS tracking services to consumers which enabled them to raise the required investment to start their main project.
Initially, they experimented on a rented tractor — which they procured from a curious farmer for free. They electrified and automated the tractor by retro-fitting an autonomous kit on to it. After this initial success, they went on to buy a second-hand tractor which they completely dismantled and then put it back together by making it completely electric and autonomous. This was their first proof of concept and they aptly named it the Hulk.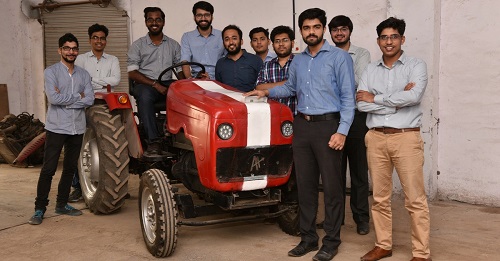 Hulk's functionalities
The Hulk is a 30hp, level 2 autonomous electric tractor which is capable of delivering a range of up to 200 kilometers on a single three-hour charge. Their proprietary lithium-based battery technology lasts up to 10 hours, and with proper maintenance, the battery life can be extended up to 10 years. They claim that the cost of charging the battery will be just a quarter of the cost of fueling a conventional diesel tractor.
But the most impressive feature of the Hulk is its autonomous capabilities. The autonomous feature can only be used within the confines of the farm. This unique feature can be activated once the farmer defines the perimeter of the farm by manually driving the tractor along its borders. The data of this perimeter is then fed into the autonomous system of the tractor which, in turn, is connected to the farmer's smartphone via an android app. The farmer can then use his smartphone to perform and control various functions of the tractor which includes ploughing, tilling, insecticide spraying, and other day to day functions.
Furthermore, the autonomous system takes care of the safety aspect by incorporating a kill switch on both the tractor and the smartphone — which brings the tractor to a standstill in an instant. In addition, the autonomous driving capability is disabled the moment the tractor is deployed on roads.
The Future Road Map
The agricultural community coupled with the experts and manufacturers have welcomed AutoNxt's innovative ideas with open arms. Spurred on by this support, AutoNxt has branched into home automation, industrial automation, and GPS solutions. But their main focus still remains the automation of the agricultural industry. They are collaborating with leading manufacturers to use their production and distribution infrastructure because they want to solely concentrate on their core competency of being a technology provider.
Kaustubh Dhonde recently presented the world's first electric autonomous tractor to the Union Minister of Heavy Industries, Anant Geete. The very impressed minister assured them of an inclusion into the Fame India scheme (Faster Adoption and Manufacturing of Hybrid & Electric Vehicles in India). All these recent developments clearly indicate an exciting future for team AutoNxt.
Automation and green energy is definitely the way forward, and as one of the pioneers in the field, AutoNxt looks to revolutionize the industry.