14-year-old Adds Some Fun in Laundry, Invents a Washing-Cum-Exercise Machine.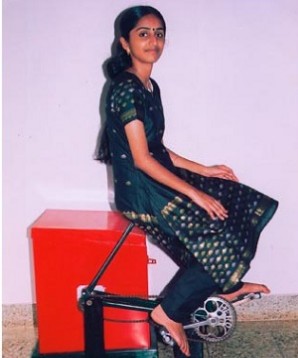 Pedal to the Medal
If you ever considered washing clothes a chore that you'd likely avoid, think again. A new and wacky invention by a 14-year-old changed the very essence of laundry night, adding a healthy dose of fun into it.
Meet Remya Jose, a modest girl whose misfortunes didn't come in the way of her being. She revolutionized the modest washing machine. An idea that was born out of curiosity and desperation. An idea that ended up winning the National Award.
When Remya was just in the 10th grade, her father was undergoing a medical treatment. Things didn't seem the least bit golly and to top it all, her mother fell severely ill. As a result, a whole lot of responsibility and the burden of baring it all fell on Remya. She had to take certain matters into her own hands and make up for the illness that had struck her family.
The one thing Remya didn't have was time. Being a school going student, she had to change three busses just to get to her school and the commute took over 2 hours of her precious time. When things got a little tight, she was forced to find a way to reduce her workload and consume time in an efficient manner.
She invented a washing machine that may look like just any other washing machine. But this one had an added feature. A special one that made all the difference. This washing machine needed no electricity to run and it came with pedals that allowed one to exercise freely thereby imparting a much healthier approach to handling a chore.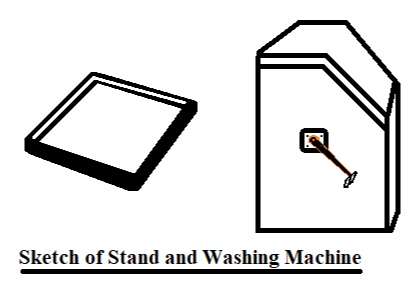 A Luxury
Electricity is a luxury for people living in the rural areas. Not many roofs hold the blessings of electricity and even the few who do, it comes with a price. Having watched her mother wash clothes manually with her bare hands, Remya was well aware of how taxing the whole process of washing clothes could be. They had no means of affording a machine that could do all the work for them, so Remya thought hard and long for an alternative that could make all their lives much easier to live.
With the help of her father who was initially hesitant on the functionality of her idea, Remya pulled off what one would have thought impossible. With his permission and help, Remya took a year to finish the prototype of her machine and change her idea into reality. She began by learning and understanding the very workings of the machine. She founds the parts she needed with her father's help and finally she could reap the fruits of her hard work. She had invented the washing-cum-exercise machine.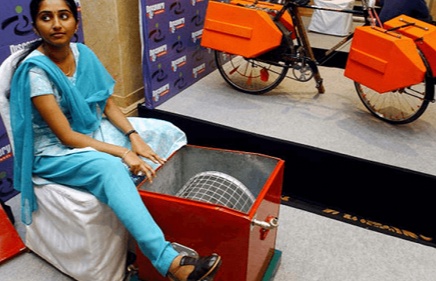 How It Works
A rotating drum and cycling pedals are all what takes for the mighty machine to run. A wire cylinder inside an aluminium cabin holds the laundry. The cylinder is connected to a bike-like chain and pedal system. After allowing the clothes to soak in hot water and detergent for about 10 minutes, one can start peddling and the machine spins the laundry to clean it. A small faucet in the cabin drains out the dirty water only to refill with clean water and perform a final rinse.
This machine is a simple but sophisticated solution. Especially for people living in the rural areas who aren't exposed to much of urban methods of living. For them, their means and standards of living are much lower. They aren't aware of the latest technologies and even if they are, circumstances don't allow them to be on the receiving end of the advent of recent technological breakthroughs. So it was with open arms, that this invention was received for it made the lives of many easier in ways that improved their way of living and gave them a genuine purpose.

A Deserving Invention
At the age of 18, Remya applied for a patent on her device. Now in her mid-20s, she works at the National Foundation of India as a Serial Innovator. She is a woman who's working to bring about a change and make better the lives of the many unfortunate rural souls who have poor access and availability. By creating new inventions, she is lending a major helping hand to all rural communities throughout the country.