Teen plants more than 5000 trees through her NGO Green Hope.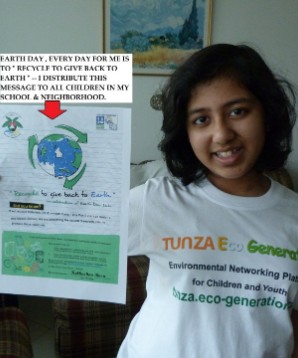 Kehkashan was born on 5th of June which happens to be the World Environment Day and she starts her celebration by planting One tree as a symbol of her solidarity to the Green cause. It's a great start to a birthday celebration.
When, Why and What made her concern over the Environment when she was all of 8?
Her summer vacations were invariably going to her grandparents in Kolkata. We all know that in every Indian home, grandparents play a very important role in the early days of any child. Her granny loved plants and she would take Kehkashan to her Roof Top garden and teach her about planting, manuring, pruning and watering. This little kid started asking questions about why granny did this day in and day out. Granny's word is the gospel truth for every child and she explained a bit about how it helped the surroundings that one lives in. She said it not only keeps her busy but she loves to admire the flowers. She soon started imitating her granny and each morning spent at the garden.
Little did she know or realise that this interest developed into a hobby and thought she could do this in Dubai in her home.
Back to Dubai after the vacations.
On her return to Dubai, Swati Basu, an extremely encouraging Mom, helped her pick up some seeds, saplings and was more than happy to see her daughter's newly developed interest.
She was keen to share her holiday experiences with her friends and her Dubai neighbourhood. Not only share her experiences but wanted to create awareness about plants, composting and recycling waste and was keen to organise a campaign.
Mom readily agreed and the duo organised a campaign in the building where they lived. The campaign had an overwhelming response and participation from everyone and especially the children. Kehkashan patiently explained on how easy it was to put a few plants around their homes and in the building, which could make a better place for everyone to live.
She candidly admits that she is fortunate to have been born and brought up in Dubai which is culturally so diverse, with people from all walks of life from across the globe; who clearly understood her Mission and whole-heartedly supported in realising her dreams.
Miles to go......
At 12 she founded Green Hope, which runs waste-collection, beach-cleaning, awareness-raising campaigns, cleaning up mangrove swamps around the UAE, focusing on threats facing the fragile coastal forests etc., Within a span of 4 years Green Hope is now active in more than 10 countries including Nepal, Oman, France, Columbia, United States etc., with a volunteer force of 1000 plus. Green Hope boasts of planting more than 5000 trees so far.
Green Hope

started as a one young girl's initiative is now a sizeable organisation with a management team comprising entirely of children who even use their own pocket money to fund their environmental activities.
Quick glance at her Achievements.
At 16, a UAE born Indian, made all Indians proud when she was declared the Winner of the prestigious International Children's Peace Prize-2016.

At Hague she was recognised for her work to protect the environment at a glittering ceremony.

Is one of the toppers in the school.

Plays games and likes to stay physically fit and eat healthy.

Has won the highest Award for her Academics in the UAE.

Proficient musician plays the Piano and the Guitar,

Wins almost all prizes at debates, talks, poetry, quiz, photography etc., competitions.

A voracious reader and has tremendous knowledge about the environment.

Head Girl of her Junior School.

Student Representative Council member.

In 2012 she was the only child to be part of a UN Press Conference.

At Rio+20 held in Rio de Janeiro, Brazil she was the youngest participating international delegate.

She won the global award from UNCD, held to mark the World Day to Combat Desertification.

At Rio+20, she conducted several workshops on sustainability and also launched the first Asia Pacific Youth Water Summit.

She was chosen by UNCSD MGCY to be the voice of the children and youth at several forums.

Youth Ambassador for the World Future Council, whose sole objective is to involve and mobilise children and youth in the movement for a sustainable and green future around the world.

Climate Justice Ambassador for Plant-for-the-Planet.

An active member of United Nations Major Groups for Children & Youth (UNCSD MGCY) , UNEP TUNZA and the Emirates Environmental Group.

Chairperson of the UAE chapter of the International Youth Council.

Regional Ambassador of TUNZA Eco generation.

UAE Country Coordinator of TARUMITRA & GREEN The GENE.

In 2010 and 2013 Kehkashan won the highest educational award for the Gulf region, the prestigious HH Sheikh Hamdan Award for Distinguished Academic Performance.

In 2013 prize at the International School Essay Competition held by The Living Rainforest, UK, competing against a total of 831entries from 65 countries.

2014 was the Speaker at the Leaders Forum on Climate Change held in New York.

She is part of the "WOMEN IN SOLAR" group which encourages women in the solar industry.

Works with UNICEF and UNHCR conducting relief campaigns for migrants and refugees.

Recipient of the 2014 Non Resident Indian of the Year award.

2014 GESS Award as Ambassador for the Environment.

2015 Diana Award for Active Campaigner.
She proclaims - "Do not stop what you're doing. No matter what happens, we have to continue to save OUR Planet and
"
The work that I do is not for a particular award, but I did think that if I won the award, I'd be a role model for other young people and children in the world to continue to do their work and it will raise awareness"
Bookofachievers.com hopes that many young and old will join hands to save this precious Earth.