OZ student innovates Solarball to give clean water to the Cambodians. A small but significant start.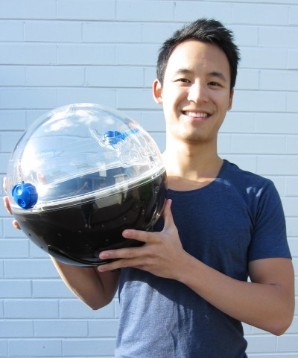 Pure, clean and safe drinking water is the basic requirement that people deserve - be it rich or poor. Water, air and food should essentially be pure and wait! That's not a luxury, it's a necessity. However, though we all know that they are basic human needs, we also know that their availability is almost zero in many parts of the globe. Be it in the arid rurals of India or regions of Africa or several others. People in such regions do everything going beyond their limit get access to clean drinking water. But is it really ethically right to let a section of world's population fight for what they truly deserve? What is the solution then? Well, a youngster has come up with one. He designed such a tool that purifies dirty water giving out pure, drinking water in the most simpler and affordable way. He is Jonathan Liow and without any further ado, let's quickly look into his innovation.
When Brain And Heart Go Hand-in-hand:
Jonathan Liow is an Industrial Design student from Australia. He graduated from the Monash University. He always had the zeal to build things that are useful to people.
In the year 2008, he went on a trip to Cambodia. There, he was deeply moved by the poor living conditions of the people and their being deprived of even the basic amenities made him think of doing something for them. His observations made him realize that people in Africa needed a solution for cheap and effective water purification. He then decided to use his knowledge as an Industrial Design student to bring a solution to this real-time problem. "Seeing the immense lack of everyday products we take for granted, I was inspired to use my design skills to help others", he said.
Harnessing The Sun's Energy To Gift Clean Water:
Jonathan's brainstorming sessions with himself took several days to come up with a solution that satisfied all the criteria. He understood that the people there needed a solution that is both effective and affordable. They need some simple method that can help them with clean drinking water. Conditions like poverty, unavailability of resources etc. should be taken into account while designing the filtration system. Jonathan observed that there's huge amount of solar energy in the region which can be harnessed to let him filtration system work. No other energy option is as feasible as solar energy. So, he decided to build his system on solar power. He then went on to design his product in the shape of a sphere so that it will be able to harness the sunlight and trap the sun's heat from 360 degrees. So, it came to be called as "Solarball". It is compact in size allowing it to absorb the sun's heat as quickly as possible. It can also be transported easily. The Solarball is made of eco-friendly plastic which can be recycled. This plastic is also food-safe and is picked up in such a way that it is UV-tolerant and weather resistant. This makes the model practical and sustainable.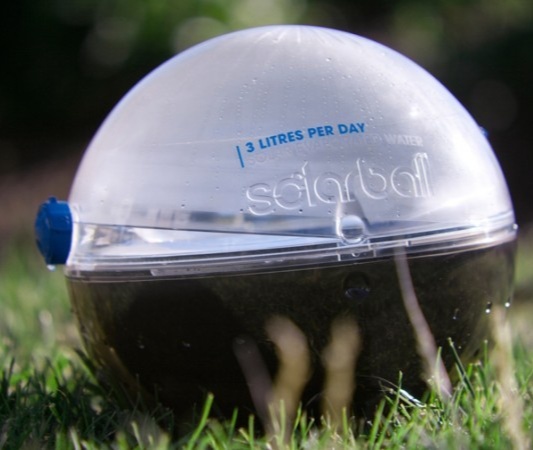 How It Works?
When dirty water is poured in the Solarball, it gets evaporated due to the trapped heat of the sun absorbed by the ball's transparent upper portion. Condensation happens on the inside of the ball which is guided down to stream through an internal gutter that goes around its diameter, thus giving way to pure, clean water. The contaminants are left behind in the unevaporated water. A Solarball can produce three litres of clean water every day provided it receives ample sunlight. This model was named as the finalist in the 2011 Australian Design Awards - James Dyson Award and was also displayed at the Milan International Design Fair.
This is undoubtedly an amazing innovation in spite of having its own share of drawbacks like it's less capacity. However, considering the poor living conditions of the people in certain parts of the globe where they are not even in a position to get access to the basics, it is surely of great help. When education helps solve real life problems, it is the true education indeed. We need more students like Jonathan Liow who make the world a better place to live.