Shivangi at 16 becomes the youngest woman to hoist the tricolour on the peak of the Everest.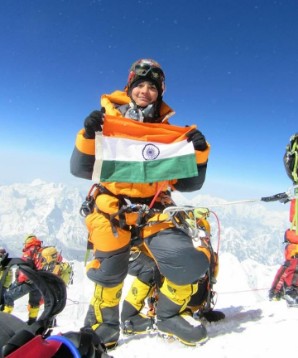 A Joke that changed Shivangi's life.
Mom Arthi Joked about an Everest summiteers Mamta Sodha who landed a plum Deputy Superintendent's job and why not Shivangi do something big and get a lucrative similar job? Today its a reality and Shivangi is a celebrity and will sure to grab a great job and has already received so many awards. Also, it was a casual outing with her Mom to a seminar changed her life forever when she watched a biopic on Arunima Sinha the first amputee to climb the Everest was screened. A carefree teen had tears in her eyes and was so inspired that she decided to give it a try to scale the Everest.
Start where and How?
Shivangi enrolled herself at the Delhi's Jawaharlal Institute of Mountaineering. It meant busy doing a whole lot of activities from hiking, skiing, traversing via ferratas, traditional outdoor climbing, ascending and descending mountains, running, cycling, skipping, etc., She instantly felt that she belonged to the mountains. The key to becoming any good sportsperson is stamina, determination, and endurance. What seemed too big a task to achieve eventually became a reality due to her hard work, sincerity, dedication, consistency and very strong desire to reach the Everest.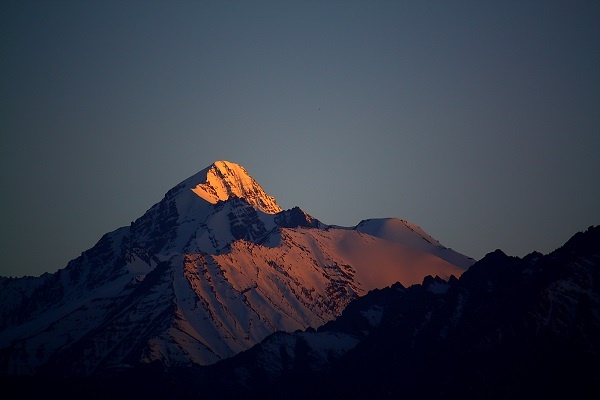 Just at the end of the year, she explored a few expeditions and conquered Stok Khangri, a 20,000 feet peak in Ladakh.
Training Journey.
A climb of 8,000 plus meters is no mean task but this young teen Alpinist was all set to take on the challenge keeping her real idol Arunima Sinha in mind.
Read About Arunima Sinha "First Female Amputee to scale up the peaks of Mount Everest".
The selection process for the mountaineering course had started in July 2017 in which around 60 students had applied and 45 selected. After further shortlisting, Shivangi was one among 13 who qualified for further advanced training in Jammu's Leh. The final squad of the team was the toughest and she made it.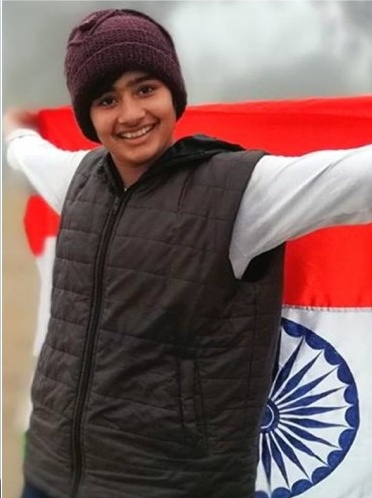 The teen had to face a lot of criticism initially from the trainer Rinku Pannu who minced no words to tell the teen that her hair-do was meant for a ramp and that she was overweight. It did hurt but taking criticism positively was the good option and she had a hair cut immediately and toiled hard to reduce her weight to 48 from 65 kgs and got back into shape. Today Shivangi considered Rinku Pannu as her "Guru".
Shivangi's rigorous training sessions of nearly 7-8 hours a day only left her attending no school till her expedition. Apart from the regular activities to build enough stamina she did long distance running of more than 10 kms, over a few thousand skips, running with a load of 20 kgs on her shoulders, tie ankle weights to run and when tired wear them on her wrist.
Pannu the trainer exclaimed, "Look at her dedication!". Shivangi is one of the few nicest human beings and it was such a pleasure to see her take on such a challenge at such a young age.
April – May 2018- Tough Adventurous Expedition
Shivangi the go-getter's journey accompanied by trained professionals began on April 1, 2018, and reached the base camp on April 6 only to go through the gruelling 2 weeks of processes and acclimatization. On May 10, 2018, her "Everest Mission" began.
Shivangi said that the route was full of stones and pebbles and struggled through the weather with a strong storm, stepping on the slippery ice surface, etc., The fear of altitude sickness and injuries kept haunting her and she even fell ill for a day. Nothing could stop this teen as her dream, aim, goal and focus were on Mount Everest and she continued to motivate herself.
A sudden unexpected drop in her radio transceiver was scary as she was not able to inform anyone of her whereabouts. Many speculated that she could have been lost forever until she miraculously surfaced and there were such joy and a sigh of relief around.
Finally, on May 15 at 8.21 am Shivangi reached the highest peak to become the youngest Indian girl to do so. Shivangi said, "I have no words to express my joy" while proudly hoisting the tricolor Indian Flag. This is dedicated to her Mom who extended her support and encouraged her throughout. She is celebrating with her dear ones now before she is back to training.
Shivangi in a candid manner said, "I have accomplished my first goal and now its time for seven summits before I turn 18".
Inspiration for many.
Shivangi's achievement is definitely breathtaking and this achiever would be an inspiration to many youngsters today.
Hhhmmmm: Shivangi says "To get something one must sacrifice many things". She had to slog for long hours without cribbing, let go of her food delights, lose weight, no partying, no ice creams, no phones. Today the word "Impossible and Unachievable don't exist in her dictionary.