Rohim orphaned at 16, bags the fifth place in Bricklaying competition at the World Skill Competitions held in October 2017 in Abu Dhabi.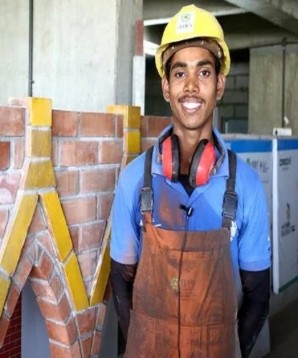 In 2014, life changed in a split second for this young boy when he lost his parents in an accident when he was a teenager. He had to shoulder the responsibility by being the sole breadwinner of his family of three sisters. Left with no choice; dropped out of school and migrated to Delhi from Malda (West Bengal) to join the flourishing construction sector as a labourer like most from his village did.
Labourer to Supervisor
Must do what it takes was his belief. He took every instruction from his Supervisor seriously and executed to perfection whether it was mixing cement or laying bricks. That's what made him stand apart. Carefully observing the way the Supervisor worked and noticing that he was making big bucks, he wanted to be in his shoes. Before he even completed a year he was promoted to the Supervisory role all because of his excellent work and being able to manage people.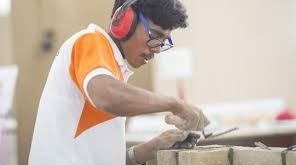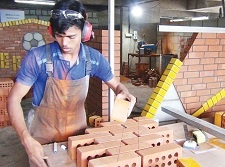 Competitions ??
Surely many of us have not even heard about the World Skills competitions in Brick Laying category, but it is certainly an inspiring and motivating tool, especially if prize money is involved. Delhi-NCR apparently has competitions on masonry and Rohim heard his colleagues discuss the same. A task finished in a given time wins the competition along with prize money.
He knew he had the skill and the determination to take part and won the second place among 18 participants. Rohim was given the task to make an H-Shaped one Meter long wall in four hours. It was tough as one has to be physically strong and a high level of concentration is required. He set out and without even a water break, finished on time and won. Accuracy and time are the key factors for such competitions. He then took part in the National Skills Competition 2015 and bagged the second place here too.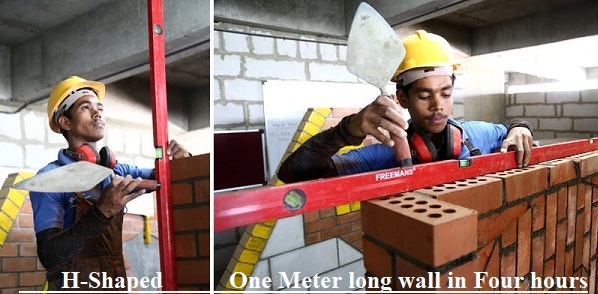 World Skills Competition in Abu Dhabi 2017
Rohim as advised enrolled himself at CREDAI'S Kushal Initiative in Pune and trained for 14 months to better his skills, techniques, accuracy and time management.
This year's competitions were held in 51 skills with more than 1000 participants from 80 countries. The competition is evaluated on the basis of interpreting drawings, planning, time management, precision, neatness, and accuracy. Mind you the materials like cement, lime etc., in Abu Dhabi are different.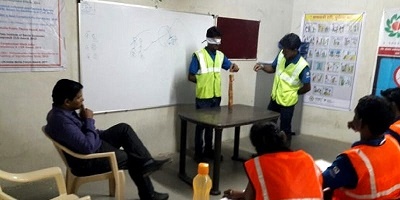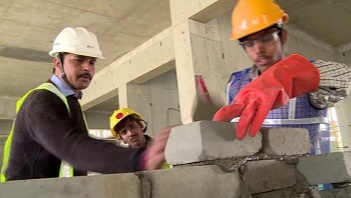 Rohim was the only Indian amongst 59 participants from different countries in the Brick Laying category. He was given a set of drawings to interpret, set out to measure and construct accordingly as per the required world-class standards. He was expected to do a falcon design brickwork. Rohim was awarded 'Medallion of Excellence,' and won the fifth position. Disappointed and dejected said – but in a way he was happy that he was offered the Assistant Foreman job at ATS Constructions. He is also a trainer for other young budding enthusiasts keen on taking part in competitions.
No professional training in India
In the west, there are courses and it is considered as a Profession and there is dignity in the jobs they do. The construction industry in India will slowly but surely find the need for such trained skilled jobs. There is a dire need for such training institutes in India.
He is a happy man today with a good job and is able to take care of his sisters' future. He says no matter what job one does, one must learn the art of perfection and give it their 100%.