When you face difficult times the ability of the disabled will inspire you. Look at these para-cyclists.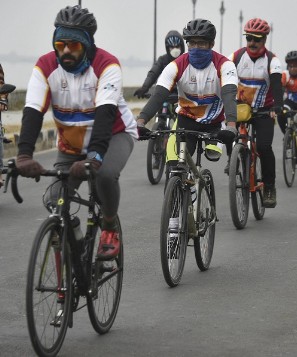 The year 2020 ended on a good note to these para-athletes when they reached Kanyakumari on 31st December 2020 after a 45-day-long ride that started on 19th November 2020. Our previous articles spoke about India's first para cyclist Aditya Mehta and his Aditya Mehta Foundation along with introducing some of the para-athletes who made a mark from getting the right support at the right time from AMF. This story today sets its spotlight on the feat achieved by a group of para-athletes including Aditya Mehta, Harinder Singh, and Gurlal Singh.
Infinity Ride - The Sixth Edition:
With the main aim to encourage and train the para-athletes to raise their spirits and become competitive para-athletes, AMF instituted Asia's first Infinity Para Sports Academy and Rehabilitation Centre in Hyderabad. The Infinity Ride organised with this objective aims to create awareness reaching out to para talent from across the country while discovering budding para sporting talent and groom them to compete at the highest level. While all this is very well known, the sixth edition of Infinity ride was launched on 19th November 2020 featuring the country's first para cyclist Aditya Mehta, the bronze medallist of Asian para-cycling championship Harinder Singh and the Asian Games track cycling bronze medallist Gurlal Singh along with a few other para-cyclists. This para-sports awareness ride was known as Infinity Ride K2K 2020. This ride was backed by Border Security Force (BSF) and it flagged off from Nishant Bagh, Srinagar, reaching its destination point at the historic Vivekananda Rock Memorial, Kanyakumari on December 29. The sixth edition of the Infinity Ride covered 36 cities in 41 days covering 3,801 km, a long route including treacherous mountain terrains making it a strenuous and challenging journey.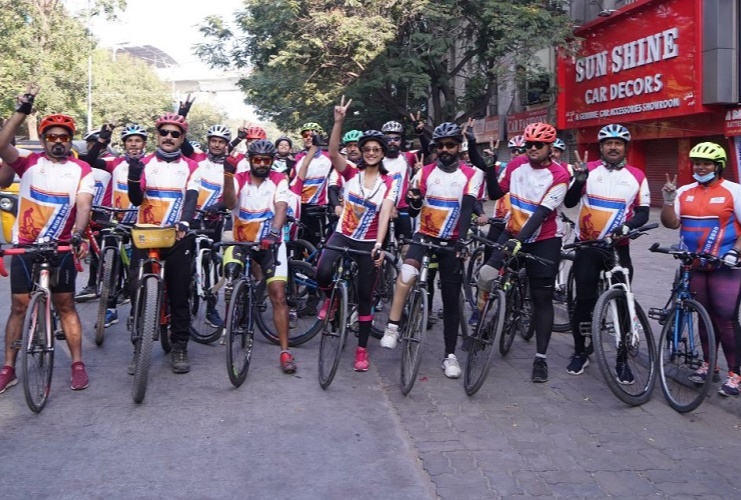 Achieving The Cause:
The para cyclists interacted with various NGOs, specially-abled schools and also connected over virtual meetings to explain and spread awareness on para-sports amongst people. They shared how their lives were disabled because of injuries and accidents and how choosing para-sports has changed their lives totally. They also reached out to differently-abled children during the ride trying to raise funds for them and also created awareness on the para-sports.
India's only female para cyclist, Tanya from MP, said that sports changed her life and made it even better than what it was before the accident.
"We don't see many women with disability participating in sports. The AMF has played a very important role in my life. Sports has changed my life, probably better than before my accident. I hope students will get inspired.", she mentioned.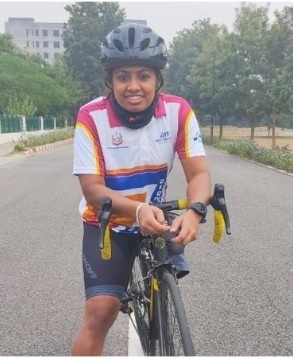 Know More About Tanya Dag - India's only female para cyclist from Madhya Pradesh
One Man Ride Turned Into A Team Ride:
In 2013, Aditya Mehta cycled the same route all alone and now in 2020, it rose into a strong team of many para-athletes. Immense efforts and years of initiatives brought numerous people into para-sports and today, a 30-member team embarked on this journey daring the challenges of the pandemic. People everywhere have shown unconditional love and support for their cause.
"We hope our awareness ride will encourage people to join and support our mission to find India`s best para sporting talents. My aim is to groom champions so that they can play for India and become heroes," said Aditya Mehta, founder of Aditya Mehta Foundation.
The AMF beneficiaries have also won 90 international medals so far in various para-sports and tournaments. The foundation has successfully reshaped the lives of more than 1000 injured jawans and civilians, who were rehabilitated and motivated to shine as Indian athletes to bring laurels for the country. May this journey continue without brakes and may many disabled and dejected individuals find hope of living beyond disability that too with their heads high.
Know More About Aditya Mehta Foundation

Know More About Aditya Mehta