Aishwarya Pissay becomes first Indian racer to claim a world title in motorsports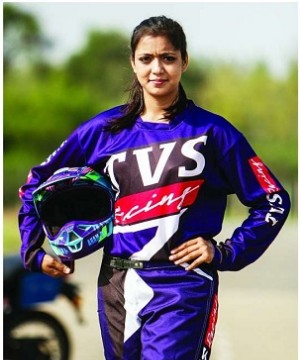 Women are fast eclipsing every frontier that was previously considered a man's domain. It's the age of woman empowerment and female achievers are surpassing traditional boundaries in every sphere, but there are still a few unconventional sports and hobbies that raises eyebrows when women begin to excel. Motorcycle racing is one such sport that people don't generally associate with women. But young Aishwarya Pissay from Bangalore is out to displace these misconceived notions through her passion for biking.
The Initial Seed for Speed
Aishwarya's earliest memory of racing was watching a Moto GP race with her father. She recalls being awestruck at the experience of watching the race. The powerful roaring engines and the nearly supersonic speeds gave her goosebumps. This early initiation triggered a passion for racing in her. Aishwarya's mother further cemented this passion by encouraging her to explore every interest.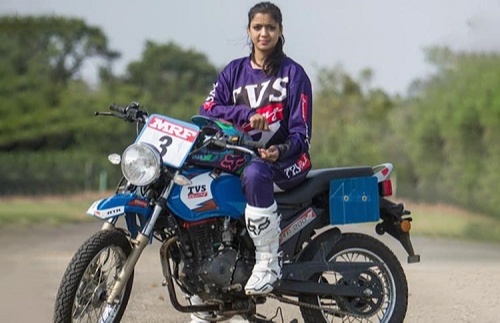 In college, she was inspired by Ranjana Gopalkrishna, her senior, who indulged in a lot of biking. She took a year out of college and began traveling extensively with Ranjana on her Duke 200 motorcycle. Together they clocked many a mile. Looking at her passion for riding, a fellow rider suggested that she get trained at Apex Racing Academy.
The Thrill of Competition
After she completed her formal training from Apex Racing Academy, she started riding competitively in 2016. Her debut race, One Make Race, in 2016 did not go according to plan and ended in failure. She didn't allow this debacle to demoralize her, instead, she used it as a stepping stone to improve her skills and temperament. She embarked on a strenuous regiment of physical and mental training, and the results soon started showing. In 2017 alone, she participated in a string of competitions including Indian National Rally Championship (INRC), Raid De Himalaya, Dakshin Dare, TVS Apache Ladies One Make Championship and ended up winning quite a few of them — especially three national championship titles.
The thrill of racing gets her competitive juices flowing. She's one of the few racers who compete in multiple forms of racing such as rallying and circuit racing. Her schedule is packed with nearly 20 races every year, which places quite a demand on her mental and physical faculties. Racing is an expensive sport and by her estimate, it costs her more than 10 lakhs annually. But Aishwarya doesn't allow any of these drawbacks to hinder her passion for competitive racing as she motors past every obstacle.
Riding Past Patriarchy
When Aishwarya first decided to pursue racing as a career, her conservative family was taken aback. They thought it was a crazy idea and wanted her to settle down in a 9 to 5 job. They advised her to keep racing as a mere hobby. But Aishwarya was not ready to settle for the ordinary, she firmly believed that she had the skills and talent to make it a career. Convincing her family was just the first hurdle. India's conservative society generally frowns upon any offbeat career choices, especially if it's made by a woman, so Aishwarya was subjected to a lot of judgment and questioning. But she brushed it all aside and let her performance do the talking because she knew that a woman can achieve anything that a man can. She's now reached a point in her career where she feels its no longer about proving people or society wrong —it's all about skills, performances and results.
The Road Ahead
Determination and tenacity have been the hallmark of Aishwarya's journey. They were best exemplified during her maiden Raid de Himalaya in 2016. At one point in the race, she realized that her front brake had failed. She still had a major chunk of the race to complete on a rugged and unforgiving terrain, but she kept pushing and only pulled out when her life was in danger. Her determination and tenacity didn't allow this frightening experience to deter her, she bounced back the next year and became the only woman to complete the race and win in the ladies category.
These character traits will hold her in good stead as she looks forward to the 2019 racing season. She wants to do better than 2017, and make 2018 the annus mirabilis of her career. Aishwarya couldn't have asked for a better start to the season as she got picked by the Sherco TVS Rally Factory team for the Baja Aragon rally in Teruel, Spain. This will mark her debut in an international rally as she becomes the first Indian woman factory racer to compete in the Baja Aragon rally. Aishwarya recently became India's First-Ever FIM Bajas World Champion in 2019.
From honing her skills on Bangalore's potholed streets to taking part in an international rally, Aishwarya has made rapid progress in her career. She's become an inspiration to young girls all over the country, and her advice to them is to look at racing as a whole new platform to push their limits. She says, "It makes you feel alive and nothing can ever replace the feeling of racing. So women, go explore!"