Teenager's innovation Seedographer may help the farmer in sowing seeds.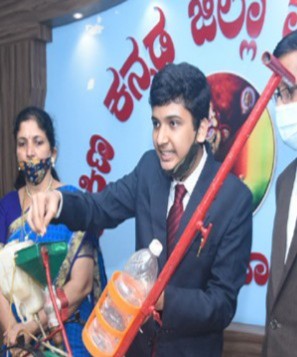 Agriculture is the backbone of the country. If there's no crop, there's no food on the table. With growing technology, agricultural practices have seen tremendous changes. If there is anything that is concerning every individual today, that's the lack of soil quality thereby the end-yield quality. Are we going back to the era when farming was not known and humans back then followed anything that came to their mind to grow crops? Or are we dissolving into the dangerous era of depleted soil quality owing to the excessive use of harmful products out of greed for huge produce? For any such matter of fact, the end line is that be it natural factors like soil fertility or man-made mistakes, agricultural sector is suffering great loss. Unconventional approaches to farming - reasons can be varied- are causing severe threat to the existence of quality farming practices. Here is where a teenager stepped in and his innovation is solving many problems in the field of agriculture.
The Sensible Son Of A Farmer:
Rakesh Krishna K hails from South Canara in Mangalore district of Karnataka. His father is a Farmer and mother is a Professor. Having come from an agricultural background, Rakesh was closely associated with farming and its practices since childhood. Also, he observed how his sister worked keenly on her biology projects which inspired him to work on something by himself. He also had close acquaintance with the problems associated with agricultural practices. Summing all these up, he always wanted to develop mechanical solutions to real life problems faced by the society.
The Problem He Noticed:
Rakesh was eleven years old when he saw his father and other farmers struggling with agricultural practices like ploughing and sowing. The farmers cannot hire labour as their availability is bare minimum and the prices of mechanical tools that help in the process are too high. Thus, they take up each of these tasks, all by themselves, by hand. Tilling involves intense physical involvement while sowing seeds would take anywhere around two to three days for one hectare of land. The farmers would sprinkle the seeds by hand and only a few of them germinate owing to irregular spacing and other issues.
Rakesh's Solution To The Problem:
Talking about the above issues faced by farmers, Rakesh Krishna says, "I realised that farmers needed a machine that would undertake sowing systematically and reduce effort. Also, it had to be affordable so that more and more farmers could use it. With this thought in mind, I started my project". Rakesh took a look at the old drum seeder they have in their house, but it was not designed according to the requirements of the farmers. Rakesh thus decided to design a machine for farmers that would make their job easier. This idea to develop a machine was triggered in 2015 and ever since then, the teenager didn't stop from creating, correcting and enhancing the models. What if one disappoints him with its drawbacks? He was ready to address them in the next model. He went on to create several models of the machine that help in the systematic sowing of seeds, ploughing of land, irrigation, and in obtaining an increased output.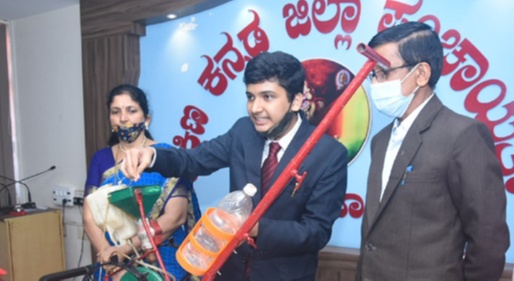 Seedographer - The Farmer's Magic Wand:
Rakesh Krishna designed his solution to the problems faced by farmers, the Seedographer. It is a multi-purpose seeder and plough, a machine that was designed to meet the needs of a farmer. His Seedographer primarily works on a conical drum wheel that has holes placed at equal distances. Attached to the axle of the vehicle, this drum is narrower in width on the outside to ensure that even the last of the seeds gets effectively dispersed. The equidistant holes ensure systematic sowing across the soil. This mechanism is complemented by a plate at the back. This plate covers each seed with soil as the machine heads forward. Seedographer allows sowing seeds of crops like paddy, ragi, jowar, and gram. During the process of developing the Seedographer, Rakesh overcame several speed-brakers with patience and perseverance. His initial models consisted of a cylindrical drum, which would hoard the seeds left at the bottom resulting in the generation of more waste. Rakesh, then created another model by replacing the cylindrical drum with a conical drum.
Practical Usage And Satisfactory Performance:
Any innovation that stands the practical usage can only become the fruitful and productive choice for real-time application. When Rakesh's father Ravi Shankar used Seedographer, he felt more than satisfied and was relieved that he was finally free from a lot of physical hard work. He says, "I use the machine on my land to plough the field. I can adjust the holes by opening and closing them, which gives me the desired sowing distance between each seed. Moreover, the soil covering ensures that the seeds are not taken away by wind erosion or hungry birds. The drum can also be filled with water for the purpose of irrigation." Ravi Shankar also mentioned that due to sowing at regular intervals, the seeds started receiving proper nutrition and thus his output has increased by 20 per cent and water consumption has reduced by 40 per cent.
Recognition To The Young Innovator:
Rakesh's innovation, the Seedographer has bagged him the Prime Minister's National Bal Shakti Award 2021. In 2017, he presented the invention to the former President Pranab Mukherjee, at Rashtrapati Bhavan during the National Innovation Festival. He was also selected for the SAKURA International Science Exchange Program in April 2020 for his invention.
The Road To Future:
Rakesh, who has created several models of Seedographer whose prices vary according to the technology incorporated in them, says that he wants to develop advanced version of it by incorporating features like soil quality check etc. "My aim remains to keep innovating this machine as per the needs of the farmers. So to experiment with it, I keep meeting farmers from different areas to understand what else is missing in it," Rakesh said. Rakesh is also currently working on an automatic version of the model that may be powered by solar energy.
Kudos to the young boy who has been directing his energy for the betterment of the society. If he could do so much at this very young age, what would he be doing in the years to follow is exciting to imagine. We wish him good health and happiness all the way in his journey towards success.