Rickshaw Driver's daughter an Olympian equals the world record in Recurve Event in Archery.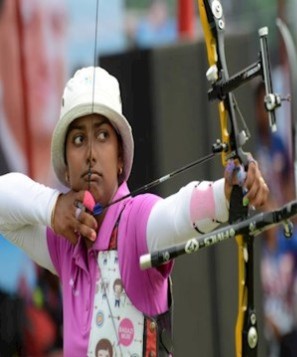 Mangoes was the Aim.
Deepika, being born in a village certainly made the best use of the environment. Walking, chatting and playing on her way to school and often trying to aim at Mangoes with stones and the thrill of eating them too. This aiming became a passion and she loved doing it and aiming at high objects.
Her parents would catch her doing this all the time and thought it would be a good idea to get her a local made bow and arrow and make their own bullseye and that's all they could afford. This little girl would return from school and would be with her bow and arrow till dark.
Cousin's footsteps.
Vidya Kumari her cousin was already an accomplished Archer and she wanted to follow in her footsteps. At the age of 11, she was picked up by the Arjun Academy set up by the Former C.M 's wife Meera Munda. She is eternally grateful for the opportunity she got and a small financial help from them.
Real Equipment and Real Game
One could see the joy in her and she was so thrilled to be in the Real Archery arena and practice with Real stuff. Parents have in fact compromised to provide her with the Real equipment and also help to come in from friends and family. Deepika says this is one of her most thrilling and memorable moments where you wish and it comes true.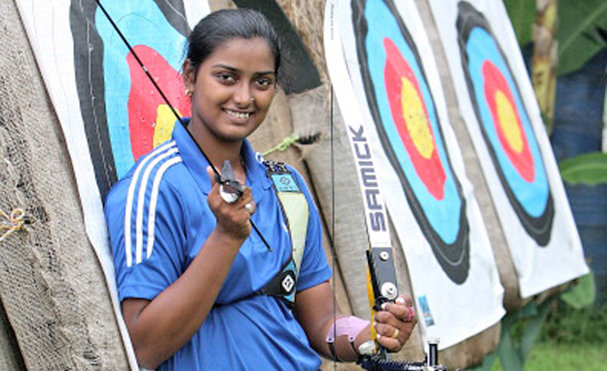 Away from Home.
She was soon offered to join the Tata Archery Academy in Jamshedpur and at 12 had to leave home. Initially was all too excited but when she couldn't come back home for long periods of time, she was often sad and home-sick. Deepika told herself that she can't lose an opportunity like this and only after three years she was able to make it back home after winning the Cadet World Championship in 2009.
Accomplished Archer.
Her rankings improved and she started winning tournaments. A gold medal at the 2010 Commonwealth games in Recurve event, 2012 participated in the Summer Olympics and Rio Olympics and at the age of 18 was conferred the Arjuna Award and just last year in 2016 received the Padma Shri.
Future aspirations.
Looking back, she feels it's a bit of luck and a whole lot of hard work, focus, dedication, sacrifices and parents' intervention in the early days. Presently, she is elated and enjoying the fame and money and so far feels has been in the right direction. All that she is today is because of the Tata's Academy and the coaches and feels it's been an amazing experience to be part of this prestigious academy.
Looking forward, she certainly is very young and has many, many years of staying in the competition and making the country proud. All eyes on Deepika while Deepika targets the Bullseyes to clinch the gold in the upcoming World Championships.
Archery in India.
Deepika feels there is a lot of encouragement from Academies and the government too and is happy that Archery has, in fact, got its due recognition. Most certainly, there is a lot of untapped talent in the remote villages.
Bookofachievers.com looks forward to many more records from Deepika.

Click Here To Read More

For Further Updates Click Here