Lost IIT seat owing to an accident. Underwent several obstacles is now the Full Stack Developer.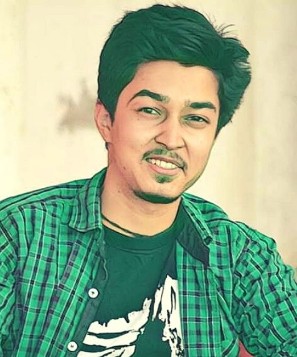 They say that when life throws lemons at you, prepare lemonade and enjoy the drink. But what if the lemonade spills off before you take a sip? Palash Patidar asks us to grow a lemon orchard and keep relishing the juice. Even if it's missed once or twice, ultimately the hard work of growing the orchard pays off, giving you the best of "Sharbat" all your life. Well said, but who is Palash Patidar and how is that he could understand the ways of life so well? It's because he faced numerous challenges and survived. Not just that he survived, he also has set a firm identity for himself. Let's read the story of a gritty man from Madhya Pradesh who faced severe blows in his life, yet stood tall.
"I have no memories of what happened next but the first I gained consciousness, I was in Lilavati hospital, Mumbai. It was a month after the accident. I had severe spinal, brain and lung injuries. And, within minutes I realized my lower body had no sensations. I broke down."
Every time Palash recollects what happened to him on 10th May 2014, he is sure to get shivers running down his spine. He was just 19 and all he faced at that age is beyond imagination.
Life Turned Topsy Turvy:
Within 15 days, Palash Patidar, who hails from Ujjain, Madhya Pradesh has to give his JEE Advanced examination. It was 10th May 2014 and he was travelling to his native place 100km away from Ujjain. During the journey, their car suffered a mechanical failure and was skewed off. Palash fell out of the car and got crushed beneath it. His mother too got injured and they both were rushed to the hospital by his father. Palash broke his spine and his lungs were totally compressed. He developed a clot in his brain along with other injuries. For over a month, he reminded unconscious and was breathing only with the help of a ventilator. When he gained consciousness, he realised that he lost sensation below his waist. The earth underneath him collapsed. He was taken to the Indian Spinal Injuries Centre in New Delhi and the doctors told him that he would never be able to walk again. "We tried consulting other doctors but they said it clearly, "Nothing in this world can make you walk.", he recollects. He came back to Ujjain and tried all possible ways prescribed in Allopathy and Naturopathy to stand back and walk. Over a period of time, he began to realise some sensation below his waist to the surprise of the doctors. All thanks to his willpower. "I even began walking a few steps with a lot of support. As a former athlete, if I even got a glimmer of hope that full recovery may happen one day, I would go all the way," Palash recounts.
Education And The Shattered Dream:
Palash was an average student in school but had a good aptitude for math and physics. His ambition was to get into the Indian Institute Of Technology and for that, he appeared for the JEE examination which he cleared in the very first attempt. He even secured a seat in the IIT-Roorkee. However, he fell short of 2% in his Class 12 board exams and because of this, he had to lose his seat in the IIT. Thus, Palash took a year's time to reappear for JEE and also for his Class 12 board exams. Just before 15 days of his re-attempt of JEE, the tragic accident turned his life upside down. After the incident, as he couldn't appear for JEE owing to his physical condition, he took admission to a local college in Indore. However, he was not able to attend college even for a single day. So, he decided to spend the year improving his physical condition. "My parents kept on motivating me to improve my health first. I pushed myself daily", he said. As he couldn't attend the college in Indore, he joined Computer Science Engineering in Ujjain Engineering College, Ujjain in 2015. There too, he couldn't attend college and just appeared for the exams. While improving his physical condition along with pursuing the education was all happening, another blow hit him hard in the form of his father's demise. Balchand, his father, who worked with the Madhya Pradesh Housing Board and who often prioritised a healthy lifestyle, died out of a sudden and unexpected cardiac arrest in June 2016. Palash's mother, Radha who is a staff nurse, had to take responsibility for both her son's personal, physical and educational growth along with running the family. She did household chores, took care of Palash and managed her job. Palash looked at the way she toiled day and night and always wished to share her burden. As he could not help her in the physical household work, he wanted to at least contribute to the finances. He finished his education and unfortunately while he was trying jobs, the covid pandemic hit and offices were closed. However, he found hope in the new work culture, "Work From Home". He thought, "work from home wouldn't demand him to walk". As his passion lay in physics, he planned to study it further after graduation while teaching the subject to JEE aspirants. But as the pandemic demanded online work, he started looking for jobs online and applied to various companies. During this process, he received an email from Newton School, a Bengaluru-based ed-tech startup that allows students to achieve their dream of becoming software developers. Students can pay the fees for their course only after they secure a job placement and start earning. "They proudly mentioned, "Pay only after you are placed". I was intrigued. I learned web development and started sitting for interviews", he mentioned. After finishing the six months course, Palash started to build his own web applications. He finished the course in February 2021 and two months later, he secured a job with SuperProcure, a Kolkata-based logistics company. He is designated as the Full Stack Developer and today, he is financially independent. "Honestly, I was a bit hesitant but, the recruiters appreciated me. They were amazed at my determination. I was so happy and finally, on April 6th, I joined SuperProcure. Now, not only am I financially independent but also physically better.", he said with happiness.
The war between Palash and life started in 2014 and in 2021, he is living his dream. With all his perseverance, persistence, or willpower, it is him, who did it. Yes, he did it. He is also slowly walking with the help of a stick without the support of anyone. We are sure that Palash would soon give his athletic body, its full recovery and on behalf of all those who were inspired by him, we wish him to complete health and happiness in the years to follow.