Jasleen Bhalla, the voice behind the corona virus caller tune.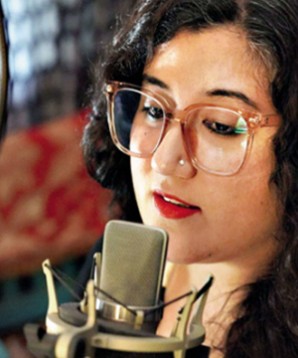 "The entire country is fighting against corona virus, but remember we have to fight the disease, not the patient." "Coronavirus se aaj poora desh lad raha hai, yaad rahe humain bimari se ladna hai, bimaar se nahi" These words are ringing in the ears of every caller these days. Ever since Covid-19 pandemic has struck India, government has been trying ways to create awareness among citizens about certain aspects linking to it and replacing the ringtones with default corona virus caller tune is one among them. So, here we present before you, Jasleen Bhalla, the voice behind the caller tune.
Jasleen Bhalla, a 40-year old Delhiete was an English graduate from Delhi University's Khalsa College. She started out as a sports journalist and later,set to work in the advertisement industry, worked as a producer with various channels for over a decade now.
A Producer's Inner Voice-over Artist:
In 2010, Jasleen started approaching studios to try out her talent as a voiceover artist. She honed her skills to suit the professional voice and establish herself in the arena. She considered it to be close to acting and she labelled it, a voice acting. She rendered her voice to various services like Delhi Metro, SpiceJet and IndiGo. "The doors will open on your left, please mind the gap." , who hasn't heard these words on a metro ride? And the voice behind those words is Jasleen's.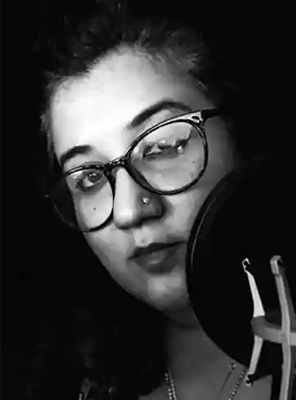 Covid-19 Voiceover Project:
In the last week of March 2020, Jasleen recorded a message on the Covid-19 Cautions but at that time she didn't knew that it was for a public campaign. Every time the Indian Council of Medical Research updates its information, she had to record a fresh version. Before recording the message, she was told that she execute a responsible tone that should drive people to follow the instructions without fail. In short, her tone should drive people to stick to the rules. That kind of tone came to her, the child of an Army officer, naturally as she was brought up in such a responsible and disciplined environment. As and when the norms are changed, Jasleen recorded them and to her astonishment, she realised of late that the recordings turned into the caller tunes and public awareness messages. This came as a surprise and a matter of pride both to her and her family. This, she says, loaded her shoulders with added responsibility as the one who cautioned, should be the first one to follow. She stepped out of the house only twice in the two months of nationwide lockdown. It makes her feel overwhelmed with joy, pride and a sense of responsibility to drill into everyone's mind the measures to take to keep the virus away. She said that she experienced totally an out of body experience when she listened to her own voice giving out instructions.
When perseverance and patience couple with passion, results bloom unexpectedly. And those fruits of results spread their goodness around. We wish Jasleen many more such projects that have a social purpose.