First Daughter Father duo Indians to complete the toughest 111Km La Ultra Marathon in Leh Ladakh.
- By:
zara
, Added on:
25/10/2017
IST, Last Updated:
06/02/2018
IST
34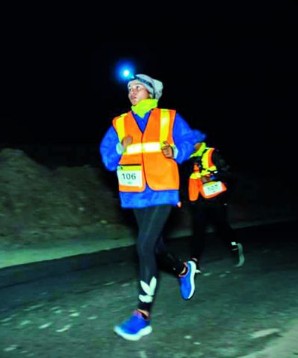 | Name | jyotsana rawat |
| --- | --- |
| State/Country | Uttarakhand |
| Achievements | First Young Indian woman to complete 111-km La Ultramarathon |
| Category | Athletics (Sports) |
| View Updates | Click to View Latest Updates |
Toughest Marathon. Why?
There are so many reasons to claim it is the toughest. Firstly the 111 km, 222 km and 333 km are probably more than double the distances of the normal marathons. Secondly, the freezing temperatures and the chilly winds and thirdly high-altitude mountainous rough terrains and oxygen drop levels at 11,000 ft. Regular Marathoners vouch that this is presumably the toughest in the world.
Jyotsna's fascination for running.
Fascination began when she saw her Hero, her Dad going for regular walks, jogs and runs and she would promptly wake up in the wee hours to accompany him. The duo enjoyed running through the slopes and hills of Dehra Dun and came back feeling absolutely fresh and energetic. If this could bring so much joy; why not pursue as a career in the long run.
If Dad could do it ; so could she !
Her father Mr Yashwant Singh Rawat at 54 had registered for the Marathon and that was one of the reason she plunged into it and the other because it is considered the toughest. A little nervous because it's not about the distance but challenges of weather and the terrain. More often than not imitating one's parents and obeying them seems to work. She thanks her Dad and also her school who have been really supportive.
Marathon Flagged Off !
At the Nubra valley 10,500 ft which is about 150 km from the Leh town, on a chilly evening at 8 p.m of August 17, 2017, the Marathon was flagged off. The duo were among 30 odd participants including some overseas, army jawans and scouts. Jyotsna was the youngest and her father the oldest and definitely without a doubt will be her most memorable moment always.
Declared the first duo and Jyotsna the first youngest Indian woman to complete.
The La Ultra had barely reached the quarter mark when the temperatures dropped very low along with the chilly blowing winds and she had no choice but to slower the pace. All through the night she was waiting to just get a glimpse of the rising sun. They crossed the Khardung pass and soon the dawn appeared and the historic finish at Leh came after 19 hours 46 minutes on August 18. Jyotsna heaved a sigh of relief and obviously couldn't contain her excitement of being the first and the youngest woman to complete this 111km marathon.
Many more Marathons to go.
She is in class XII and certainly has many years of running ahead of her. She wants to participate in the 222 and probably 333 Km in the future. Her immediate goal is to do her studies well and is contemplating wearing the Army uniform one day and says there is nothing more satisfying than serving one's country. Of course her Dad seems so fit and healthy at 54 and surely is not thinking of retiring this young.
Bookofachievers.com congratulates and salutes this gutsy teen and many surely can take a leaf out of her book.