For Duo Para-athletes, so steep is their will power that no mountain is steep enough to conquer.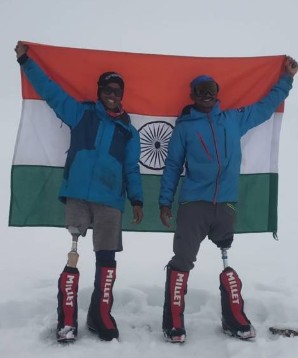 "They braved heavy rain, morraines, tough and steep landscapes, hail and snow while on the way up and never backing down, they climbed higher and higher despite it being challenging with their prosthetic limbs." These are the words that welcomed the young, high-spirited Para-athletes after their successful endeavor to ascend Mt. Bhagirathi.
Aditya Mehta Foundation- Showcasing The Abilities Of The Disabled:
Aditya Mehta Foundation is a Hyderabad-based non-profit organisation that helps people with disabilities take up sports, making them self-driven and confident. They identify talent from among the disabled, provide counseling and assist them in achieving great in their chosen sport. The disabled are provided with required equipment, and training to fine tune them into professional players. Funding is provided to encourage them to take part in global championships.

Know More About Aditya Mehta Foundation
Aditya Mehta, an above knee amputee, laid foundations for Aditya Mehta Foundation in order to alleviate the pain and suffering in the disabled, show them the other side of life they deserve!! Since its inception, AMF has been driving the lives of numerous people towards light. From equipping them with all that they need to morally supporting them until they start believing in themselves, what is it that AMF doesn't do!! As a part of its activities, AMF, along with BSF Institute of Advanced Adventure Training (BIAAT) together set off on an expedition to scale Mount Bhagirathi II in Uttarakhand on August 10. The team included six para-athletes - two from Telangana and four from Border Security Force (BSF), all with different levels of disability. In this team, with the grace of AMF, two brave souls of Telangana flashed into limelight, when they scaled upto 18000ft of the mountain. They are Shaik Arshad and Aryavardhan. Let's know more about these inspiring personalities.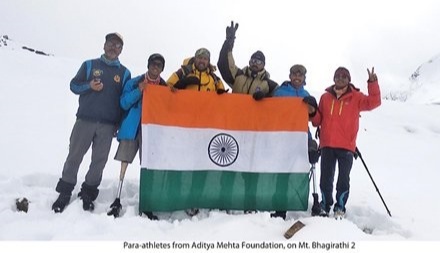 Life Challenged This Taekwondo Champion

And He Firmly Answered It From The mountain Top:
Arshad, a class five student, was an enthusiastic sportsperson. He displayed his charm in various sports especially Taekwondo. He won medals in district and state level championships and raced like a horse with his green belt. However, his speed decelerated in 2004 when he was in his class VII. Fate came in the form of a vehicle that hit the auto rickshaw in which he was travelling with his family. The boy got his left leg severely damaged in the accident and had to be operated on for four times finally leading to the amputation of his left leg. His leg stopped moving but his life didn't.
With the advice from a doctor in his village, he pursued Archery. When there is determination and zeal to stand out in life, no accident can become a pause button. Arshad won state level championships and under the training of a kolkata-based coach, he practised at the Cherukuri Volga Archery Academy bringing home medals from national level championships. He stood in top five in the Asian Games trial at Delhi in 2014.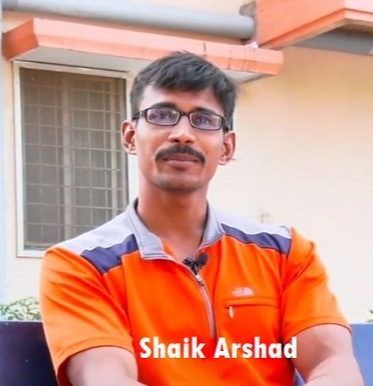 Life forced financial troubles onto him leaving him with no option but to work at a hotel and as a receptionist in a hospital. Slowly, he picked up from where he lost. He focused on bodybuilding and set records in the handicap category as Mr.Andhra, Mr.Rayalaseema, and Mr.Simhapuri. He participated in national level competitions while working two jobs to support his family.
Life gifts good fortune to those who succeed in its back-breaking tests. Arshad came across a video that came as a light of hope. He came to know about Aditya Mehta Foundation and applied for it's membership. Later, he revived an invitation from AMF to attend a seven-day camp organized by Border Security Force. There, he was trained in swimming, power lifting, and badminton. This sports enthusiast was equipped with a Jaipur leg intially and in the later days, a silicon leg. For the first time in his life, in 2018, Arshad, who confined himself to sports like bodybuilding and archery that don't demand leg potential, completed 3K marathon in Delhi. A cherry on top of this cake came when his coach in the organization encouraged him to sky in Auli without the artificial limb. This rose his self-esteem to the peaks of the meter. He was later called to the Aditya Mehta Foundation, Hyderabad and was trained in hand-cycling. And of course, as a pro at every sport he picks, Arshad stood fourth in the hand-cycling event in the Asian Championship held in Uzbekistan. "The foundation has been helping us and has been providing us with everything. It is because of them that I have achieved this much today.", says Arshad.
To All Those Who Are Challenged By Life:
Arshad tells all the physically challenged individuals not to be scared or feel depressed at anything in life. "They need not feel inferior", he says. One should come out of fears and take up a sport, he says, that helps build self-confidence and imparts sportsmanship.
Another Diamond From The Crown Of AMF:
Seventeen year-old Aryavardhan who scaled Mt. Bhagirathi proved all the myths surrounding physical disability to be wrong. He is the WORLD'S YOUNGEST above knee amputee to ascend Mt.Bhagirathi II.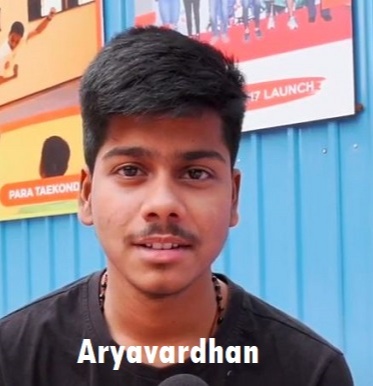 Aryavardhan met with a road accident at a tender age of 5 and lost his right leg. Since then, he had stopped catching up with relatives and friends feeling inferior because of his disability. He feared humiliation and felt deeply shy to face anyone. To add to this, he lost his father and was left with a widowed, yet strong-willed mother who earned bread for the family and supported Aryavardhan's needs. Four years ago, this iron lady was diagnosed with cancer and their life went upside down. During this imbalanced rafting on surging dark waters, Aryavardhan found a light house to guide him. Joining Aditya Mehta Foundation changed his perspective towards life altogether. AMF helped the family by shouldering the responsibilities of his education and his mother's treatment. Aryavardhan became a member of the para-athletes team and received training in para sports under the shade of the mighty AMF tree. He trained very hard with the help of sports doctors and physiologists. Early morning exercises and evening gym workouts coupled with training sessions in ice along with moraine and glacier walk made him reach 18000ft on Mt. Bhagirathi II.
Young Men's Mighty Will

:
These strong personalities flagged off on August 10 from Gangotri to scale Mt Bhagirathi. The base camp was at Nandanvan 14,655 ft altitude, and the training took place up to the camp at 17,552 ft altitude. They climbed Mt. Bhagirathi II up to 18,000 ft. until unfavorable weather conditions stopped their journey.
"They carried their rucksacks with necessary facilities and were acquainted with climbing gear and shoes. The more they walked, more their lung capacity increased and concentrated on building balancing muscles", said Aditya Mehta, the founder of AMF.
They are currently training to kiss the cliff of Mt Everest in 2020

.
These unbending high-flyers are an inspiration to all those who fret about lack of resources in life. Positivity, spirit and the courage to face adversity are what everyone needs to imbibe from these unflinching young men. Let's wish them a mountain of strength and power to make it to the Everest.

Follow Aditya Mehta Foundation For More Updates

Know More About Aditya Mehta Foundation