Good Bye Sir Lingappa. Ever grateful to your contribution to sports.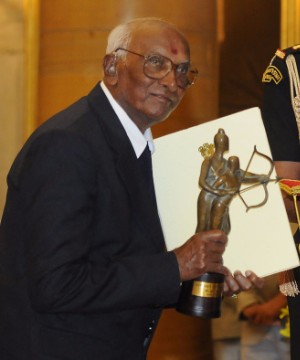 Who is Sir Lingappa?
He needs no introduction to the Bengalurian Athletic fraternity, but for the others, he was an International Athlete himself who later started his coaching stint way back in 1955. Even till today he tirelessly continues to go about doing his job and is at the stadium every single day without fail.
Like to meet this legend?
Most certainly Sir Lingappa would love to meet anyone and more often than not a lot of his ex-trainees drop in at the stadium to say Hello and reminisce their good old days. For those who have never come in contact with him; he is sure to make a difference to your life if you do. He is so full of wisdom, knowledge, experience, warmth, and kindness and sure to greet anyone with a big broad smile.
It is no Secret......
There is no secret to his fitness, except for his passion for the sport and love for his athletes. Maybe doing his regular exercises, eating right is keeping him so well. Not forgetting the simple and small things that matter to him like spending time with his family. Sharing what he has learned over the years brings him a lot of peace and contentment.
The award that took so long is everyone's question.
Dronacharya Award is for Outstanding Coaches in Sports and Games awarded annually by the Ministry of Youth Affairs and Sports. It is Better late than never and he is more than thrilled to receive this prestigious Award when he turned 90. This Award was long, long overdue, but for the fact that the Government was still contemplating If, When and Whether he truly deserved. While he basks in the glory of this Award; he ardently thanks, Kapil Dev who headed the Panel; for finally recognizing & approving it in 2014; However, admits that he has been receiving recognition, respect and "Janta Ka Award" Each day for the last half a century and truly is thankful to the God almighty for his blessings. Many eminent Athletes like Kenneth Powell an Olympian, Uday K Prabhu, Ashwini Nachappa have benefitted from his training and probably the list is countless.
Comes after an arduous struggle.
If his son Nagaraj and other well-wishers had not pushed Sir Lingappa to send applications each year; we would not have seen this happen at all. What is disappointing is that the failure of the authorities to take notice of the contribution and recognize at the right time. Many other coaches too need recognition as they dedicate so much of their time to help athletes.
Commemoration and Celebration.
The celebrations hosted by the Indo-German sports club at the very same track was attended by hundreds which shows how much respect and gratitude these athletes have for him. He was truly touched by this gesture.
His athletic days.
Probably in his early 20s, he was a self-trained Athlete who won many District and state level competitions. He represented the then Mysuru state for more than 6 consecutive years at the National Games. His first national silver medal came in the 10,000 m walking event in 1954 and he also represented India at the 1954 Manila Asian Games.
A piece of advice.
Today's youth have too many distractions and if anyone wants to make it Big in sports; must learn to focus, work hard and must be consistent.
Good Bye Sir Lingappa
Sir Lingappa who dedicated almost his entire life to sports is no more as he breathed his last on 18th June 2019. Sir Lingappa will be dearly missed by the Atheletic fraternity especially in Karnataka. May his Soul Rest in Peace.