The teen's anti-viral polymer that helps filter viruses could well be the answer for SARS and Covid.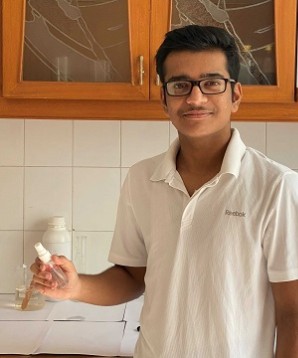 "The boy's achievement is commendable and it proves that age is no bar if we have the grit and determination. We wish him all the best in getting his product patented and manufactured. We always encourage our students to be creative and to develop an intellectual outlook. This will set the stage for bigger achievements that we can only be proud of." - These are the words of Shweta Sastri, Managing Director, Canadian International School. Who is she talking about? Well, an enthusiastic student of Class XII became the talk of the town when he developed a polymer compound that helps filter the microbes in the air. He is Nikhil Ramachandran and this is his story.
Young Scientist Born In Father's Lab:
While his fellow teenagers are spending time on mobile games, and Netflix movies, a Class XII pupil of Canadian International School spent several hours in his father's chemical factory after school. News in the air about toxic atmospheric gases filling the lungs of humans causing severe respiratory disorders bothered Nikhil and he decided to do something about it. He centered his focus working on various chemical combinations in his father's factory in Peenya. After four months of extensive research trials, in January of 2020, Nikhil came up with a polymer component with Nano particles that has the capacity to filter viruses and absorb air pollutants.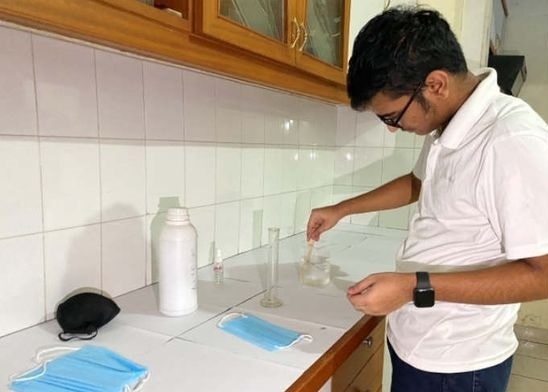 Anti-microbial Polymer - The Pressing Priority:
Nikhil's anti-microbial product comes in the form of a spray or a solution. A mask or handkerchief can be ducked into the solution and the chemical gets adsorbed on the fabric. This chemical, then absorbs all the harmful gaseous oxides and eliminates the viruses. Unlike normal masks through which pollutants can easily make their way, the chemical-adsorbed masks and handkerchiefs can keep toxins at bay. The polymer compound, according to Nikhil, provides protection from virus, fungi, etc. and contains an anti-viral agent that is effective against SARS COVID 19. This compound is suitable to use in air filters, disposable and non-disposable masks and other fabrics. He says that the product has a stable emulsion and can spread easily by forming a thin wet coating.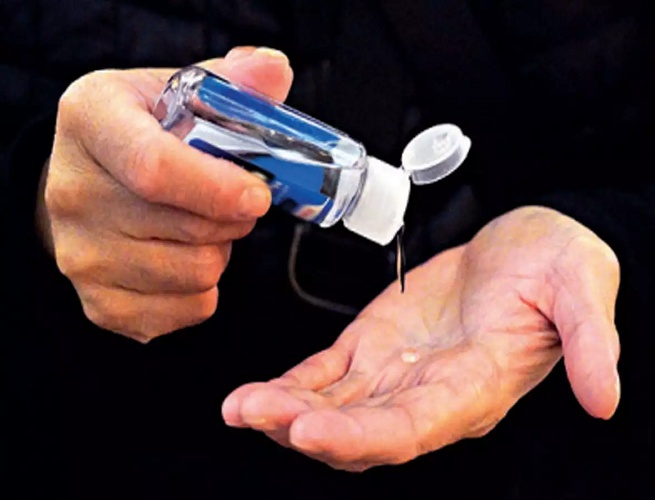 Taking It to The Reach Of Public:
Nikhil is now focusing on taking the product to benefit the public. He has applied for a patent and says that it is productive and affordable. He is on talking grounds with the mask manufacturing companies and is working on getting statutory approvals to establish a distribution network. On this note, he laid foundations for a proprietary company called NOVIC.
Shadowing Under Great Mentors:
Nikhil's mentor Dr. Roy Varghese is a professor of Gastroenterology and Infectious Diseases at Hazard ARH, Kenttucky, U.S. Under his supervision, Nikhil published a paper on the use of yoghurt in treating Irritable Bowel Syndrome in IJCMR.
An Ambitious Young Brain :
Nikhil's aim is to pursue an advanced degree in chemical or bio-chemical sciences. This young genius, who thought about addressing current potential problem the world is facing, is sure to serve the mankind in future had his dreams and aspirations are watered right.
"The initial results excited me and the more I discussed with my mentors, the more they encouraged me to pursue development of the product. The availability of time along with school assignments were the challenges I had to overcome while working on the product," Nikhil stated.
Let's wish he continues to get the required support from his teachers at the school so that he spends more time on researching for a better cause. After all, the main aim of Education system should be to encourage the outcomes of bright minds.