92 YO runs TCS 10k marathon 2020. His routine will make you start running.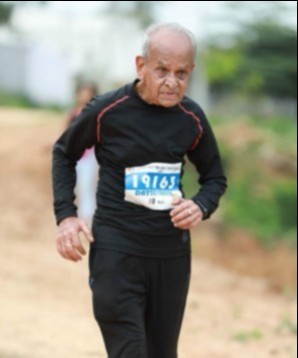 "I want to be a role model for young people; I want to inspire more and more young people, who are always indulging in the virtual world. They should feel that there's a life outside the virtual world and make walking or running 5km a day an important part of their daily life," says the 92-year-old, oopse!! 92-year-young marathon runner, NS Dattatreya. Read about him here and his story is sure to wake up the dozing fitness goals in you.
A Sportsperson in School:
NS Dattatreya, the marathon runner aged 92 was an enthusiastic participant in sports during his school days. He was a part of the school football team. Later, he served as a Manager with the State Bank of Mysore where his busy schedules didn't allow him to embrace his passion for sports and physical activities. Though he kept playing football aside, he didn't choose to refrain from being physically fit. Thus after 30 years of his retirement, when interest in running triggered, he hit the soil with his running shoes on and fitness? - Good to Go!
The Man of Discipline:
In January 2019, Dattatreya developed an interest in marathons and walkathons. He participated in his first race in January and ever since then, the zeal to run doubled. He encouraged his son Murli to participate along with him in the marathons with a wish to inspire youngsters. His son also joined him and the duo started running 5km every morning. The secret to Dattatreya's fitness also lies in his diet that largely comprises of greens but he says, Mondays are his "cheat days".
"Every weekend I search for places where I can run," he says
One Year - Many Accomplishments:
When Dattatreya, who ran distances of more than 20km at one go, determined to get into running marathons in 2019, he didn't think of what he is going to achieve. All he thought of was embracing his passion and to inspire youngsters towards being fit. However, he has bagged more than 50 medals and 10 trophies within a year. This man with wheels under his feet ran the 5km 'Run for Unity' held in Bengaluru in 2019. He also represented India in the 21st Asia Master Athletics Championship in Malaysia in December 2019 where he emerged with five gold medals. This fitness pro has already participated in an overall of 90 events both physical and virtual since 2019. Recently, he also participated in the TCS World 10K Bengaluru 2020.
A Life That Inspires Is A Life Fully Lived:
Dattatreya's wish to inspire youngsters hasn't gone in vain. He did more than what he thought of by motivating thousands of people towards living a fit life. One of them who grabbed inspiration from this marathon runner is a 40-year-old senior executive who works at a real estate company in Vadodara, Gujarat, Kuldip Singh Jadav who met Dattatreya when he was transferred to Bengaluru for one year.
"Dattatreya uncle has changed my life. In 2019, I met him for the first time, and I got stunned by how this 91-year-old can run a marathon. From that moment, I felt if this 91-year-old can cover long distances, why can't I?" Kuldip mentioned. Ever since then, Kuldip who has made running and walking his daily routine, participated in close to 50 cycling and running events.
Words of Value:
Dattatreya who prefers to keep his fitness on track suggests all the youngsters should follow the same.
Isn't Dattatreya a good enough reason to stay fit?
Checkout : Punjab's 109 YO continues to create records by running marathons. Was a torch bearer in 2012.