Punjab's 109 YO continues to create records by running marathons. Was a torch bearer in 2012.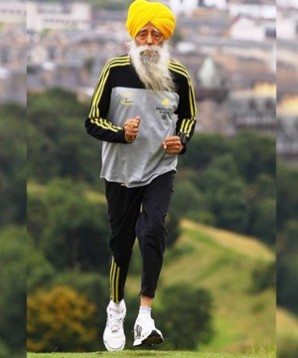 He was a boy with weak legs but is now the oldest man to run international marathons. From being taunted as a "danda"(stick) to being titled as "Turbaned Tornado", this Sikh hero has run a long way. Life was never easy for him. Born with some unidentified weakness in legs that even doctors couldn't decipher, he faced every obstacle with a steel heart. Right from losing his wife and daughter, then one son, every pain he went through only doubled his strength. Running was his best friend, then, now and forever. He ran in joy, he ran in pain, he ran to connect and he kept running. He has now become the oldest man to run international marathons and he is a true exemplar to his own name, Fauja (means a warrior). Let's get inspired by the story of Fauja Singh, the Sikh Superman and the Running Baba.
Punjab's Sher:
Born in Beas Pind, Jalandhar, Punjab on 1st April 1911 in British India, Fauja was the youngest of the four children. He could not walk until he was 5 years old because of his frail legs for which everyone pulled his legs calling him "Danda"(stick). He faced humiliation all through his childhood years for this very reason but he never dropped his spirits low. He slowly tried walking increased miles and began to run his legs faster. He became an avid amateur runner but at the time of Partition of India, he gave it up.
In 1992, the loss of his wife along with the death of his eldest daughter to the complications of pregnancy shook him badly. Later, in August 1994, he witnessed the death of his fifth son, Kuldip which made him shrink from within. To convert all of the pain that's burning him from inside into a stream of positivity, he resumed to running. He focussed on redesigning his life and in the late 1990s, he left for England to look ve with one of his sons in Ilford.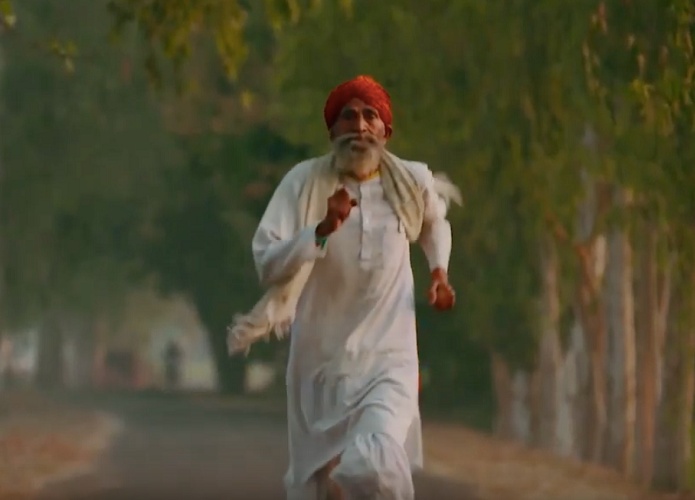 The 89-year-old but energetic Fauja took running as his only companion and embraced it completely. He ran in international marathon events. The running coach at Redbridge, Essex still remembers the first time he saw Fauja who came to run in a three-piece suit. The coach has changed his complete attire and in the year 2000, Fauja ran his first race, the London Marathon. At the age of 93, Fauja completed a 26-mile marathon in 6 hours and 54 minutes breaking the previous world record by 58 minutes in the 90-plus age bracket. He holds the UK records for the 200 m, 400 m, 800 m, and 3000 m - all set within a single 94-minute period.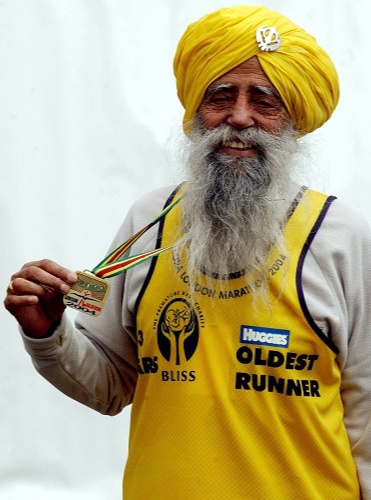 Century but Running:
When he blew his 100th candle on the cake, Fauji achieved eight world age-group records in one day at the special Ontario Masters Association Fauja Singh Invitational Meet, held at Birchmount Stadium in Toronto, Ontario, Canada. On October 16, 2011, he became the first 100-year-old to finish a marathon, completing the Toronto Waterfront Marathon in 8:25:30. He completed the 10 kilometres run at the Hong Kong marathon in 1 hour 32 minutes and 28 seconds on 24th February 2013. Though he said that he would retire from competitive running after this event, he later announced that he wants to continue running for happiness, health and charity.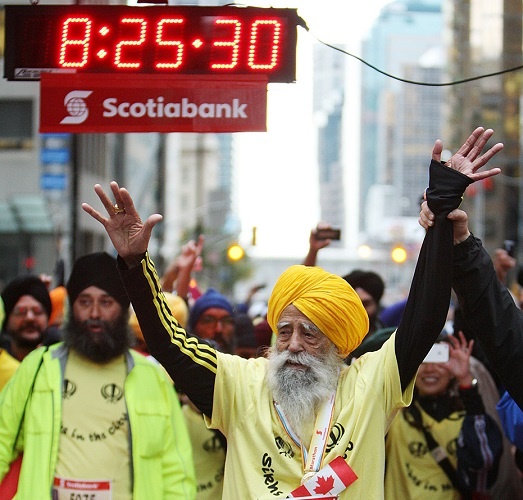 Recognition That Poured In:
When Fugazy, the chairman of the National Ethnic Coalition said, "Singh is a symbol of racial tolerance, and his running helps bridge the gap created by the 11 September terrorist attacks. He is the greatest inspiration", he meant it exactly right. The Ellis Island Medal of Honor was awarded to Singh on 13th November 2003 and became the first non-American to be honoured with this medal. In 2004, he was featured in an advertising campaign for Adidas, the sportswear manufacturer alongside David Beckham and Muhammad Ali. He was also honoured with the title of "Pride of India" by a UK-based organisation in 2011. Chandigarh-based columnist and renowned author Khushwant Singh wrote his biography, Turbaned Tornado and it was officially launched by Lord Anthony Young of Norwood Green and retired British Crown Court judge Sir Mota Singh in the Attlee Room of Britain's House of Lords on 7 July 2011. Singh set a record by becoming the oldest man to be featured in a PETA campaign in October 2011.
Fauja Singh, the Pride of India bore the Olympic torch in July 2012. In 2015, Fauja was honoured with the British Empire Medal in the 2015 New Year Honours for services to sport and charity. He received a letter from Queen Elizabeth II congratulating him on his 100th birthday.
However, the Guinness World Records refused to include Singh in its record book as he could not produce his birth certificate as his age proof. As birth records were not kept in India in 1911, he didn't have one. But what if it's not in a book? His accomplishments are in people's hearts and now the generations to come are going to read about him in a book that illustriously talks about the life story of this 109-year-old running fireball, ''Fauja Singh Keeps Going - A true story of the oldest person to ever run a marathon'' written by a New York-based professor Simran Jeet Singh and released in August 2020. The book was also featured among the 'bestsellers' on Amazon.
The True Inspiration:
In a world where belly-bloating can be a reason to escape school and a minor accident can be the reason to stay at home for months, Fauja Singh's story is sure to slap all such lame excuses.
"My secret to a long and healthy life has been taking care of my mind, body, and soul. Every day, I challenge myself to think, exercise, eat healthily, and pray…" says Fauja.
Wake up, people! Wake up and run towards fruitfulness. You can only then enjoy the fruits of life.