She solved the complex mathematical problem at 35. What was the problem?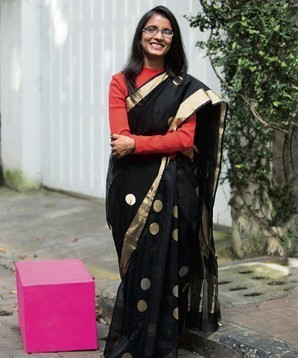 Mathematics has too many problems to be solved. Mathematicians dig their way out to clear the clutters that surround complex problems. Centuries of alliance with numbers gave solutions to numerous unsolved mathematical queries. Still, there are many problems that need to be solved and one such complex mathematical problem is the Zariski Cancellation Problem that remained unsolved for about 70 years. An Indian 35-year-old woman who claims to be a "not-so-good-scorer" in mathematics, worked on this complex problem and gave it a solution becoming the youngest recipient of a prestigious award in mathematics. She is Dr. Neena Gupta and this is her story.
Journey with Numbers:
Gupta has graduated with an honours degree in mathematics from Bethune College in 2006. In 2008, she secured her Post graduation in Mathematics from the ISI. With algebraic geometry as her specialization, she earned her PhD under the guidance of Professor Amartya Kumar Dutta in 2011. Her PhD dissertation was "Some Results on Laurent Polynomial Fibrations and Quasi A* Algebras".
She worked as a Research Fellow at the Prasad Mukherjee Research Fellow at ISI Kolkata from September 2008 to February 2012. She was the Visiting Scientist at ISI Kolkata from February 2012 to April 2012. From May 2012 to December 2012, she was a Visiting Fellow at TIFR Mumbai. Until June 2014, she served as the INSPIRE Faculty at ISI Kolkata. From June 2014 to date, she has been serving as an Associate Professor at the Statistical and Mathematics Unit (SMU), ISI Kolkata.
A Noteworthy Win and the Prestigious Award:
At the age of 35. Dr Neena Gupta solved a 70-year-old mathematics puzzle called the Zariski Cancellation Problem. For this, she became the youngest person to be honoured with the Shanti Swarup Bhatnagar Award in the category of mathematical sciences, the highest honour in India in the field of science and technology in 2019. She was also the third woman for having received this honour. Apart from this, in 2014, she was conferred with the Indian National Science Academy Young Scientist award for the solving the Zariski Cancellation Problem in positive characteristic. She was also awarded the Saraswathi Cowsik Medal by the TIFR Alumni Association in 2013.
The Problem:
One of the founders of modern Algebraic Geometry, Oscar Zariski posed a complex mathematical problem called the Zariski Cancellation Problem that remained unsolved for 70 years. Numerous eminent mathematicians tried their hand to solve for the Zariski Cancellation Problem, while, Dr Neena Gupta who mentions these open mathematical conjectures as problems which can be easily explained but are difficult to solve, amazed the mathematicians across the globe by giving it a solution. This has earned her the SSB Award that was given out across seven categories which includes a citation, a commemorative plaque, a cash prize of Rs 5 lakh, and additionally, an endowment of ₹15,000 per month up to the age of 65 years. The solutions given by Dr Neena Gupta were not just the solutions; they also provided insights and inspiration to the young mathematicians.
I knew this problem right from my PhD days, but I never imagined that I will be able to solve it, she said.
Strong Foundation Is The Key:
Dr Neena Gupta attributes her success to her parents who were determined to get her into higher studies and she expresses her gratitude for the support extended by her PhD supervisor, Prof Amartya Kumar Dutta. She doesn't forget the support of her husband and family throughout her journey.
Behind a successful person, there are many people, not just one. You need support from the whole system, she says.
The Math Lady:
She runs chasing complex problems and digs out solutions to settle their account. Her perseverance, patience and persistence bring out the best of the results in the area of her love.
Maths is for somebody who can solve the problems on their own. The pleasure which I get in solving problems in mathematics is much more than any award, says Dr Neena Gupta.