Manchester boy started chasing his dreams of becoming Messi and is reached exceptionally close.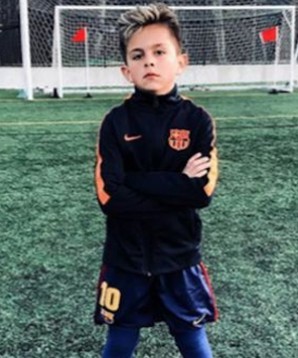 Choosing a sport during childhood and spending a good amount of time on it is something we see happen with children quite often. They pick up a sport, choose specific timings to practise or come back from school and play it as a past time activity with friends. If parents are serious about putting the child under formal coaching, then he sets to the coach often due to repeated insisting of parents. But Chase Carrera is different from children of this sort. He did not just "love" soccer; he made it the purpose of his life early in his childhood. It became his passion and no one either his parents or friends have introduced him to the game or created interest for him. It is solely his choice that too at a very tender age. So when passion is born, who and what can stop you from going far? Chase's chase for soccer began and today he is one of the top 100 child prodigies in the world.
The World Famous:
Whistle's YouTube channel runs "No Days Off" that features the stories of athletes with high skills and spirit. It featured Chase Carrera in one of its episodes and from that day on, Chase became the talk of the sports town. Chase is a 10-year-old from Lynnfield, Massachusetts who wants to become the next Lionel Messi. Chase's eyes glitter when he sees Lionel Messi, Paul Pogba and Paulo Dybala shield the ball with wit. He wants to perform like them one day in the pitch.
Work Dedication:
While most young children who are into sports practise 3-4 hours after school, Chase stands apart from all of them for his work commitment and time management. His day begins with practice at 5:30 am. He practices for a few hours before going to school and after school hours he hits the ground again for 4 hours in the evening. He competes in tournaments over the weekends. To keep himself fit, he hits the gym thrice a week.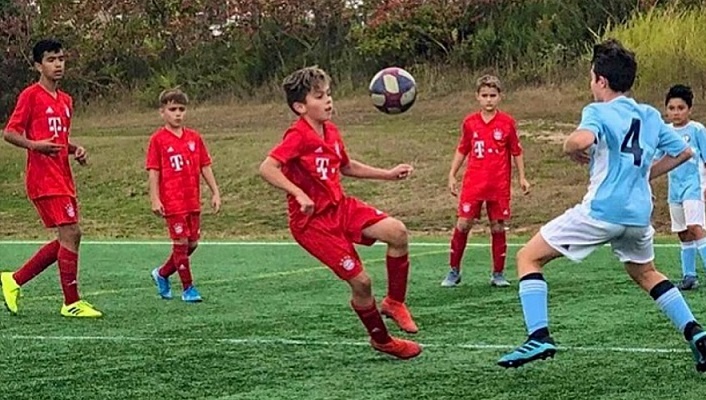 I've never really felt that I want to stop soccer, I've never really felt why am I doing this right now when I could be doing something else, I always want to train and keep doing it more which I think is really important, Carrera Said.
Recognition:
Chase has become popular when the YouTube channel featured his story. Soon, his Instagram was loaded with more than 53K followers. And his YouTube videos attracted close to 200k views. But the young athlete never takes this following and fame on to his head. His focus solely relies on the sport and he always wanted to make it big on the pitch.
The Child Prodigy:
The Global Child Prodigy Award that recognizes children's talents from various countries and backgrounds. The GCP Award is conferred on the children having extreme competency in their field of interest, such as painting, modelling, writing, entrepreneurship, martial art, music, social work, etc.
Chase Carrera received the Global Child Prodigy award in January 2020 for sports. He was also listed among the Top 100 prodigies of the year.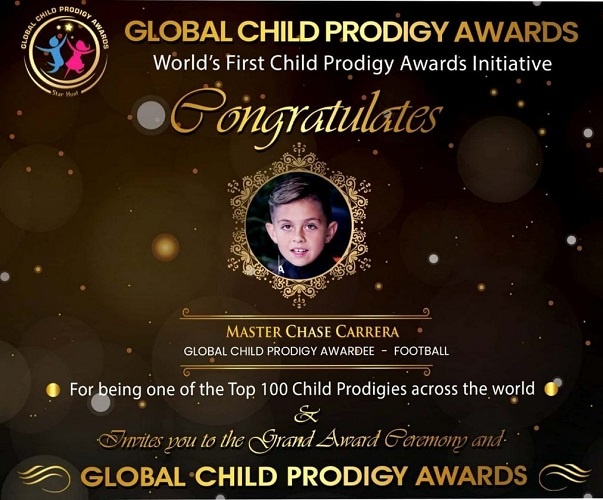 I have worked for everything I achieved and I am not slowing down, he says.
Chase's Never-ending Chase:
Carrera aspires to play for either Barcelona or Manchester United. He also wants to go to the USMNT by the time he is 20 years old.
Everything I do, I do to get better and become the best version of myself, says Chase.
All the best to the self-motivated and the self-taught successful, famed, and yet grounded boy. May he continue to grow and inspire many.

Follow Him For More Updates