Queen of the open waters has swum across all five continents; creates a new record in the Antarctic Ocean.
- By:
boa correspondent
, Added on:
19/12/2017
IST, Last Updated:
20/03/2018
IST
194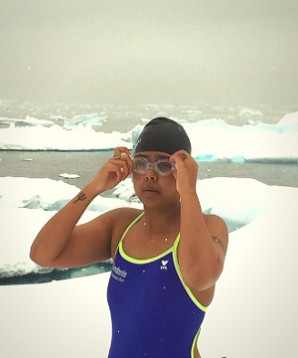 Name

bhakti sharma

State/Country
Rajasthan
Achievements

Tenzing Norgay National Adventure Award.
Aspire Young Achievers Awards.

Category
Swimming (Sports)
View Updates
Click to View Latest Updates
Thrown into the pool.
At 2, Bhakti was just thrown into the pool and Leena her mother instantly knew that she could take after her. Leena being a champ herself could see the talent and how her daughter simply loved the waters and the coaching began. It has been a lonely and a rough road for both of them.
Lack of facilities.
Settled in Udaipur, there was not a single well-maintained swimming pool until a private school came up with one. Then they had to deal with the all-season swimming pool clubbed with shutting down pools and maintenance issues. Her Mom had to persuade and request the owners to let them practice. Bhakti against all odds had the determination to continue in order to achieve her goals.
Competitions.
Training for more than 3-5 hours a day, she was all ready to take part in competitions. She bagged almost all the medals from district to the national levels. Leena has been a great mother, a coach, planner and a mentor too. They both wanted to set bigger goals and aspirations and do something new and different.
Explore the seas and oceans.
Mom popped up the question about swimming long distances in the cold seas and oceans and it appealed to Bhakti. Within a few months of earnest preparation, Bhakti successfully completed her maiden 16 km swim in the Arabian waters from Uran Port to Gateway of India. Touching the shores, she was relieved that she could go through the rough seas, strong currents, winds and the chilly waters. She said, one needs to be physically and mentally strong and the courage and the determination to do something different.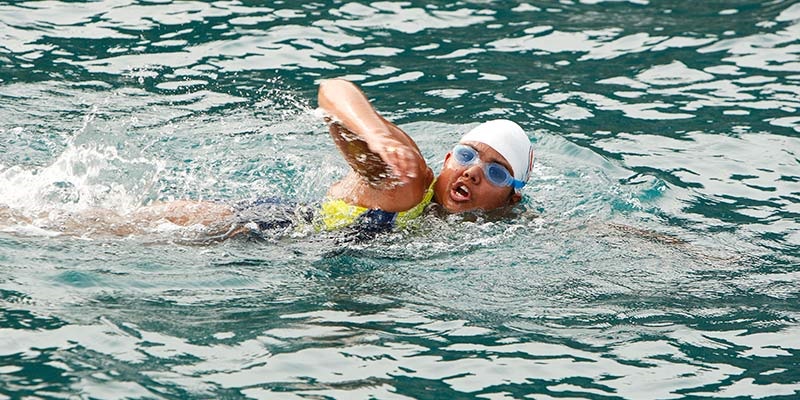 Barely a decade...
Just a decade since she started swimming and look at the exceptional achievements to her credit. Since 2006, she has swum across five oceans, seas and channels. Sharma created a world record in the Antartic waters recently with an impressive timing of 41.41 minutes to cover the distance of 2.3 km and became the youngest Asian woman to do so. She is also the third person in the world to have swum in the Arctic Ocean.
The mother-daughter duo is also the First to attempt to swim across the English Channel. Sadly, this swim had to be abandoned due to her mother being diabetic. They never gave up and did it successfully in the second attempt.
Suitably rewarded.
Her efforts and achievements to conquer the open waters have been recognized by none other than the Prime Minister Mr Narender Modi. In 2012 she received the Tenzing Norgay National Adventure Award from President Pranab Mukherjee. Hindustan Zinc too came forward to encourage and sponsor this young talent and said that with better facilities and support, India can produce many such great talents.
Some rare experiences.
The litany recital "Don't give up when you are hardest hit" begins each time she is in the waters. The feelings and experiences of caressing the different seas are so unique which is hard to explain or express. There are so many anxious moments, fear of being ill halfway through, being unconscious, nervousness, the cold waters, the waves, the currents, the logistics of the swim, the distances, precious moments etc., One such unique and precious moment was when a penguin on its back accompanied her. One must do it to get the feel of the wonders of the open waters.
No excuses.
She at many motivational talks, says very clearly that one cannot neglect studies and one can easily find a balance if one wants to. She holds a master's degree in Media and Communication. She has invitations pouring in from across the globe and she sure is a motivational speaker.
Bookofachievers.com is proud to showcase this unique talent and many soon will want to discover the thrills of the open waters.