17 year old Indian Girl grabs Gold Medal in Junior world boxing Championship in Taipei, Taiwan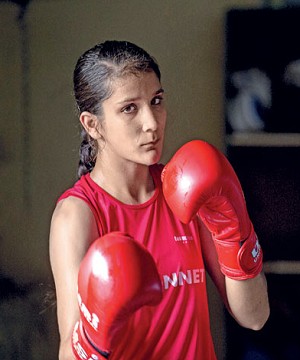 Learning from the Big Brother
Wearing big brother's gloves when she was just 7, and playing and boxing with him was her first exposure to the game. She was so fascinated by her brother's skills that she too wanted to take up Boxing.
Real Challenge and Serious Stuff
She is a student of village Government School. To get to the top she knew hard work, dedication and practice were necessary. She started practicing for 7 to 8 hours a day and obviously following a good diet as well. Winning at the State and National level was not so difficult and then she became hungry for more. She had won a gold medal at the 4 Nations Boxing Cup held in Serbia. She is a three-time national champion and over the years has won many accolades in Punjab boxing championships.
The coach had a huge task
Her Coach Surinder Kaur and of course her brother had a huge challenge to get her to the International level. Training and mentoring this young girl who also co-operated and diligently followed her coach's instructions and training schedule.
Super Achievement
She was thrilled to bits when she grabbed the gold in the 52 kg category at the Junior World Boxing Championship 2015 held at Taipei- Taiwan.
Recognition and Support poured in..
Much needed recognition poured in when a Canada-based NRI Baldev Singh Sidhu, patron of Sher-e-Punjab Sports Academy, Chakar village, said he would support this young talent and also wanted to support the rural talent in Punjab. The government too has been of great support.