Young boy who has brittle bones becomes the Youngest Swimmer. That is a true achievement.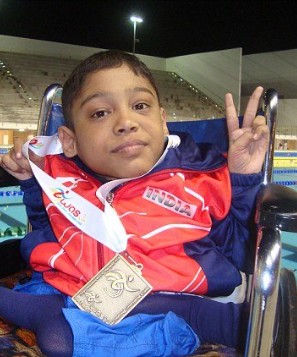 If you know about the brittle bone disease, also called as Osteogenesis Imperfect, then you would probably also know how the bones keep breaking like glass vases quite often. We cannot imagine the pain that results from the fracture of one bone, while it goes beyond thought about the intensity of pain that evolves from the breaking of multiple bones. What can a person do in such a case? Confine to the bed or the wheelchair, refraining from any sort of physical activity that might lead to breaking of the bones. But Moin M. Junnedi is someone with a totally different mindset. He wants to be normal, like any other person, not giving any attention to how his bones are troubling him.
Moin M. Junnedi was born in 1998 in a farmer's family in Belgaum, Tilakwadi. When he was 9 months old, his mother Kauser Banu, a home maker, heard a strange sound and noticed that her son was crying inconsolably. He didn't stop crying for hours and the parents took him to a hospital which is where they came to know about his rare health condition, the Brittle bone disease. Doctors advised continuous medication and supervision to avoid any further fractures. However, the bone strength is very little in people with this disease and even small acts like sneezing can break a bone. The boy has had close to 50 bone fractures at the age of 2. Little Moin suffered immense pain that results from the breaking of every single bone but he never broke his heart.
Rejected By Many But Doors Open When Zeal Is Stronger:
Till date Moin M. Junnedi has suffered over 200 fractures in his entire body, but one thing that kept him going was his love for waters. He loved to swim, move his limbs in water, dive his body through its waves and that's what kept his love for life alive. His parents tried their best to put him under a coach who understands his medical condition and support him accordingly. But many coaching institutes rejected to take the boy in, because of his fragile bones. Thanks to the Coach Umesh Kalghatgi, who saw the boy's strong will that shined behind his weak bones. He helped Moin realise his dream, trained him in swimming with utmost care and support. From there on, Moin showed the world what he is capable of.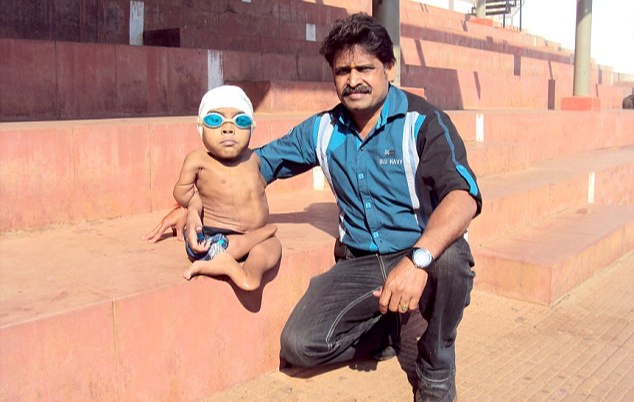 Moin participated in the 10th Paralympic Swimming Championship for the disabled sportsmen held on Kolkata on 9th October, 2009 where he bagged two gold medals. On 9 July, 2010, at the Bellary National Meet, Moin won a gold medal. At the National Swimming Championships held at different parts of India in recent times, Moin has won 1 silver and 4 gold medals. He has set a record and was recognised by the India Book of Records as the "Youngest Swimmer with Locomotive Disability" when he stayed afloat on water for over an hour and swam over 250 meters at a stretch without any break. Along with Umesh Kalghatgi, few other coaches like Anand Patil, Kallappa Patil, Prasad Tendolkar and Sudhir Kusane have been training Moin and Moin's parents feel extremely happy and express their gratitude to all of them for shaping their son's dream. Looking at Moin's dedication for sports and considering his achievements, many people have come forward to assist him with the costs of training. Few of them include Smt. Lata Kittur, Smt. Manek Kapadia, Rtn. Avinash Potdar, Rtn. Basavaraj Vibhuti and Shri. Suresh Hundre. Currently, Moin practices at the Rotary Corporation Sports Academy swimming pool.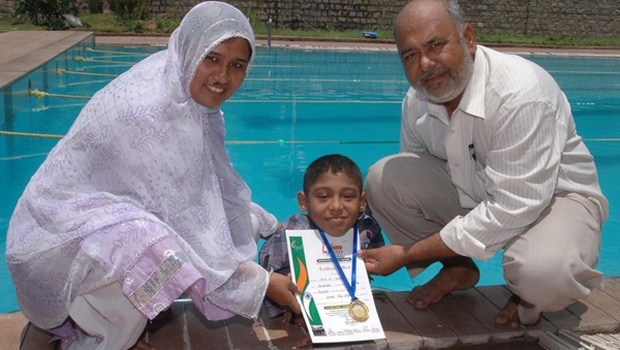 The Road To Future:
Moin aspires to become the world's greatest Paralympic Swimming champion. Why won't he? With his steel soul, he has been conquering his brittle bones. And he will continue to inspire us forever. Not only his parents, but the whole nation is proud of this go-getter.