Untold agony of India's first world championship winner. To motivate aspiring athletes.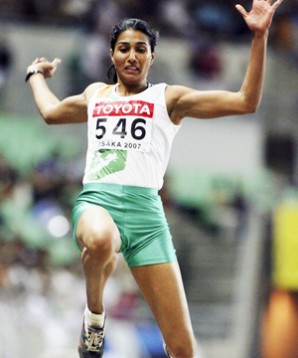 What if she is about to participate in a world championship, then got to know that she fell prey to illness and announced the same publicly? Will the sports authority let her enter the track? Is the life of sportspeople so simple and easy-going as we think? We might think that they take good diet, exercise and do a lot of physical activity and are thus fit; once they win any competition, they are paid hugely and they enjoy the perks of their success - stardom and wealth. Is it all?
A Renowned Athlete:
Anju Bobby George, born in 1977 is a renowned athlete who was introduced to athletics by her father at a very young age. She participated in various national and international level championships and was conferred with numerous honours. She married Robert Bobby George, her coach and a former National Champion in the triple jump. Anju is currently the Chairperson of Target Olympic Podium Scheme (TOPS) and is also the Executive member of Khelo India project.
Anju set the national record for triple jump in the Bangalore Federation Cup in 1999. She went on to win gold medals in the triple jump and long jump in the Ludhiana and Hyderabad National Games. She also won the gold medal at the Asian Games held in Busan, South Korea. In 2003, she became the first Indian to win a medal at the World Championships. She won the bronze medal for Long Jump. In 2004 Olympics, she finished 6th with her personal best was a jump of 6.83 m. In 2006, she won a silver medal in the women's long jump in the Doha Asian Games.
Anju received Arjuna Award in 2002 and the country's highest sporting honour, Rajiv Gandhi Khel Ratna Award was conferred upon her in 2003. She was honoured with the Padma Shri in 2004.
India's Only Medallist's Untold Agony:
India's pride Anju revealed that she won the historic bronze at the World Championships in 2003 after knowing that she had only one Kidney - a condition called Renal Agenesis that is detected in 1 out of 5000 people.
After her come back in 2001, Anju suffered from fatigue, swelling and joint pain following an injury. She consulted doctors who confirmed that she had only one Kidney and that came as a shock to the couple. Multiple medical opinions confirmed the same and she was told that having a single kidney would be fine if she lead a normal life but if she strained physically, the reaction of the body could change.
Anju had to work with her husband on adjusting her training schedules to balance her physical activity so she didn't strain. If she strains, she falls prey to fatigue and severe headache. As she takes a lot of time to recover once fatigue hits, it affects her performance. She cannot even take painkillers as she is allergic to them. The time came when the world championships came in. Before that, she competed in six competitions in Europe post which she experienced severe fatigue and bloating. Her husband Robert gave her all the motivation to participate in the 2003 world championships at Paris. He also said that he would give his kidney to her in the worst case. Such was the support she received from her coach husband. The couple took all the measures they had to take so she could compete successfully at the event with a solitary kidney.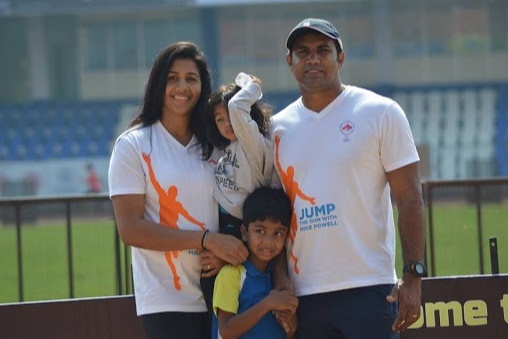 Robert monitored Anju's water intake to prevent dehydration and gave more breathing intervals between her training sessions closely watching her protein consumption and avoided strong pain killers while she competed for the world championships. She said that it was just 20 days before the Paris World Championships.
It was just 20 days ahead of the Paris World Athletics Championship that she overcame all the issues and won a medal in Paris.
Believe it or not, I'm one of the fortunate, among very few who reached the world top with a single KIDNEY, allergic with even a painkiller, with a dead takeoff leg. Many limitations. still made it. Can we call, the magic of a coach or his talent, Anju Bobby George tweeted.
She also said that the news was shocking both to her as well as her husband but with her husband's constant support, she could win the country its first medal in the world championships. She quoted that if she had gone public with her health at that time, the situation would have been different. She now resolved to share this because she hopes that her experience might inspire and motivate all the aspiring sportspersons.
After her announcement, Union Sports Minister, Kiren Rijiju responded saying,
Anju, it''s your hard work, grit and determination to bring laurels for India, supported by the dedicated coaches and the whole technical backup team. We are so proud of you being the only Indian so far to win a medal in the World Athletic Championship!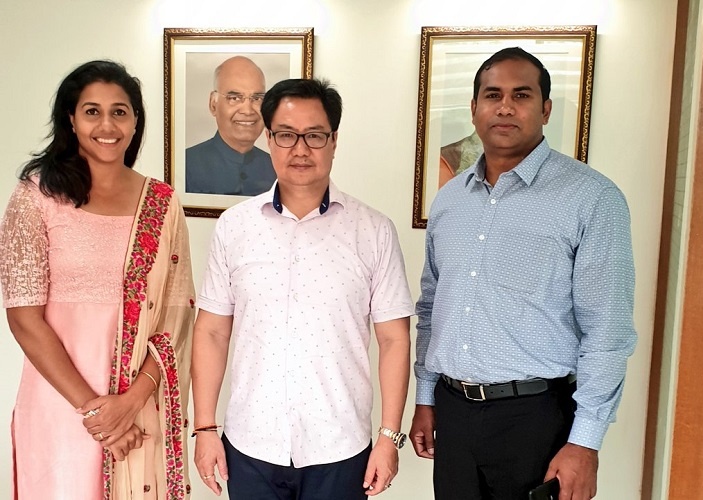 Definitely, the lives of sportspeople are not how they appear to be. They are fit, yes, but they too fall sick, they suffer physical pain and go through a lot. But the difference is seen in the way they handle it. That's how they rise from ashes and bloom.

Follow Her For More Updates