Golds for the Power Girl the commonwealth games. who is she?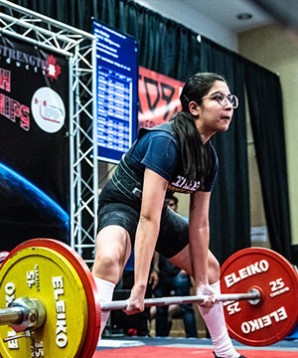 "Oh! You don't know how to do make-up. Every girl knows how to do it. Oh, you are a guy!' Rishita Jain heard these comments from her fellow mates who tried to drag her back from her passion. Not only her friends, her relatives and other people also criticized her for her choice and mocked her father for supporting the girl's ambitions. But the girl did not step back. She continued to pursue her dream and became the 'Strong Girl 2019'.
Childhood Interest Developed Into Passion:
Rishita Jain hails from Delhi and is a 17-year-old PowerLifter. She is pursuing her senior school education from the Prudence school in Ashok Vihar. She was inclined towards sports ever since her childhood. She played football, cricket and was also trained in Gymnastics and Taekwondo. However, she always felt the need to do something bigger than these sports. "While I have competed in these sports as well, I didn't get the hit that I had hoped for.", She quotes. In the year 2017, she saw her father Rishi Jain lifting weights as a part of his fitness routine. Rishita found them interesting and wanted to get into weight lifting. With the help of her father and her mentor Javed Mehta, Rishita entered the world of weightlifting.
Rishita's 'Power' lifting Journey:
In a field that was considered to be purely male-dominated, Rishita, a teenager has been breaking the stereotypes. Winning several state-level and national championships, she is showing what a girl can do when she takes up a man's sport. She has won the 'Strong Girl 2019' trophy in the Delhi state Powerlifting Championship. Rishita secured 3rd place in 57 kgs weight class sub-junior national power-lifting at Kanpur. She was positioned 5th in 52 kgs weight class sub-junior national unequipped Bench-press championship held at Pune. In the year 2019, in the 52Kg sub-junior category in the Classic and Equipped Powerlifting at the 8th Women's & Men's Open, Rishita bagged Gold.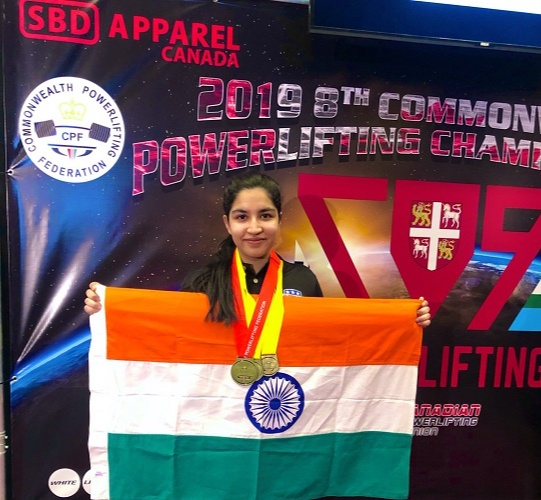 She has also won the gold medal in the Sub-junior, Junior and Masters Commonwealth Classic and Equipped Powerlifting, Classic and Equipped Bench Press Championships in the year 2019 when the event took place in St. John's, Newfoundland & Labrador, Canada from 15th to 21 September 2019. Thus, she became a proud recipient of four gold medals in the International Powerlifting Championship in her first-ever participation. "I cleared the nationals and went on to represent my country in Canada. I bagged Gold in my debut competition", says proud Rishita.
Never Withered By Storms:
Rishita's endurance and dedication can be seen in her standing like an oak even when she faced stormy comments from friends and relatives. When she got into this sport, no one approved her choice. "People criticized me and said I cannot lift weights because I am a girl and powerlifting is something men do. Relatives even told my father to advise me against lifting weights. Girls in my school told me that if I lift weights, I'll start looking like a man.'", recollected Rishita. But, all of these comments didn't demotivate the girl and her focus was only to get medals to the country in a sport that's considered purely masculine. All the negativity she received was positively directed towards winning the 2019 tournament. "It was stressful and the pressure was mounting. However, my gold medals are proof, I conquered!", she says with pride.
Rishita's Words To The Young Girls Of Today:
Rishita urges everyone not to tell anyone that they cannot do something. Owing to severe gender stereotypes and conservative notions, many girls are not allowed to play any sport. Rishita urges everyone not to stop other's dreams.
"I urge all girls to have a dream and pursue it, because if not today, then when? Nothing can stop you, definitely not those who think women are the weaker sex.", concludes the Powerlifter.

Follow Her Work