Empowered herself and helps other women along her journey through her NGO Climb and Jewellery design outfit.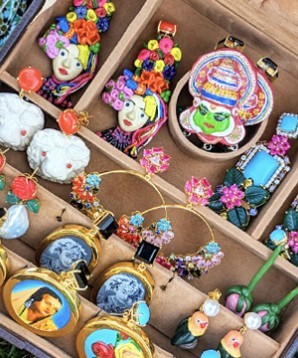 Poonam Thimmaiah is an Indian woman of Kodagu who is residing in New York since 2007. She is the founder of the Jewellery Brand "Maalicious" and the NGO "CLIMB".
She faced a great loss in her life; she had a miscarriage that was a very bad phase of her life. She tried to cope with the loss by designing Jewellery made of sustainable products.
Poonam Thimmaiah discovers what her Passion is...
Poonam takes a break from the work in JP MORGAN back in New York in the year 2017. She travels down to India and reached her hometown Mysore to be with her family during the terrible phase of her life.
In Mysore, she volunteered in JC Engineering College to teach Jewellery Designing to physically disabled students. That's when it struck her that Jewelry designing is what she has to be doing. She turned her passion into a Full-time Career.
Thoughts Put into Action!
Later after a couple of months, Poonam returned to New York and started to focus on her passion. She started to design Jewelry, later she contacted an acquaintance, Sruthi Mascarenas, a sculptor working with clay in Goa, and commissioned her to make the earrings that she had designed.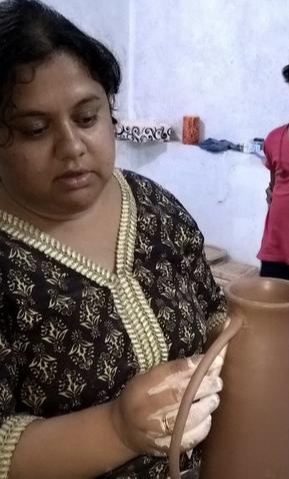 Poonam's creative instincts were really admirable, she designs every piece of her jewellery in a unique way, and she tells a story through the design. The first piece of jewellery she designed, she envisioned a clay plate with a painting of Queen Victoria meeting her namesake-young woman from Kodagu.
She created her own Brand "Maalicious" and after a year of establishment Poonam's passion project was featured in New York and Paris Fashion week.
After the establishment of Maalicious, Poonam Thimmaiah decided to commission her work to women in the business of making handicrafts in India. She contracts her metal and stonework to a group of 25 women in Jaipur. Anything to do with tassels, she commissions it to an artist in Mumbai, and jewellery made of polymer clay is commissioned to an artist in Chennai.
India's Frida Kahlo is been featured in Maalicious Earrings...
"With Maalicious, I want to rejuvenate traditional art and workmanship with Indian charm and a touch of urban flair. I have earrings that have Amrita Sher-Gil on it. A lot of people know about Frida Kahlo and not many in other countries are aware that we have someone of our own – Amrita Sher-Gil. I also wanted to use sustainable materials like clay, wood, silk, and thread. We've started customizing our earrings so anyone can get any picture they want to be painted on their earrings," Poonam says.
Poonam Also Founded THE NON PROFIT ORGANIZATION CLIMB...
Poonam had attended the One Young World Summit 2013 held in Johannesburg. The summit witnessed the participation of over 1,300 delegates from 193 countries; the speaker of that summit was Amanda Dufresn. She spoke about her struggles with dealing with the trauma of rape and encouraged victims to speak up about the experience in order to start overcoming the mental and physical ordeal. She is a recruiter at Google Boulder, she is also associated with an organization named SOAR (Speaking Out About Rape) through which she shares her survival story with people across the globe in an attempt to bring awareness and empower people to heal. Her indelible spirit inspired Poonam and Shada Abuhattum from Israel, to do something rather than just be passive.
This Climb is founded to empower survivors of sexual violence, by putting an end to the social repercussions and the stigma that exists in our society today.
Activities of Climb...
They have created a global network and have got together the victims and survivors of sexual violence and are getting Professionals together with them who can help them overcome their trauma. They encourage the survivors to share their stories by creating a secure platform for them.
They have 'Mountaineering', CLIMB brings together survivors to participate in treks, symbolizes the physical and mental challenges a survivors faces. The hope is that the connection participants share will help them overcome the horrifying experience, and surmount the emotional obstacles in their lives.
CLIMB has organized more than 25 events in countries all around the world including India, South Africa, UK, America, Cameroon, Ghana, Pakistan, Israel, Ghana, and more.
Technology is a Boon for CLIMB!
Technology has got their volunteers together from various different countries around the world. They use WhatsApp to ensure the smooth functioning of the organization. For instance, they can have an event in Cameroon with funds raised from a Kizomba dance event in London, with help of a poster designer from India and a legal person in Israel- made possible because of technology. Technology has played a vital role in all their activities. Another example, the use of Snapchat to create different avatars in order to protect underage abuse victim's identity was vital to their climb in Mysore. It allowed the children to open up and speak out without the fear of being recognized or chastised. The journalist was able to capture their spirit and stories without jeopardizing privacy.
Communities Role in CLIMB...
CLIMB is dedicated to not only empowering survivors of sexual violence but also creating awareness in the community by sharing survivor stories digitally through articles and by short videos.
Poonam shared an experience about how communities can instil confidence and security in the hearts of survivors.
"India's Chamundi climb had above 50 survivors who were largely minors, climbing along with 200 local supporters from the community. A few days before the climb we were looking for one of the 50 survivors would be ready to talk to give a speech about their horrific experience and tell their story to the locals before starting the Climb. None of them was willing to talk; in fact, they didn't even want to be recognized in any way. Once the day came and the Climb started, they saw the support of MP Pratap Simha and the entire community, they were so moved by it that at the end of the climb some of the girls told us that they were ready to talk. They spoke not only to the locals but told their stories in front of the cameras to the Hindustan Times reporter Yusuf Omar, who captured it all in a brilliant way in this video. Since they were all minors, we were legally prohibited from disclosing their identity. This video eventually reached BBC, CBC, and many other news channels but the important message to take away is how community support by just turning up for an event, can trigger strength and empower survivors. And that's exactly what people need to do- show support to survivors and empower them. Not only so we can help support them on the healing journey, but so, as a culture, we can overcome the stigma and social repercussions that exist in our society today" says Poonam.
Poonam's motivation is driven by...
"I find it hard to explain the kind of motivation that drives me towards this issue in general. From a very young age, I felt my blood heat up in my veins at every injustice I read in the newspapers. Meeting survivors of sexual violence and rape in One Young World completely exhausted me and I was determined to do something in a small way to bring attention to this matter. This has evolved to where we are today, thanks to a team of dedicated and passionate volunteers. I realize that Sexual violence will always be there in our society but the existing rape culture, victim-blaming, the taboo, and fear that exists around this issue needs to be changed. Only we as a society are to be blamed for the existing culture and only we can change it" says Poonam.
We as a Community can definitely get along and volunteer with CLIMB.
If you are a survivor, mountain climber, movie maker, IT professional, marketing specialist, communications manager, or just a motivated individual, you can contribute to their cause by joining the team, Email at info@climbagainstsexualabuse.com.
Let's all join the Fight!