Village weightlifter is India's pride. She bags silver medals at Asia Championships.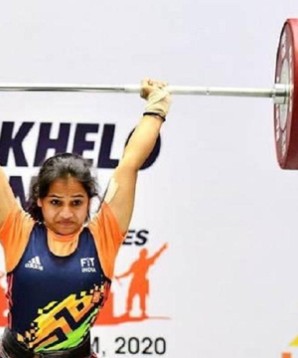 Leaving behind the COVID-19 pandemic and other disasters that filled the whole of 2020, we should also admit that there were a few happenings that brought smile, pride, and pleasure to us. Be it families coming together, innovative ideas made by children and teenagers that led to new inventions, or be it humanity taking the centre stage or achievements of sportspeople before the lockdown - many such news reports served as summer's rain amidst all the chaos. One such news report that was overlooked by many was regarding the 2020 Asian Youth and Junior Weightlifting Championships in Tashkent, Uzbekistan in which India bagged five silver and six bronze medals. This story is of the girl who brought home silver medals in both youth girls and junior women section, KVL Pavani Kumari.
Young by Age Not In Zeal:
KVL Pavani Kumari hails from the village of G. Kothapalli, Vishakapatnam in Andhra Pradesh. Having recognized her exceptional energy levels right in her childhood, her parents wanted to direct her overflowing energy in the right way. They encouraged her to take up the unique and unconventional sport, especially that which is not chosen by girls due to many taboos - the weightlifting. Thanks to the parents who thought it broader for the village girl. When she was eight years old, in the year 2011, parents enrolled her in the Telangana Sports Academy located in Hyderabad as there were no facilities and resources available at the remote location where Pavani stayed. Pavani's weightlifting journey thus began. While the girls of her age stayed with their parents and enjoyed in the playgrounds, Pavani shed sweat in the sports academy living away from her home -strong and independent at the tender age of 8.
Tougher Than the Tough Times:
Pavani, who stayed away from her family at a very young age, focussed on the mastering the sport rather than anything else. Her coach, P. Manikyalarao shouldered her responsibility and guided her in all ways possible, strengthened her physically and mentally. Pavani says that his able mentorship is what honed her as a notable athlete. Even during the vacation, Pavani, instead of going back home, stayed outside the academy and practised rigorously for the tournaments.
An Unexpected Fall with a Determined Rise:
Pavani Kumari went on to win several regional, state and national level championships. Without the success of pride filling her head, she continued to practice relentlessly and bagged several medals. Though she has been striving to make her mark in the field of athletics, life threw thorns at her. In the year 2018, her father, who was a farmer, fell prey to severe illness because of which he had to refrain from working landing his family in financial crisis. Because of the family conditions, Pavani couldn't concentrate on the game for more than a year during which time she tasted bitter failures. However, she didn't lose her mental stability. She kept cool and remained hopeful of the better days to come without stopping her practice. Success greeted her back in 2019 when she showed her power-packed ability in the 2019 Youth Championships in the sub-junior category and in the 56th Men and Women Junior Weightlifting Championship. She secured the Best Lifter title and bagged tournament records in the Youth category. The achievement in Buddhagaya instilled immense self-esteem in Pavani and she continued to give outstanding performances henceforth. 2020 was the brightest year that showed the potential of Pavani in the Asian Youth and Junior Weightlifting Championship where she bagged silver medals. This victory in Tashkent marks just the beginning of her long triumphant journey.
Future Aspirations:
Pavani Kumari aims to participate in the Olympics representing India. She says that she can go to any extent, shoulder all the odds, and withstand any kind of difficulty to reach her goals.
Advice to Aspiring Athletes:
To all those aspiring athletes, Pavani says that proper guidance, coaching and training are mandatory to achieve success. Financial and emotional support serves as extra toppings for the hard work. She advises the athletes to be physically and mentally strong. It's only then, she says, that they can achieve great heights.
Congratulations to the young girl for bravely overcoming all the barriers and proved herself even after falling to the base. May her grit continue to empower her and take her to great heights. May many others who come from a remote background continue to take up challenges instead of cribbing about lack of facilities.