Fastest bowler chakhdaha girl's biopic on Netflix soon.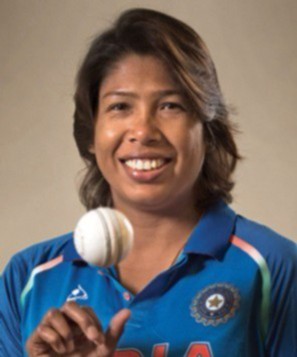 Remember 2017's ODI between India and Pakistan when Kainat mentioned that Goswami was her inspiration to take up cricket? She wrote, "I was so impressed that I chose cricket as a career. Specifically fast bowling. It's a proud moment for me as after 12 years today (Sunday), in 2017, I am playing this ODI World Cup with one of my inspirations and getting more inspired." This was one of the many instances that shed spotlight on the glory of the Indian international cricketer, the fast pacer, Jhulan Goswami.
This fame and respect, not only from India but from across the world came with shedding of immense sweat and with the display of never-turn-your-back attitude. This small town girl from Bengal had to kick off numerous societal and logistical hurdles in her way to become India's legendary cricketer to whose talent, even the world cricket fraternity pays its humbleness.
Jhulan Nishit Goswami who was fondly called as Jhulan Didi/Babul was born on 25th November, 1982 in Chakhdaha town of West Bengal. This girl who hailed from a typical Indian middle-class background was the first sportsperson in her family, whose dream was supported by her grandmother. She started playing cricket at 15 but when she witnessed Australia's world Cup win in the Eden Garden, she decided to take up cricket in the years to come. Though support from her parents was less than nothing in the initial stages, her grandmother supported the young girl's dream. It took five hours for Jhulan to travel to Kolkata everyday to practice cricket but she never felt exhausted. With her inspiration Belina Clark sparking infront of her eyes, she set her goal high and worked relentlessly towards reaching there.
Life With Bat and Ball:
Jhulan had her own style of bowling and that impressed her coach, drawing his attention and appreciation. She took part in several district, state and national level matches. At 19, she made her debut in the Bengal cricket team. After a series of extraordinary performances in all the matches she took part in, she was selected for the Indian team. In a society and at times that believed cricket is not for women, Jhulan Goswami paid no ear to any of the comments that bit her back.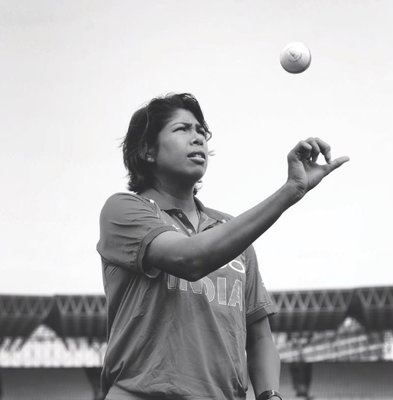 It was 2002 and Goswami made her debut in the international ODI against England. This is the turning point of her career, and her outstanding performance secured a place for her in the World Cup squad. Immediately after her ODI debut, she made her test debut. All in all, Jhulan picked 41 wickets in Test matches with an average of 17 and 235 wickets in ODI with a bowling average of 21. Goswami's performance at the Women's World Cup sent waves of surprise across Indians and the world. She picked a total of 13 wickets in 8 games. She also had two four-wicket hauls against the West Indies and England. However, the other two World Cups of 2009 and 2013 couldn't withstand the previous glory and India lost the Cup. In the next worldcup held in 2017, India lost on a thin line to the English but Jhulan's performance received applause for her significant role in the entire series. In the finale, she managed to pick three wickets attracting anxiety among the viewers about who would win the match.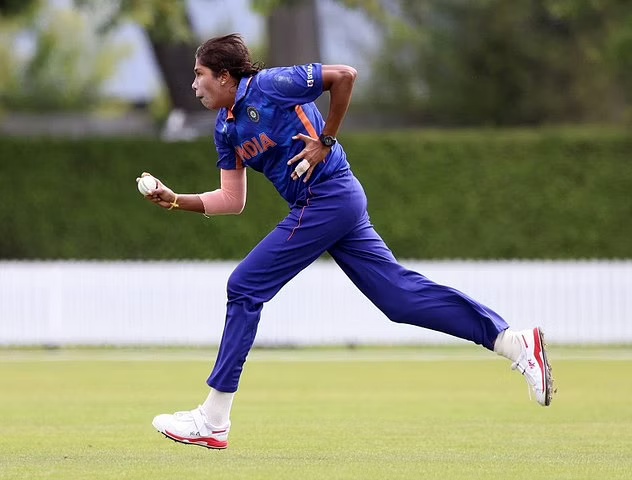 The Fastest Bowler's Able Captaincy:
In 2006, Jhulan was named aa the fastest bowler in the world, whose bowling speed was at 120km/hr. Under her captaincy from 2008 to 2011, Indian Women's cricket team won 12 ODI matches out of 25. She was also the fourth woman to pick 100 ODI wickets and the first woman to have 200 ODI wickets to her pocket. Jhulan also stood at the top in the ODI ranking list of best bowlers in the year 2016. Jhulan Goswami retired from International Women's T20I in August 2018. Her last Test was against South Africa on November 16th, 2015. Her last Women's ODI was against South Africa on March 17th, 2021.
Recognition To The Fastest Pacer:
The Government of India honoured Jhulan with the Padma Shri in 2012 and with Arjuna Award in 2010. She was also nominated as the ICC Women Cricketer of the Decade by ICC in 2020. She was recognised as the ICC Women's Cricketer of the Year by ICC in 2007.
From being a ball-girl in the 1997 World Cup match to becoming the All-rounder, this cricket enthusiast remained unmarried for her extreme love for cricket. She always had just one dream and is still fighting to make it a reality - to win a World Cup for the Indian Women's Cricket team.

Follow Her Work