This Manguluru girl went on to become one of India's first female icons in athletic history.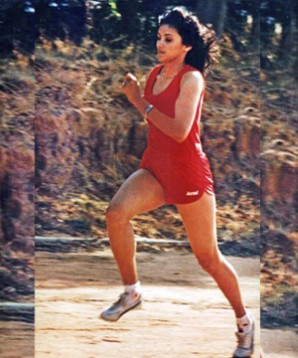 Vandana Rao: Leaving History in Her Tracks
In a cricket-obsessed nation, the early 1980s always rings a bell as the decade India triumphed at the World Cup, with Captain Kapil Dev bringing home that grand trophy in 1983. While that magnificent win brought us great honor internationally, it was the year 1984 that changed India's perceptions of sports and more importantly, its athletes.
In the August of 1984, a frisson of excitement had slowly made its way across the nation - India was making waves at the Olympics and what's more, in a little-known sport such as 'track and field'. What had caused the nation to sit up and take notice of a sport that had rarely received much recognition before? Undoubtedly, our rising wins in the category but more importantly the contingent that marked India out at the 1984 Olympics. For what seemed like the first time in our decorated sports history, the names and pictures of Indian women, not men, were leaping off our newspapers and TV channels. A new, unforeseen clique of female talent was delivering stellar after stellar performance, especially in the track and field category. The names P.T. Usha, Vandana Rao, Shiny Wilson, M.D. Valsamma – became household names when India finally began to appreciate its female athletic talent.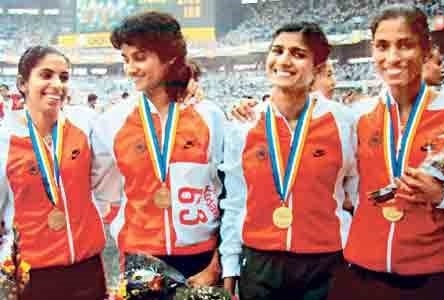 As we step into a new albeit changed decade, with a new set of both challenges and opportunities for women, we travel down memory lane with Vandana Rao, a champion of that momentous occasion in 1984. A glimpse into her journey 36 years ago, Vandana tells us her unique story and what it took to become among the nation's first female icons in sports history.
Just 100 Metres to a Future:
Like most of the sprouting women athletes who were struggling to push past the stubborn weeds of Indian patriarchy, the thought of a career in sports never occurred to young Vandana. Hailing from an orthodox Brahmin family, marriage seemed like the most obvious future for her and athletics an unconceivable one, let alone an aspiration. Fate had something different in mind for Vandana though, when she stepped up to the track during her PE class, on what seemed like another regular school day in 8th grade.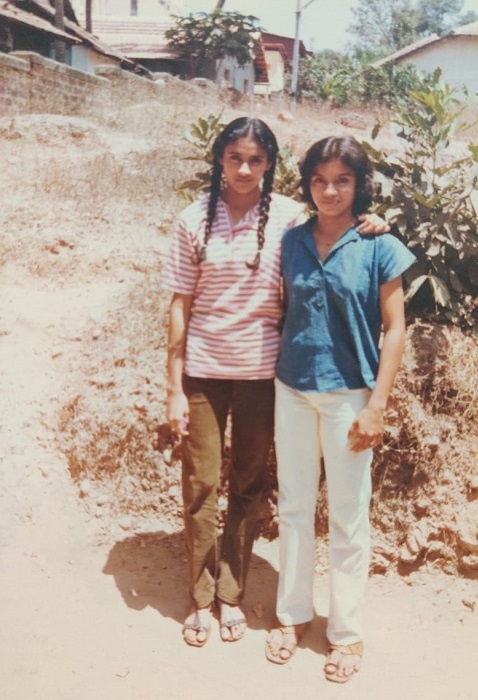 The 100 meters that Vandana ran that day, wasn't a race finished, it was a race that had just begun. As she crossed that finish line, she found her teachers astonished – this 8th grader had surpassed the state champion time-limit. Suspecting this was just a 'one-track wonder', her teachers made her run the track again, only to find themselves dumb-founded at her speed.
Easy as it may have seemed for Vandana to jump into the field, strong family-held traditions stood in her way when her father refused to let her pursue athletics. Not content with letting her potential remain stagnant, Vandana's games teacher and head-mistress visited her father time and again, to persuade him to let her explore this talent, which was clearly waiting to explode. After repeated attempts, Vandana's father finally agreed to let her train. An extraordinary future she had never dreamed of was now waiting for Vandana, all because of 100 metres on an ordinary school day.
The Race to the Olympics:
Vandana began training vigorously, rising up the ranks to become Karnataka's and then among the nation's best track and field athletes. She recounts her time joining the national-level training camps, encountering other national champions and training for hours, day and night. "It was a hectic schedule" she said, "we would train for several hours every morning and evening, but at that time, we just enjoyed it"
And she wasn't alone, her peers P.T. Usha, Shiny Wilson, M.D. Valsamma trained with her, all of whom became shining stars in their own right and later the '1984 quartet' to make history. Not only these peers, Vandana also trained under some of the nation's most legendary coaches and athletes like O.M. Nambiar, Sriram Singh, Kamaljeet Kaur Sandhu, J.M.Appachu, Manjit Walia who shaped her form as an athlete and more importantly, left a lasting impression on her as national champions. Indeed, what makes Vandana's journey so special, is that it traces the same decade that changed the course of Indian athletics.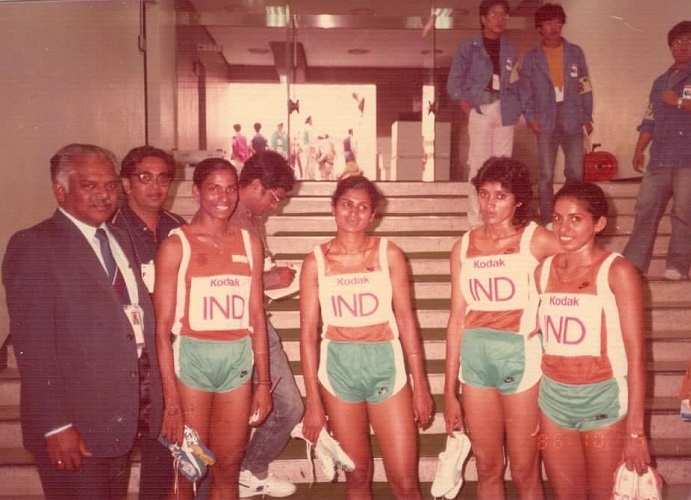 Few Hurdles, Several Medals:
With stars in her eyes, Vandana knew every race was bringing her closer to the Olympics but this was no easy feat. At the Asian Track & Field Games Camp, Vandana's coaches steered her towards the 400 metres category, even though she had always been a 100 or 200 metres champion. Nose to the ground, Vandana took on the 400 metres challenge and trained even harder. Every exhausting hour paid off when she struck gold at the national level 400 metres. Ecstatic, she was convinced her win would secure her a place in the team for the 1983 Asian Track & Field Games.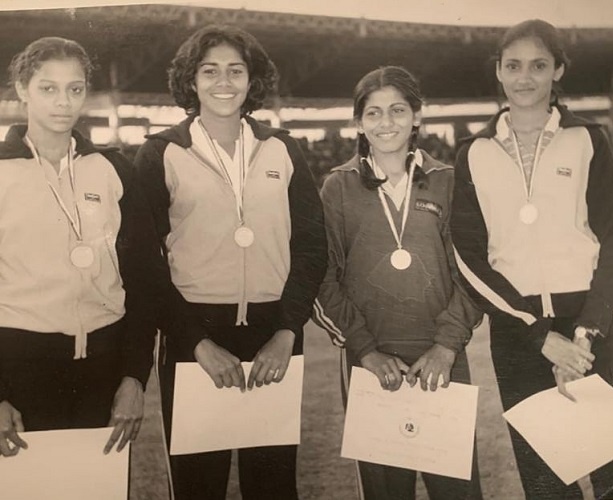 Her hopes were crushed, however, when at the very-last minute, she was dropped from the contingent. So deep was her disappointment that Vandana rushed back home, leaving everything behind, refusing to hit the track ever again.
At a time when Vandana had given up on herself, it wasn't a peer, a coach or a friend who came to her rescue but rather her father. From her biggest opponent, Vandana's father over the years had turned her biggest supporter – encouraging her with the best training, wanting for nothing. And now, at the lowest point of her career, he was the shoulder she leaned on. Refusing to accept her decision, her father pushed her to head back and try again. 'Everything I am today, I owe to my father', says Vandana, a real-life example that the most stubborn stereotypes and ideals can waver, evolve and even change, given the chance.
Running With History
When Vandana did go back, she went back with a bang. After intense training, she was chosen to run the 400 meters at the 1984 Olympics, just a year after being dropped from the Asian Track & Field Games. Vandana, together with P.T. Usha, Shiny Wilson, M.D. Valsamma, formed the historic quartet that put Indian women on the map in athletic history.
On 10th August, 1984, Vandana and her peers entered the Women's 4x400m relay heats, at the Olympics held in Los Angeles. On 11th August, 1984, these unique women set an Asian record of 3:32.49 seconds after they finished last among the seven teams in the final, the only team to make it to the summit round in the 4x400m relay, a landmark in Indian sports. On the same day, at that very moment, they also set a precedent for women in Indian athletics, for every young girl who watched them cross the finish line, who aspired to be there one day.
India didn't secure a medal at the 1984 Olympics but we did win much more. Vandana and the three women who competed and came so close to a win, didn't just run a race, they showcased the actual, true and very visible ability of women to champion in sports, battering centuries of stereotypes and voices that said they couldn't.
From then on, Vandana kept going - qualifying at 7th place at the 1987 Athletics World Championships and then again at 7th place at 1988 Olympic Games. This fearless, young woman kept going, even with injured hamstrings and a back injury, attempting every race possible, leaving behind shattered fragments of inequality and a legacy for future runners. Her accolades led to her receiving the Arjuna Award for outstanding achievements in sports and the Karnataka Rajyosava Award in 1984.
1984 To 2020
Today, 36 years later, Vandana leads a simple life in Mumbai, married to hockey Olympian Joaquim Carvalho, while working as a Tour Manager for SOTC. A severe knee injury prevents her from engaging in any major physical activity though she still enjoys her regular walks.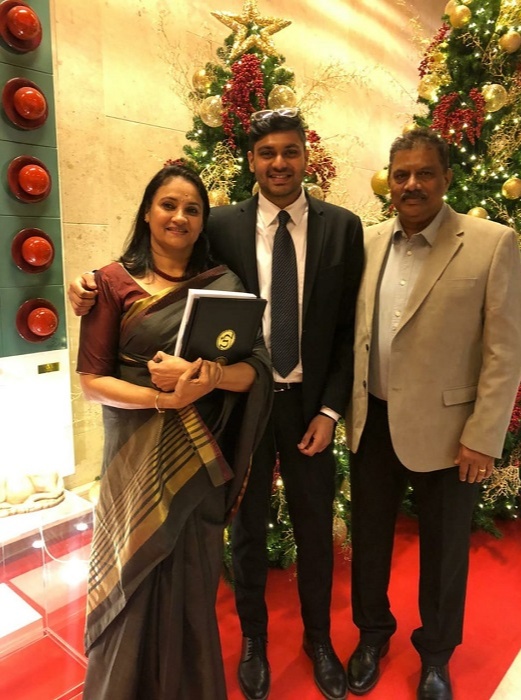 To any youth who wishes to enter athletics she says 'You need passion and determination to be an athlete. Sports, especially ones like track and field, is a tough journey, not a simple race to be finished. Any athlete needs that grit and dedication to succeed'.
Nearly three decades after that historic year, there are a significant number of us women who've had the chance to choose a career, to choose a future, to choose a passion with little to no opposition. While we continue to fight the battle for those who still remain in the shadows, it sometimes bodes well to look back and see how far we've come – to trace the painstakingly sown seeds of equality, the fruits of which we enjoy so freely today. As we revel in rights we should have never needed to ask for in the first place, we mustn't forget those who tried, failed and tried again to secure what should have been their birthright. Let us not stop mourning the centuries of struggle, of trampled voices, let us not stop celebrating past victories like Vandana's that paved the way to our present. As we fight for the future, let us keep paying tribute to the warriors of the past.