At the Tokyo Paralympics, athletes are sure to bring home medals.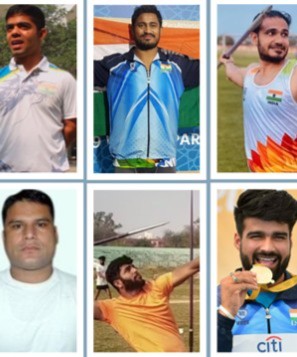 After the air of the Tokyo 2020 Olympics has flown behind the mountains, now it's time to feel the air of upcoming Tokyo Paralympics. Paralympics is a prestigious international sports competition organized for the differently-abled athletes that alternately occur as Winter Games and Summer Games every two years. While Paralympic athletes usually compete in six groups such as amputee, cerebral palsy, visual impairment, spinal cord injuries, intellectual disability, other categories like dwarfism that don't fit into the above groups are also included. In view of Tokyo Paralympics set to start from 24th August, 2021, we bring before you the proud Indian athletes who are all set to hit the world stage. Indian athletes have achieved quota places after finishing in top 4 at 2019 World Para Athletics Championship in Dubai, Qualification Ranking Allocation, Qualification Ranking Allocation and High Performance Allocation. They have secured qualification through World Championship and through world Rankings. After completing the selection trials in New Delhi, the Paralympic Committee of India announced the final list of athletes and here it is.
Club And Discus Throw:
Amit Kumar Saroha is a Paralympian, Asian Para Games medalist and an Arjuna Awardee who is being supported by the GoSports Foundation. In 2017 World Parathletics Championship, Amit had won Silver Medal by setting new Asian record with a throw of 30.25m. At Tokyo Paralympics, he participates in the Club Throw event in the F51 category. Dharambir Nain is another para athlete who takes part in Club Throw event under F51 category at the Tokyo Paralympics. Vinod Kumar, the bronze medallist at the Fazza World Para Athletics Grand Prix, held in Dubai, represents India in Discuss Throw under F52 category while another para athlete Yogesh Kathuniya competes in the F56 category of men's Discuss Throw. Kashish Lakra, India's youngest athlete to qualify for the Paralympics is all set to represent India in the Women's Club Throw under F 51 category at the 2020 Summer Paralympics in Tokyo. Ekta Bhyan, who has competed and won medals in several IPC Grand Prix held at Berlin in 2016, Dubai in 2017 and Tunisia in 2018, will represent India in Tokyo Paralympics in Women's Club Throw event under F51 category.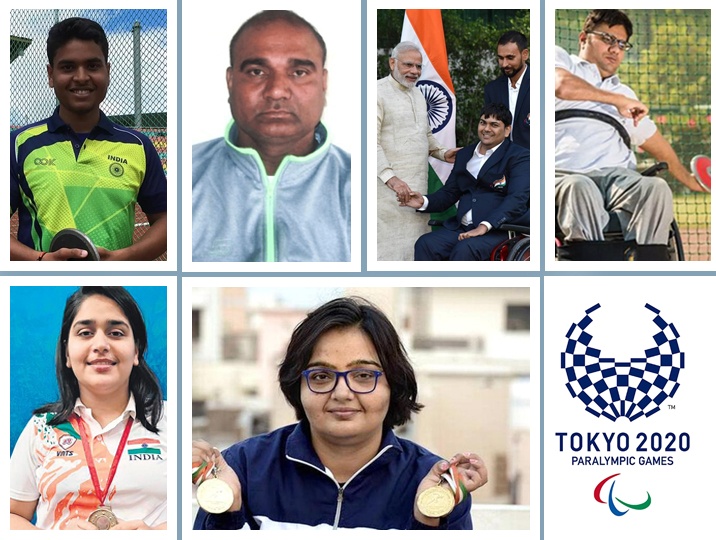 High Jump:
Nishad Kunar, who bagged the gold medal in high jump under the T46 category by recording 2.06m at the 12th Fazza Championships World Para Athletics Grand Prix 2021 in Dubai, will represent India under the T47 category at the Tokyo Paralympics. Along with him, India also sends Ram Pal who clinched a gold medal in High Jump at the 18th National Para Athletics Championships in 2018 and represented India at the IPC World Para Athletics Championships London, 2017 and finished 6th at the Rio Paralympics in 2016. He is all hopes to clinch a medal at the upcoming Tokyo Paralympics. The well-known name in the field of Indian is Mariyappan Thangavelu. This champ brought home gold from the 2016 Summer Paralympic Games held in Rio de Janeiro becoming the first Paralympian gold medalist since 2004. The nation is looking up to him for a medal in High Jump under the T63 category at the Tokyo Paralympics. Sharad Kumar, who participated in the 2016 Summer Paralympics and finished sixth, and who won Silver in 2017 World ParaAthletics Championships is another gem player that India is sending to the Tokyo Paralympics to compete in the T63 category of High Jump. Varun Singh Bhati, the bronze medalist at 2016 Summer Paralympics and 2017 World Para Athletics Championships competes in the T63 category of High Jump at the Tokyo Paralympics. Another athlete who is going to represent India at the Tokyo Paralympics High Jump event is Praveen Kumar who competes under the T64 category.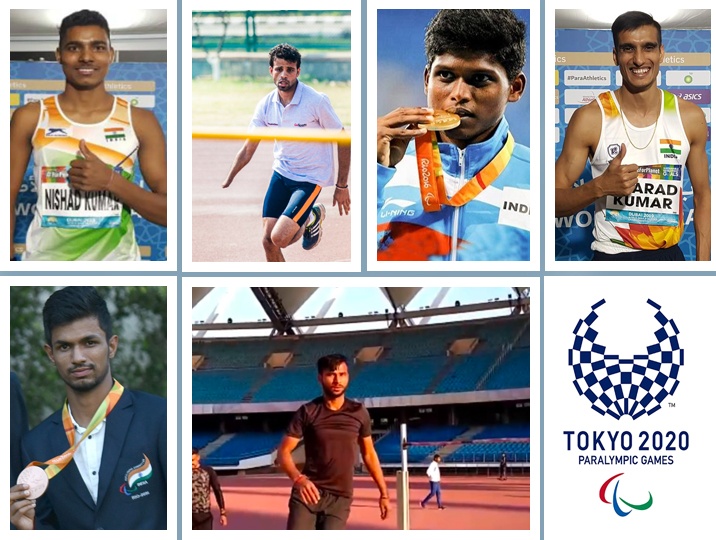 Javelin Throw:
Para-athlete Navdeep Singh secured quota for the Tokyo 2020 Paralympic Games with a gold medal at the 12th Fazza International Championships-Dubai 2021 World Para Athletics Grand Prix. He would represent India in Javelin Throw under the F41 category. Sundar Singh Gurjar, an Indian Paralympic javelin thrower, shot putter and discus thrower who competes in F46 events and who has set a world record at the 16th Para Athletics National Championship in Panchkula winning three gold medals in three events shall play Javelin Throw for India in the F46 category. Another athlete who would represent India in the same category will be Ajeet Singh. Promising athlete Devendra Jhajharia, Indian Javelin Thrower, who brought home medals and glory in various events earlier including the Paralympics is all hopes for a medal this time too. While Tek Chand will compete in the F54 category of Javelin Throw, Ranjeet Bhati will compete in the F57 category. At World Para Athletics' 2021 Dubai Grand Prix, by winning a gold medal with 61.22 m, Sandeep Choudhary made it to the Tokyo Paralympics to compete in Javelin Throw event under F64 category. Sumit Antil would also represent India in the same category.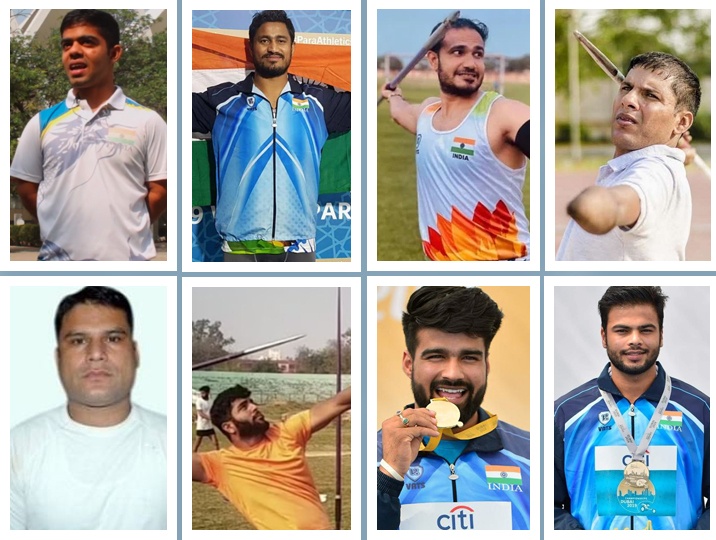 Shot Put:
Arvind Malik would represent India in Shot Put under the F35 category at the Tokyo Paralympics. He crossed the minimum qualification mark with a throw of 14.05m in men's shot put (F35/36) and finished fifth in the qualifying event. Soman Rana is another para athlete who would participate in the event under the F57 category. Bhagyashri Madavrai Jadhav is another promising athlete who will compete in the women's shot put event under F34 category.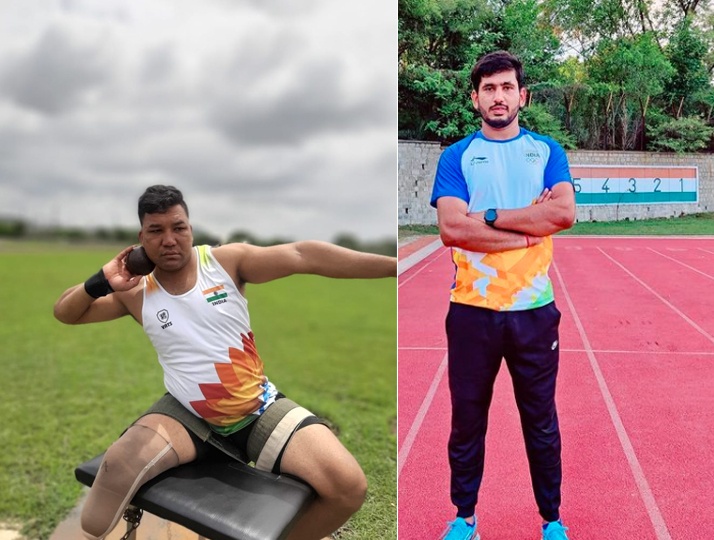 Women's Track and Field:
Simran, who was named as the Female Para Athlete of the Year for 2020 at the Federation of Indian Chambers of Commerce & Industry (FICCI) Turf 2020 India Sports Awards, would represent India in the 100m T13 category.
Let's cheer the athletes who will surely make India proud.