Puttur girl loves to surf. Surfing towards the international arena even though its expensive.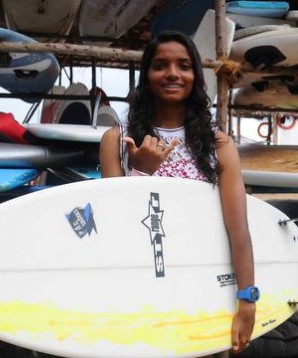 Aspirations should be watered by a constant desire to pursue and achieve. Aspirations should be fuelled by consistent encouragement and support. When aspirations are pampered and nourished, they show the world who you are! What if the aspirations are threatened by the society, the circumstances and by your succumbing? When aspirations die, we die. When Sinchana Gowda aspired to set a page of her own in the world of surfing, her aspirations were pulled back. Be it the family conditions or the societal pressures or the financial constraints, she faced barriers from all the sides but she didn't let her aspirations die. She stood firm like an oak tree and stood tall to reach the sky. Her love for the ocean got her, again and again, to kiss the waves and surf them. Let's know more about this young girl from Puttur who is one among India's boldest female surfers.
Embraced Surfing In Early Childhood:
Sinchana, a resident of Kallega, near Puttur in Dakshina Kannada reached the lap of waters when she was in 3rd standard. Since then, she fell in love with the waves and ocean called her often. She went on to receive formal training in swimming by Partha Varanashi at Balavana. Later, with an inclination towards surfing, she joined the Manthra surfing club where she was first trained by Dhruvdas and later by Mulki. Currently, she is training under Kiran Kumar. By the age of 15, now, Sinchana has already participated in various national level meets and has won many medals that shine in her award shelf. She became India's youngest surfer. This class 10 student of Sudhana Institutions wants to make it big in her surfing career in the years to come.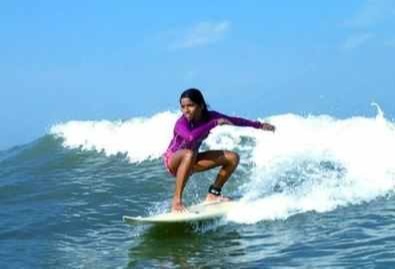 Accomplishments Adorning Her Consistently:
Sinchana bagged her first medal in 2014 at Covelong Point Classic Surfing International Meet at Mahabalipuram beach in an event organised by SFI. She stood second in this event. In Standup Paddleboarding and open ocean Kayaking competition held at Manapad beach in Chennai, she stood second in the year 2015. In the same year, at the Asian meet at Covelong point, she represented India and entered the semifinals. In 2015, she bagged four bronze medals at the National level swimming competition organised at Bengaluru. In the same year, she became the youngest surfer to win a Gold at All Cargo open of surfing competition.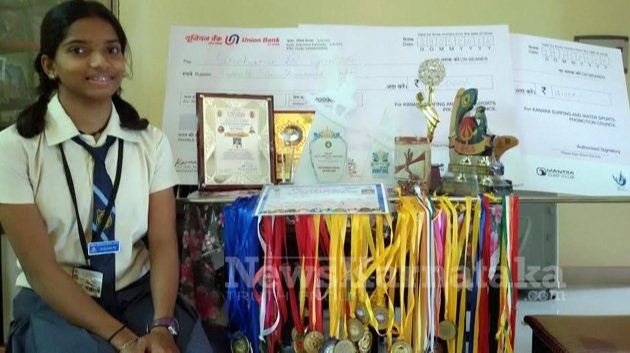 Pulled back For Various Reasons:
Sinchana Gowda is not an exception when it comes to facing taunts from the people around. She faced air of negativity for her decision to ride on the waves. Her family stood by her side and supported her motives. However, things were not so easy. As we know that everything is bound to the glory of currency and that glory Sinchana's family didn't have. As and when Sinchana's mother Meenakshi approached someone for financial aid to support Sinchana's surfing event, they brainwashed her saying that the child is going in the wrong path and that surfing is not at all a right sport for a girl to take up. They also advised her mother to ensure that Sinchana wore clothes with full sleeves while sporting.
Financial constraints also kept Sinchana's mother worried. Being a LIC agent, she could support her daughter's needs but Surfing is a costly affair that runs beyond their pockets. Meenakshi says that surfing requires at least 3 lakh rupees a year. The surfing board itself costs around Rs.50,000 and other expenses like the travel and stay along with a good diet for the girl can't be ignored. Though the family is supporting Sinchana to chase her dreams, it still not even a drop in the ocean she wants to explore. So, Sinchana is looking for sponsors.
Into The Limelight:
After watching closely the surfing skills of Sinchana, Fee Germans made a documentary on her. This documentary could be of some help to the young surfer to let her achieve her surfing dream.
Draws Inspiration From Everyone Around And is Grateful For What She Received:
Sinchana considers Sister Shivani, a swimmer as an inspiration. She is grateful to the trainers and friends at Balavana who supported her. She says she remains indebted to Sudhana school and Mantra club. Above all, she never forgets her mother's hand in everything she did. Sinchana has big dreams and wants to achieve them come what may. Without being disappointed or taken aback by anything that hits her, she continues to take rigorous training hoping for the best. She invests good time in training for this strenuous sport and never leaves any stone unturned to hone her skills.
Though the May-September period is the best for surfing, this year, due to pandemic, there have been no professional activities.
"I am hoping for a promising 2021. I continue to follow a strict fitness regime and practise skateboarding every day. Prakash D'Souza, the PT instructor at my college, has been very supportive," says Sinchana. "It is always a thrill to explore new surfing destinations and meet amazing people from across the world.", she concludes.
Let's wish Sinchana Gowda all the very best and may she reach the heights riding on the waves. May she attain the bliss of bringing a medal to the nation in the next Olympics.

Follow Her