Watch out for this TEEN who could lead the Women's Cricket Team one day.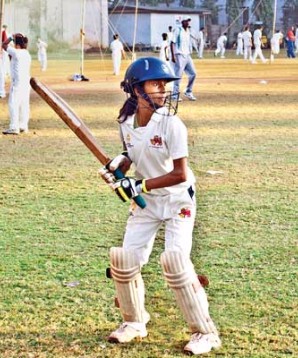 Women in Blue
There was a time when Shanta Rangaswamy, Diana Edulji and a handful of others were familiar faces in the women's cricketing circuit. A couple of decades ago, girls were reluctant to take up this Gentleman's Game. After BCCI decided to take control over Women's cricket, a lot of young girls have come forward and taken up as a career option.
Debut at 13.
Jemimah

made her debut at 13 where she was picked up for U-19 state squad. Now at 17, this promising Batswoman produced one of the best knocks by blasting a

DOUBLE TON

at the inter-state Mumbai vs Saurashtra a few days ago on November 5, 2017, scoring 163 balls 202 runs to be precise. Despite the opposition trying out everything from spins to doosra, Jemimah with her eyes on the ball executed every shot beautifully and with ease.
Picked up a BAT at 4 and works hard at the nets and is peaking at the right time. She also tried her hand at hockey and found a place in the U-17 Mumbai team. She had to make a tough choice and Cricket is what she settled down to. Initially, it was Bowling she enjoyed but once she picked up the Bat she liked doing both.
An All-rounder
Jemimah, with the Bat, always ensures that the scoreboard is ticking, with her clever bowling, picks up wickets, alert on the field, quick at throwing the ball to the wicketkeeper or the wickets has made her an All-rounder and sort after cricketer. She also works hard on her stamina, diet, being regular at the nets and mental preparedness.
Indian Team
The selection committee must be watching and the way this teen is progressing there is no doubt in anyone's mind that she will soon represent India.
Indian Women's Cricket
Cricket has come a long way and lucky are those playing since the last decade or so. BCCI has invested a lot of money and time in training etc., and the results are showing. BCCI has also recognized and rewarded some of the yesteryear players. There are hundreds of girls taking up and it is becoming very competitive.
Good luck Ms. Young Teen Cricketer. Hope to see you on the International circuit sooner than later.
Further reading :
https://timesofindia.indiatimes.com/sports/cricket/news/mumbai-girl-slams-double-ton-in-50-over-game/articleshow/61518614.cms