This woman Beat 23 men at the 24-hour Stadium Run in Mumbai. Let's get fit and healthy.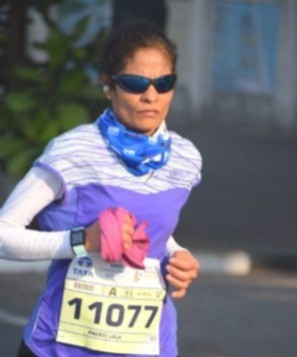 Life turns to good with just a small incident. Until then, what remains as never a matter of importance, comes to the forefront after just one incident that hits our lives. It is then that the moment of realization comes and once when we hold it tight, it remains. When changes are made to life from thereafter, we not only change our own way of living, but also inspire others on the way. When Preeti Lala from Thane realized that her life needs a positive vibe, she gave it all and today, she became a role model to many out there. Let's get into the inspiring journey of Preeti Lala, a Social science teacher and a Yoga instructor who is setting fitness goals at 44 to people out there.
Hailing from a middle class family from Thane, Preeti was never a sports-loving person ever since childhood. She never played sports even in her school. The thought of becoming an athlete never came to the dream at all to this girl who took a holiday on sports day. She was married off into the Lala's family where she had supportive in-laws who encouraged her to live a self-sufficient life. When she gave birth to a baby, she quit her job and started to take home tuitions. Within a few years, she put on weight and weighed around 68 kilos. One day, when she was taking her daughter to the drawing class, she felt a pricking pain in her heel and after a series of doctor consultations, she was told that it was due to ligament wear and tear and was thus advised to lose weight. She was on homeopathic medication for close to seven months and started to go for long walks simultaneously. Her diet changed restricting sweets and rice. She also began doing yoga and stationary cycling. In the year 2012, she joined the local Gym in Vasant Vihar. Thus, her fitness journey began and besides teaching Social Studies at a Coaching Class to 9th and 10th grade students, Preeti is also a Personal Yoga Trainer. Her routine of 3 days Gym, 2 days Yoga (Monday and Saturday), 2 days Run (one short, one long) and 30 minutes Pranayam daily is a must, come what may.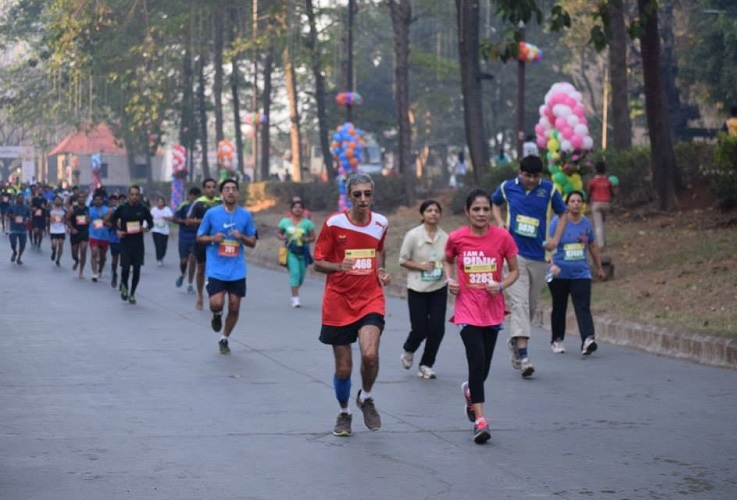 The Marathon Woman:
In 2012, Preeti noticed a pamphlet in the gym and registered for her first Run, a 6K at the Viviana Mall organized by Pinkathon for Rs.100. There, she got to meet several runners in HTHM (Hiranandani Thane Half Marathon) T-shirts. She also met Runner-Photographer Michael Dsouza, Joints & Motions Coach Sudarshan Singh and Runtastics Coach K Haridasan Nair and others. Preeti went on to do her first ever 10K at the Hiranandani Estate Half Marathon in December 2013, registering 01:01:42. She then took part in her first 21K at HTHM in February 2014 clocking 2:10:06. There, as she was among the top 25 girls, she was awarded a Hockey Stick as the run was dedicated for "I Run for Indian Hockey." In June 2017, Preeti participated in a 12-hour Stadium Run in Mumbai under the guidance of Ultra Runner Sunil Shetty. Running 89.2K, she stood first. In 2018 Preeti got podiums at NVHM finishing in 1:45:53 her PB, BNP Ultra 50K in 5:04:10, JNM Half Marathon, 24-hour stadium Run in Mumbai clocking 147.2K, AFMC Pune FM in 04:00:04, IDBI HM in 01:48:32, Navy Marathon in 01:52:45, Decathlon Thane HM in 01:50:33 and VVHM FM in 03:59:38. She also took part in the Khardungla Challenge clocking 13:15. In the recently held 24-hour Stadium Run conducted by Ageas Federal Life Insurance in Mumbai, Preeti emerged as an overall winner. She finished first, covering a distance of 193.60 km in 24 hours. It is the second best by an Indian woman in the race category so far. It was also the maximum distance covered across both genders in the given race category, at the Mumbai stadium run. On this historic win, she beat 23 men in a 24-hour stadium race, for the first time in India.
Her Words Of Value:
To all those women out there, Preeti advises them not to give excuses. "Don't make excuses girls. Women are far stronger than Men. You will feel fresh and energized post exercise. Enjoy and go with the flow. Timing is not important, so don't constantly focus on it."
"Hats off!" Not we, but all those men out there who participated in the 24-hour Stadium Run told this to Preeti. From being a girl whose feet never moved to running, to becoming the first woman in India to beat 23 men in a 24-hour Stadium Run, this 44-year-old woman has scripted history. Thanks to her for energising and inspiring many women out there who are still thinking their times off to start their fitness journey.

Follow Her Work